USC remains off-center but continues to be behind its center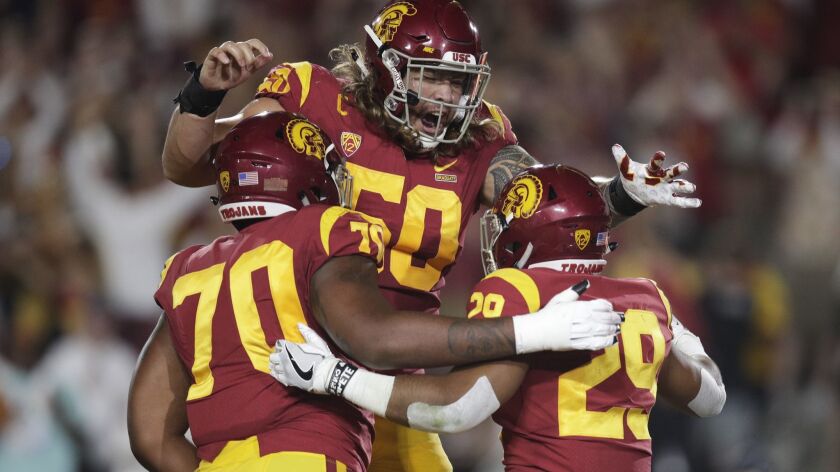 The USC football team has mounting issues. One of them, from the moment the Trojans stepped onto the Coliseum turf for their season opener 10 games ago, was that they have a center who is not proficient at getting the football to the quarterback.
Toa Lobendahn has worked on it. He has changed his grip. He has adjusted in all the ways a center can adjust something that should be near perfection by this point in a season and, certainly, a five-year college career. For those who have watched USC this year, it is clear that Lobendahn has not come close to mastering the most essential part of his role. And if it's scary for fans to not know whether the quarterback is going to receive the football on any given play, imagine how it must feel for JT Daniels or for Lobendahn himself.
After another faulty offering to Daniels cost the Trojans in their 15-14 loss to California late Saturday night, Lobendahn was asked if he had wondered throughout his snapping drama this fall whether he should be playing another position on the line.
"That's always, like, running through my head, I guess," Lobendahn said. "But I'm just trying to focus on my job and make sure I do it right. I'm not trying to take any of my other guys' jobs."
On Saturday, Clay Helton was coaching for his future at USC as part of a critical November in his third season. His Trojans had notched one win since athletic director Lynn Swann gave Helton his first public vote of confidence last week. With California in town for hHomecoming, Helton needed to make it two. Once again, under immense pressure to win, he chose Lobendahn to be his center.
This had been the plan all offseason, after Lobendahn decided to come back for his redshirt senior season. He had played left tackle in 2017, helping the Trojans to a Pac-12 championship, but it had been determined that his natural position was center, a spot he had played in 2015 and 2016. Lobendahn had also made starts at guard during his time in Troy, so this was a player with the versatility to help anywhere. But it was decided, apparently written in stone: Lobendahn was going to be a center in 2018.
Against Cal, USC's offense looked improved and competent in taking a 14-0 lead to halftime. On the first drive of the third quarter, the Trojans were facing third-and-13 from their own 22 when it happened: Lobendahn sent a snap flying wildly over Daniels' right shoulder into the end zone. USC was lucky the play ended with a safety and not a touchdown, but it was still enough to unhinge the Trojans, who had looked far superior to Cal for two quarters.
In the moments after the safety, USC senior cornerback Isaiah Langley lost his cool. He went over to some offensive players on the sideline, including Daniels, and began jawing at them. He appeared to bump Daniels. The embarrassing exchange was captured on the ESPN broadcast and replayed.
Eight minutes later, Cal led USC 15-14.
"We were just butting heads," Langley admitted after the game. "I had comments. I guess they didn't like it. It is what it is."
Asked to elaborate, Langley said, "That's a team thing. Whatever happens between us is going to be between us."
Daniels acknowledged the incident, saying, "It wasn't like the safety got us all out of groove. We weren't fighting on the sideline because we had one bad snap." But when pressed to describe what happened in the confrontation, Daniels said he did not know what had occurred.
Daniels, like Helton, threw his support behind Lobendahn as his center.
"A center is going to have a bad snap every now and then," Daniels said. "Toa would give his life for me. I really love Toa to death. He's one of my best friends. He's a captain that I trust with my life too. It's one bad snap."
Lobendahn will move on from this. He's shown enough throughout his career at all three positions on the line to get consideration from NFL scouts. And Daniels has at least two more years at USC to keep moving the offense forward. But what about Helton?
Helton said Sunday night, with his team preparing for the crosstown rivalry against UCLA, that he has not changed his mind about his starting center.
"Toa is somebody that helps us win football games and has helped us win football games, not only at the center position but at the guard position and tackle position," Helton said. "Currently, right now he is our center and the captain of our football team and somebody that I dearly love, yes, and, as such, as being the guy that's the best center on our team, he's our center, until further notice. I don't know what other explanation I can give."
Etc.
Helton said Sunday night that running backs Aca'Cedric Ware (shoulder sprain) and Vavae Malepeai (ankle sprain) were hurt during the Calgame. USC is already without Stephen Carr (high ankle sprain) and would look to freshman Markese Stepp if Ware or Malepeai were unable to go against UCLA. ... Lobendahn suffered a sprained ankle in the loss. ... Michael Pittman Jr. (shoulder) and Chuma Edoga (knee) did not play against Cal and will be evaluated this week.
Twitter: @BradyMcCollough
---
Get the latest on L.A.'s teams in the daily Sports Report newsletter.
You may occasionally receive promotional content from the Los Angeles Times.