USC football coach Clay Helton says he's not going anywhere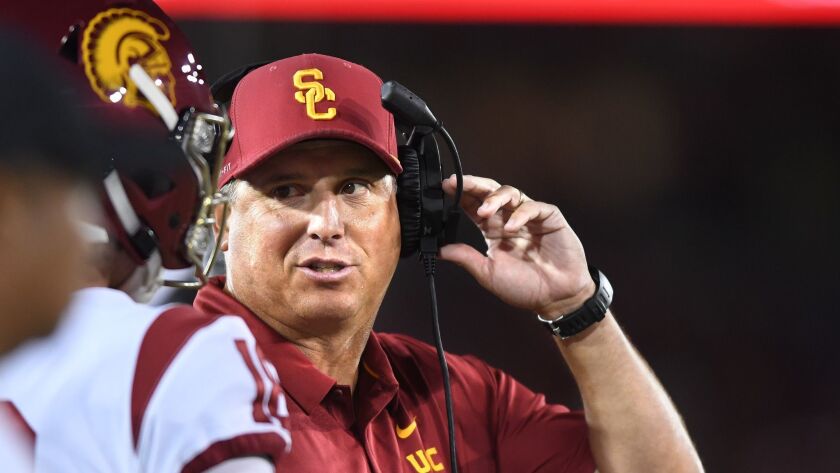 USC football coach Clay Helton took time out of a team meeting this week to assure players that he will not be leaving after the Trojans play their last two regular-season games, against UCLA and Notre Dame.
With USC (5-5) out of the race for the Pac-12 Conference South title, Helton understood the tenor of what the players would be hearing about his job security. He chose to get in front of the noise.
"I let the boys know that my plan is to be here a long time," Helton said. "The beautiful thing about social media is a lot of people get opinions. Those opinions can affect kids, and they want to know where coach's mindset is. They also want to know the stability of their coach. Like I told them, my plan is to be here another 15 years. I'd like to do it until I'm 60 right here. That's my plan. Know this: I'm not going anywhere. I want them to know my jaw is set."
Three days after USC blew a 14-0 halftime lead in a 15-14 loss to California at the Coliseum, Helton exuded confidence that the Trojans' latest setback wasn't debilitating for his future.
One of the reasons Helton felt comfortable digging in his metaphorical cleats is his belief that he has the support of athletic director Lynn Swann, who extended Helton's contract last offseason and stated publicly two weeks ago, "I stand solidly behind Clay."
"Lynn every Monday walks into my office and has given me nothing but 'Coach, we're in this for the long haul, we're going to get this thing done,' " Helton said. "That's what I've felt from day one, and it was what I felt after the Cal game also. I know that in my heart I'm going to be here. … I feel very secure in where I'm at right now."
Soaking up the vibe at Tuesday's practice, it felt like a "happy Tuesday," as Helton likes to label each day. Swann was accompanied by filmmaker Spike Lee, whom he brought as a guest. Helton posed for a photo with Lee, who was wearing his Trojans gear despite the program's struggles.
Players must have taken Helton at his word, because they were not under the impression that they were playing the next two weeks to save the coach's job.
"I don't think there is a situation to be honest with you," receiver Michael Pittman Jr. said. "I feel like coach Helton has become a better head coach this season. It may not seem like it to people outside, but I feel like he's taken steps. He's doing the right thing. It may not be the prettiest, but the decisions he's making … like he's being a head coach. He's coaching us hard, and I couldn't be more proud of the changes that he's made. People will see it as he's ruining the team, but he's actually making it better. It's just we're in construction years right now."
Pittman said the loss of quarterback Sam Darnold, the No. 3 overall pick in this year's NFL draft, was a major factor for why USC sits in an unfamiliar place.
"You saw what happened Sunday without him, the Jets were terrible," Pittman said. "That just tells you how good Sam really is, and we lost that. We're rebuilding, and [quarterback] JT [Daniels] is on his way up, and I have faith in this program."
Daniels said what has happened to USC this season is on the players.
"If every player on this team was executing their job and we weren't winning, I would say yeah there's a coaching issue," Daniels said. "That's not happening. Coach Helton isn't the reason that I make the wrong decision or a player drops a pass or we have a blown assignment."
Despite Helton addressing his future with the team, Daniels didn't pick up any nervous tension from the coach.
"He's not worried about what some random dude in his pajamas is saying on Twitter," Daniels said.
Helton was asked about having lost a large part of the USC fan base this season. He gave his stock response, which is that everyone in college football has a job to do, and the fans' job is to be passionate. He said that's what makes college football so great.
"It doesn't bother me," he said. "The people that I want to make sure love me at the end of the day are God, my wife and these kids that are behind me in this locker room."
Levi Jones off team
Helton said sophomore linebacker Levi Jones sat out last week's game because of a violation of team rules and is no longer on the roster. He would not comment further.
Jones is the fourth USC player to be removed from the team since the end of spring practice because of off-field issues, joining Jack Jones (academics), Joseph Lewis (domestic violence conviction) and Bubba Bolden (faced university suspension because of off-campus incident).
Levi Jones was a four-star prospect out of Austin, Texas, who was a backup this season.
Etc.
Pittman returned to practice after sitting out last week's game because of a shoulder injury. He won't participate in contact drills this week but should be available for UCLA. … Running backs Aca'Cedric Ware (shoulder) and Vavae Malepeai (ankle) were limited Tuesday and won't take contact this week. … Chuma Edoga sat out Saturday's game and is still out because of knee pain. … Toa Lobendahn has an ankle injury but practiced. … Defensive linemen Brandon Pili and Jake Lichtenstein were pulled from practice Tuesday.
Twitter: @BradyMcCollough
---
Get the latest on L.A.'s teams in the daily Sports Report newsletter.
You may occasionally receive promotional content from the Los Angeles Times.