USC gets flowery treat for new year: Rose Bowl matchup with Penn State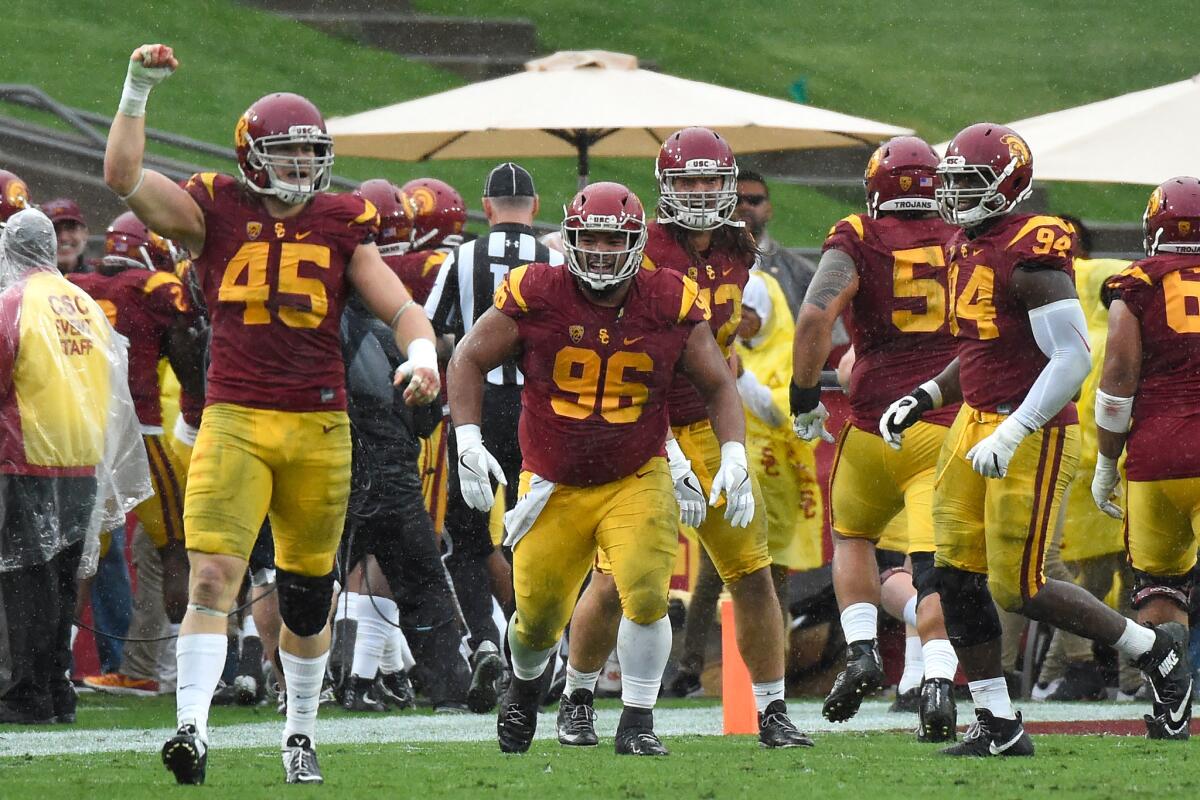 By the evening of Sept. 24, USC and Penn State had completed a month of football with seasons nose-diving toward oblivion. Penn State had just lost by 39 points to a division rival. A day earlier, the Trojans had dropped their second Pac-12 Conference game in two tries.
Neither team had a winning record. Neither team was ranked. Neither team has lost since.
Now they are headed to the Rose Bowl.
USC reeled off eight consecutive victories after starting 1-3, enough to overtake Pac-12 South Division champion Colorado in the final College Football Playoff rankings.
Washington, which won the Pac-12 title Friday, was selected for the CFP. That opened the Pac-12's Rose Bowl bid to the next-highest-ranked conference team. The CFP committee ranked USC at No. 9, ahead of No. 10 Colorado, sending the Trojans to the Rose Bowl for a record 34th time.
Penn State, the Big Ten Conference champion, was ranked fifth. The Nittany Lions and Trojans will play Jan. 2 having won a combined 17 games in a row, carrying winning streaks surpassed only by Alabama and Western Michigan.
"I think it makes for fabulous TV, that's for sure," USC Coach Clay Helton said. "This is what the Rose Bowl should be."
The return to the Rose Bowl culminates a stunning turnaround for USC, which lost, 52-6, to Alabama in the season opener, then lost at Stanford and Utah.
The losses led to speculation about Clay Helton's job security in his first season, and Helton changed quarterbacks, entrusting the offense to Sam Darnold. The redshirt freshman lost his first start, to Utah on a late rally.
Afterward, Helton said, "We kind of went into playoff football mode. We understood that to be able to do something special throughout the season that we were going to have to go on a run."
Darnold has not lost since, becoming one of the most effective quarterbacks in the nation. USC also transformed its defense. It has held five opponents to less than 100-yards rushing during the winning streak.
The Trojans (9-3) dominated their last eight games, winning by an average margin of nearly 20 points. It defeated No. 4 Washington, 26-13, on the road. It played in only one close game late, against Colorado, when USC turned the ball over four times. But USC still would've won that game by two touchdowns if not for a late knee by JuJu Smith-Schuster, who opted to end the game rather than score an unnecessary touchdown.
"Maybe the most dangerous team in the country right now," Penn State Coach James Franklin said of the Trojans. "And there was a lot of people hoping that they wouldn't make the playoffs because they're very, very talented, they're playing with a lot of confidence right now."
Penn State (11-2) followed a similar trajectory. Three games after a 49-10 loss to No. 6 Michigan, it pulled off a 24-21 upset of No. 3 Ohio State.
Penn State's quarterback, Trace McSorley, has evolved over the last half of the season. In a 21-point comeback against Wisconsin in the Big Ten championship game Saturday, McSorley threw for 384 yards and four touchdowns without an interception.
The game followed the path of Penn State's season as a whole. The Nittany Lions have become comeback specialists. They have erased a second-half deficit in more than half of the games in their nine-game winning streak.
Asked to explain such success after halftime, Franklin replied with a joke.
"We cut up the orange slices like Little League," he said.
USC has a 24-9 record in the Rose Bowl game. Penn State is 1-2. The teams first met in the Rose Bowl in 1923, a 14-3 victory for USC. They didn't meet there again until 2009, a 38-24 USC victory.
Neither team has been to Rose Bowl game since.
"To be a part of the Rose Bowl," Helton said, "is what dreams are made of."
Follow Zach Helfand on Twitter @zhelfand
Get the latest on L.A.'s teams in the daily Sports Report newsletter.
You may occasionally receive promotional content from the Los Angeles Times.