Documents, former players point to Steve Sarkisian's alcohol use at Washington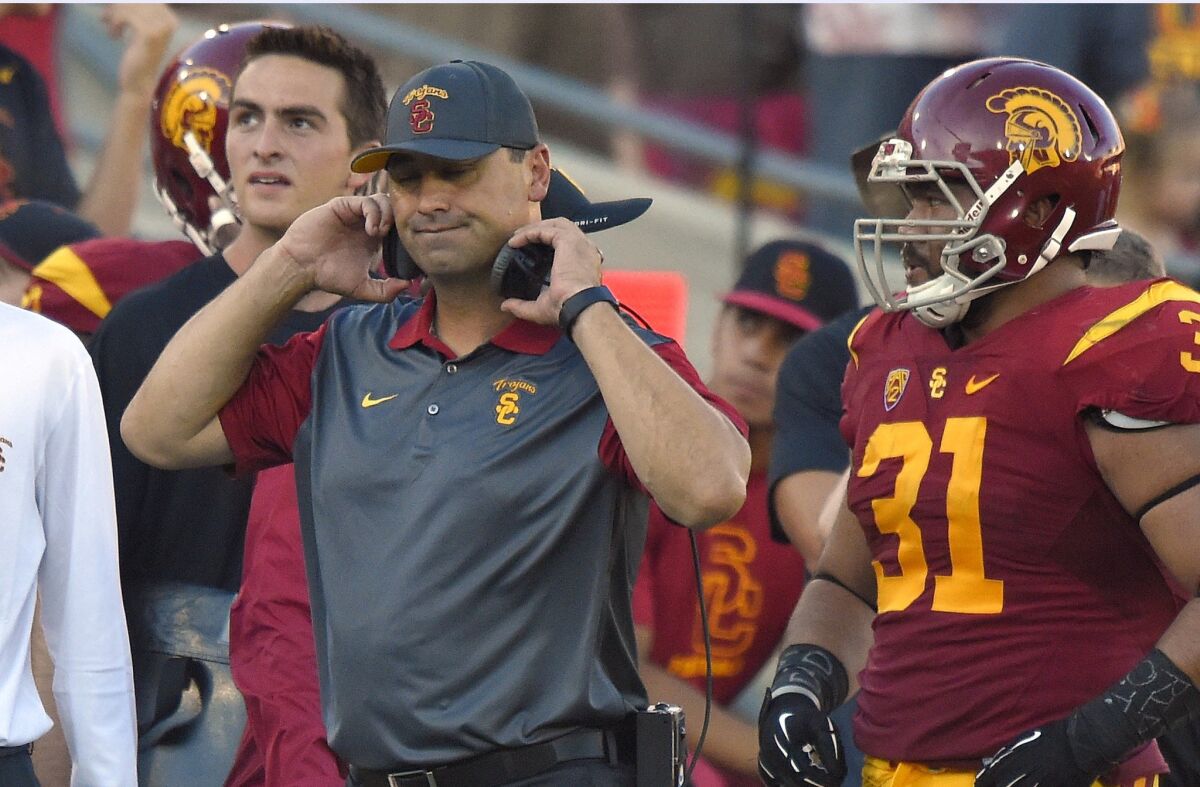 Steve Sarkisian's strange behavior in the days surrounding high-pressure, high-profile college football games isn't unique to his time at USC.
Some regarded the coach's conduct, specifically the use of alcohol, as an issue during his five seasons leading the University of Washington's program.
UPDATE: USC fires Steve Sarkisian
Sarkisian's lone court record in Washington state is a routine speeding ticket and he wasn't publicly disciplined by the university. But his actions raised concern among some of his players and others closely associated with Washington's program.
One former Huskies player said he smelled alcohol on Sarkisian at team meetings, an allegation that bears some resemblance to reports by USC players that their coach "didn't seem right" during a meeting Sunday morning, and statements by others close to the Trojans football program that he seemed unstable during a recent game at Arizona State.
After Sarkisian's outburst in August at USC's "Salute to Troy" event where he slurred his words, insulted opponents and added an expletive to the university's "Fight on!" rallying cry, The Times interviewed more than two dozen people knowledgeable about Sarkisian's time at Washington, and reviewed hundreds of pages of documents.
What emerged is a portrait of a man who favored Patron Silver tequila or Coors Light and frequented a handful of Seattle-area bars, typically accompanied by staff members, and didn't hesitate to drink — early — while traveling.
During a stop at a rib joint in Nashville in January 2013, for example, Sarkisian and three assistants ordered four shots of Patron Silver, four shots of an unspecified liquor and five beers. The coach cashed out at 11:53 a.m.
Some associated with Washington's football program remain unabashed supporters. But Sarkisian's use of alcohol became a running joke among some Washington players, some of whom spoke about the topic on the condition they not be named because of the personal nature of the issue.
One ex-player said that in 2009, Sarkisian's first season with the Huskies, the coach sometimes arrived at morning team meetings "smelling like booze and [with] eyes all red, like he's been on a bender."
Another former player said he smelled alcohol on Sarkisian during team meetings on "one or two" occasions and, other times, noted that the coach's eyes appeared to be bloodshot and glazed while he seemed unusually confrontational.
Two other former players said Sarkisian and other coaches regularly consumed alcohol in offices — one said the coach typically kept an 18-pack of Coors Light stashed near his desk — and that he appeared uncharacteristically loud and unsteady on some team flights.
USC has placed head football coach Steve Sarkisian on leave to address his personal problems. But L.A. Times sports columnist Bill Plaschke believes the athletic director has more to answer than Sarkisian does.
After the August incident at USC, which Sarkisian blamed on inadvertently mixing alcohol and unspecified medication, some former Washington players didn't sound surprised.
"Coach Sark is still having fun at USC!" former Huskies tight end Michael Hartvigson wrote on Twitter at the time. He added the hashtag #ThingsHaventChanged.
Two of Sarkisian's highest-profile players at Washington, defensive lineman Danny Shelton and linebacker Shaq Thompson, both high NFL draft picks this year, joined in the social media quips.
Shelton tweeted a sarcastic #shocked hashtag in reference to the incident. Thompson responded with an emoji laughing and shedding tears.
"I would've made him run the stadium carrying a 6 pack since he wanna drink so much lol," Shelton tweeted.
The former players didn't respond to messages seeking further comment.
See the most-read stories in Sports this hour >>
Despite several requests in September, USC didn't make Sarkisian available to speak with The Times about his alcohol use at Washington. Athletic Director Pat Haden said the university vetted Sarkisian extensively before hiring him as coach in December 2013.
Seattle sports radio host Dave Mahler, whose involvement in Washington's football program included hosting recruiting banquets and pregame and postgame shows, saw the August incident as part of a pattern.
"The idea that this was the first time that something like this happened for Steve Sarkisian … it's not," Mahler said in August during his show on 950 KJR. "It's not the first time."
However, the host did not specifically say what he was referring to on air and declined to elaborate on the record to a reporter.
At least one incident during Sarkisian's time at Washington bore some similarity to what happened in August at USC.
At the Duchess Tavern in Seattle, Sarkisian jumped up on the bar, drink in hand, for a speech to dozens of former players at their annual alumni gathering the night before Washington's spring football game in 2012.
"[He] looked adrenalized, hollering what football coaches do to get their guys going," said Bill Resler, a longtime university professor who witnessed the event.
The gesture seemed to fit the moment at the neighborhood bar less than a mile from campus, but some people in the room wondered whether something more than the coach's usual enthusiasm fueled the display.
"You could tell he was in the moment, but he wouldn't have done that if he wasn't drinking," said a former player in attendance.
One of the event's organizers said Sarkisian didn't appear to be under the influence, but Resler wasn't so sure.
"When he got off the bar, he was unsteady, looked like he had been over-served, and sat down, looked a little embarrassed that he was in that state," Resler said.
When Sarkisian arrived at Washington after seven years as a USC assistant, he inherited a moribund program that was 0-12 in 2008 under straightlaced coach Tyrone Willingham. Sarkisian assembled a young, energetic staff that frequently implored the players to have fun.
More than 800 pages of receipts, hotel folios and expense reports obtained by The Times from Sarkisian's tenure at Washington show alcohol was a constant presence.
In 2011, for example, Sarkisian picked up a bill at Suncadia Resort in Cle Elum, Wash., that included 83 beers and 12 shots of Grey Goose vodka. Twenty Washington coaches and their spouses are listed as attending.
During a one-night stay at the JW Marriott at L.A. Live in May 2011 for a speaking engagement, Sarkisian's hotel folio shows room service delivered a $90 bottle of Veuve Clicquot champagne and a chocolate amenity, then six beers.
At the Arizona Biltmore in Phoenix for a Pac-12 Conference head coach meetings, Sarkisian ran up $106 in minibar charges in one day in May 2012 and spent more than $1,600 over two days at the Renaissance Indian Wells Resort and Spa's pool bar in 2013.
Two receipts from Washington retreats in Indian Wells in 2012 and 2013 showed Sarkisian expensed $1,023 worth of alcohol at a restaurant. That included 91 shots of tequila, much of it Patron Silver. At least 16 people attended one of the gatherings; the attendance for the other wasn't clear.
Even some routine trips resulted in steep bar tabs, like a one-night recruiting visit by Sarkisian to Long Beach in 2010 that included $125.01 worth of unspecified beverages in one visit to the lobby bar and $104.01 in beverages at the same establishment a few months later. Another stay, this one at the Hollywood Roosevelt hotel in July 2011, resulted in a one-day beverage tab of $170.47.
Patrons and staff recognized Sarkisian at Seattle-area establishments such as The Ram near campus, Edgewater Hotel, 520 Bar and Grill, Roanoke Inn, Joey Bellevue as well as the Duchess. He was also said to be a frequent presence at two establishments that are now closed: Citrus and Joey Lake Union.
Two former Washington players said they encountered Sarkisian at the Edgewater on Seattle's waterfront during a 2011 concert by local musician Tess Henley.
One of the players, who worked as a bartender at another establishment, said they bumped into Sarkisian and a team staffer in the packed bar. The player described the coach as "clearly … wasted." The other player said Sarkisian hugged him, offered to buy him a drink and was "definitely drunk."
The same player said Sarkisian drank "copious amounts of Patron" amounting to "between eight and 10 shots" over several hours during weekly visits to Citrus on Lake Union.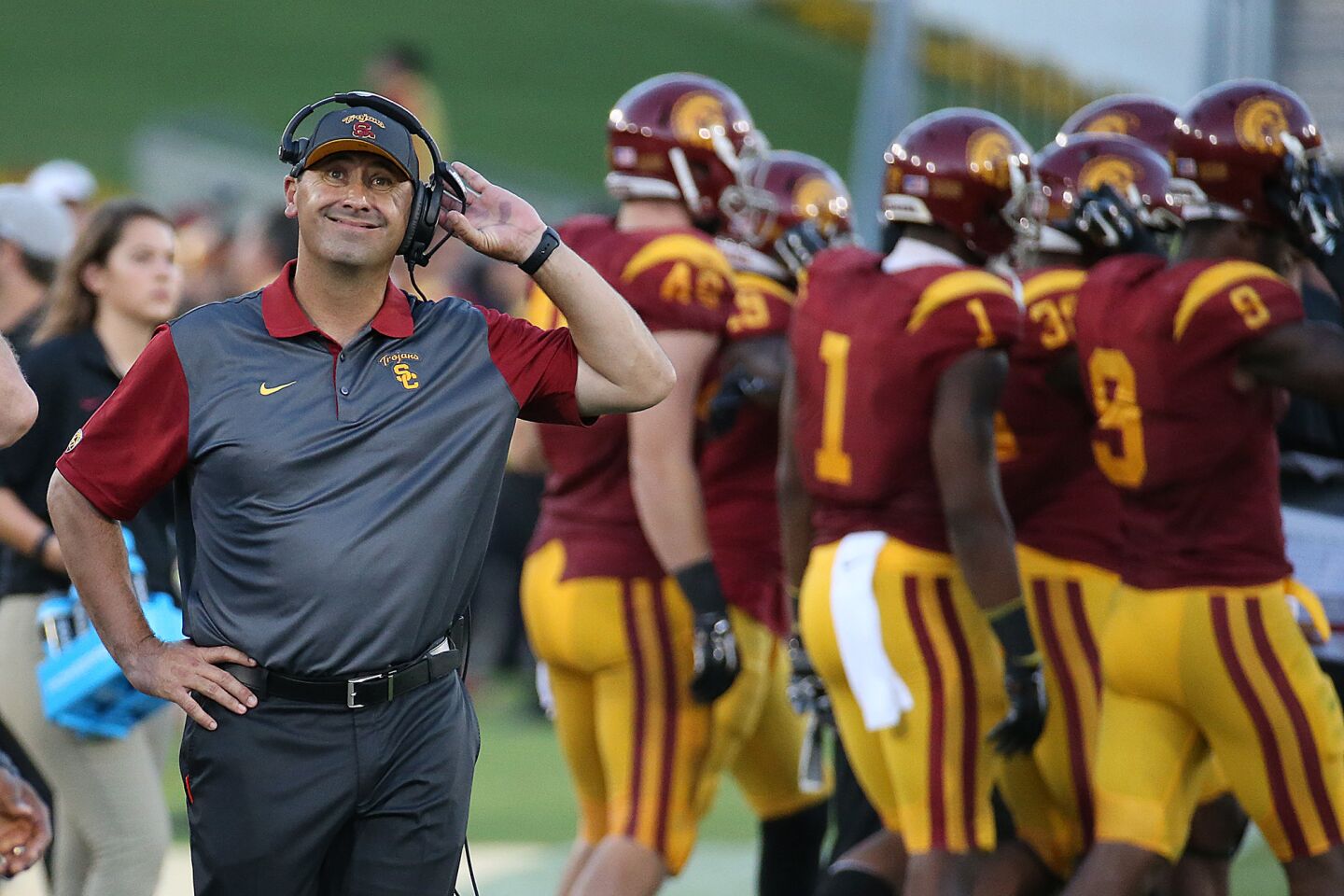 USC Coach Steve Sarkisian looks at the scoreboard after Stanford scored a touchdown on Sept. 19, 2015.
(Robert Gauthier / Los Angeles Times)
USC football Coach Steve Sarkisian addressing the media on Aug. 25, 2015, about his behavior and language during a booster event on campus days earlier.
(Al Seib / Los Angeles Times)
USC football head Coach Steve Sarkisian looks on during action against Utah at Rice-Eccles Stadium.
(Robert Gauthier / Los Angeles Times)
USC Coach Steve Sarkisian leads practice at Howard Jones Field.
(Robert Gauthier / Los Angeles Times)
USC football Coach Steve Sarkisian takes to the practice field after addressing the media about his behavior and language during a booster event days earlier.
(Al Seib / Los Angeles Times)
USC football Coach Steve Sarkisian addresses the media on Aug. 25, 2015, about his behavior and language during a booster event on campus days earlier
(Al Seib / Los Angeles Times)
USC Coach Steve Sarkisian watches his Trojans squad warm-up before the game against Idaho on Sept. 12, 2015.
(Luis Sinco / Los Angeles Times)
Others around the Washington program say they saw Sarkisian drink, but never in excess or in a setting they considered inappropriate.
Erik Wilson, a former reserve quarterback, described a father-son relationship with a coach he viewed as a role model.
"He was always in complete control," Wilson said, "and I have never seen nor heard him getting out of control."
A former director of Washington's club for letter winners, John Otness, traveled to public appearances and events with Sarkisian and never noticed any concerning conduct.
"We all knew he was a Trojan at heart, but he became a Husky and made our program tick when we didn't have a lot going on," Otness said. "I never felt he was doing something another coach wouldn't do.
There is one exception. Chris Petersen, who replaced Sarkisian as Washington's coach, won't do events that involve drinking, Otness said.
Resler, who thought Sarkisian was unsteady at the 2012 event, has taught at Washington for more than 35 years. He described Sarkisian as "a perfectly nice guy" and said he became a season-ticket holder because of the coach's commitment to young people and to revitalizing the Husky football program.
Still, Resler "wasn't surprised" by Sarkisian's incident in August.
"Someone who could get over-served [here]," Resler said, "could get over-served at any function."
MORE SPORTS COVERAGE
Plaschke: Pat Haden, USC shouldn't have waited so long with Steve Sarkisian
Dodgers' Chase Utley is suspended two games for slide; plans to appeal
Lakers draw comparisons to Grizzlies after rout over non-NBA team
Get the latest on L.A.'s teams in the daily Sports Report newsletter.
You may occasionally receive promotional content from the Los Angeles Times.