USC is getting up to speed during spring practice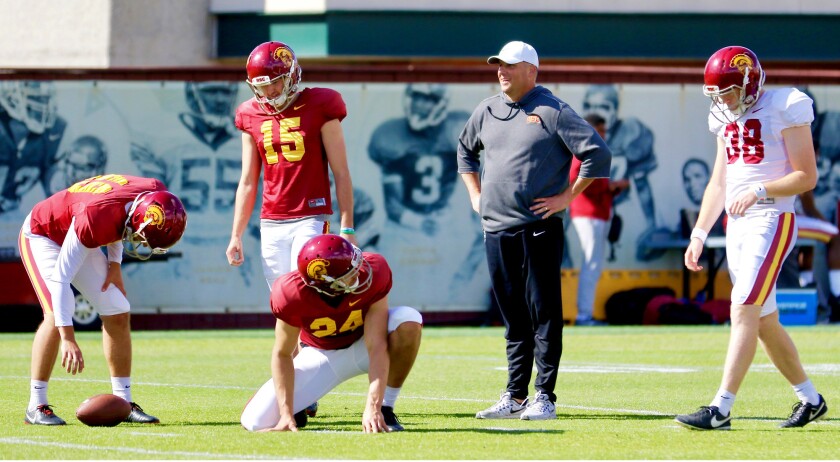 Speed and physicality may be the best words to describe USC's football practice Saturday morning at Howard Jones Field.
"Great week of work, guys!" head coach Clay Helton told his team after an enthusiastic practice — the sixth this spring for a program determined to redeem itself after experiencing its first losing season in 18 years.
With athletic director Lynn Swann looking on, the Trojans worked on kick coverage, field goals, punt return drills, route running, and goal-line and third-down situations. They ended the two-hour practice with a full-contact scrimmage at game speed.
"Today was an unbelievable day, it was great to have a competitive atmosphere … it was our opportunity to see some live work and let the guys compete and have fun," said Helton, entering his fourth full season at the helm. "It was back-to-back days of very competitive atmosphere and seeing kind of where we're at, how fast things go within this offense and how fast you've got to get lined up for the next play rather than talking or celebrating. You'd better get ready for the next play because it's coming in a hurry. It was a good week of work. Six straight practices, nine to go, and we need these next three weeks."
Helton was excited about redshirt freshman Markese Stepp, who made several bruising runs against the first-team defense during the scrimmage.
"We saw last year him being able to gain experience in the four games he got to play and still be redshirted," Helton said of Stepp, a 6-foot, 230-pound tailback. "He's a big, physical back, and when you get into those live periods you see his value. A lot of times everybody thinks they're getting him when they set him up or touch him, but that's a big man to get to the ground. He had a great day today."
Sign up for our daily sports newsletter »
Sophomore JT Daniels, who started 11 of 12 games as a true freshman last season — joining Matt Barkley in 2009 as the only two true freshman quarterbacks to start a season opener at USC — continues to command the offense efficiently. He threw for 2,672 yards and 14 touchdowns with 10 interceptions in 2018.
"It felt fluid really with all three quarterbacks today," Helton said. "I didn't see a ton of critical errors. We had a tipped ball interception in a blitz pickup period, but it looked like everybody was getting everybody lined up, it was smooth and yes, I thought JT did a good job."
Helton said he believes Daniels earned the respect of his teammates last year and it has carried over to this spring. Daniels has said he will be more of a vocal leader this season.
"He did a good job last year of earning the respect of the guys. When you're coming in and you're a rookie you have to do it by action first, you have to show up early every day, give your best effort every day, you have to produce every day and then as you show and gain that respect … then you can start being vocal," Helton said of Daniels. "With quarterbacks, as they produce and gain respect, yeah you want to see that."
Helton also is pleased with Daniels' weight, as well as that of backups Matt Fink and Jack Sears.
"JT is down to 211 right now, he's lost some of the baby fat, he's toned up … he and Jack are like 210 or 211 and Matt is right there, too," Helton said. "All three of them look extremely fit. When you're in a college-style strength and conditioning program you're adding core strength, mobility and quickness, and going from year one to year two I've watched all of our quarterbacks grow. In this offense you have to move, you have to be able to create in the pocket and being trim allows you to do that."
Running backs Steven Carr and Vavae Malepeai missed practice Tuesday and Thursday because of flu, but returned for individual work Saturday and will be back next week. Sophomore safety Talanoa Hufanga, who has been in noncontact mode all spring because of a broken collarbone, fell Saturday and felt a tweak in the same arm, though Helton is optimistic he will be 100% for fall camp.
"I'm very pleased with the offense," Helton said. "It's not perfect. Today was a reality check for us because until you get everybody on the sideline and say we're playing real live ball [on] first, second and third down, you don't realize how fast it goes and how fast you have got to get your eyes back for the next play and how fast you have to get lined up to keep the defense off balance."
Redshirt sophomore center Brett Neilon said USC enters the 2019 season with something to prove.
"A lot of people have been doubting us," Neilon said. "We have a new offensive coordinator [Graham Harrell] we're all fired up about. We want to show the people and fans what we're made of and how hard we're working."
---
Get the latest on L.A.'s teams in the daily Sports Report newsletter.
You may occasionally receive promotional content from the Los Angeles Times.