Column: Lynn Swann says he'll stay at USC for long haul? Those are long odds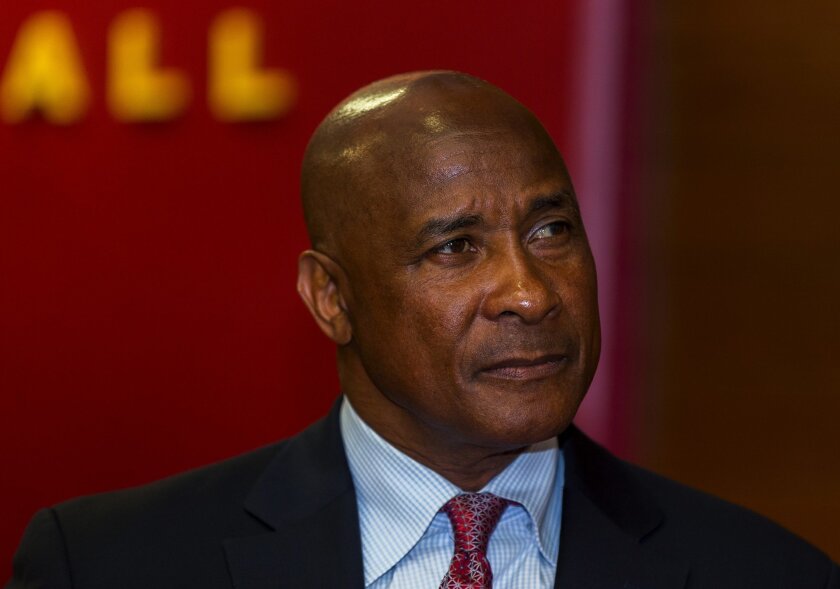 Reporting from Las Vegas —
Lynn Swann doesn't need my advice, but I gave it to him anyway Friday as we sat at a hotel lobby bar in Vegas. You know, the place where many good ideas go to die.
"You don't need this job," I told him. "You could be doing so many other things with your life."
USC's athletic director wasn't having it. He's here for the long haul, he told me. Or at least for the next seven years to get him to his goal of 10. He took the job nearly three years ago.
"I would like to do it for 10 years," he said. "In corporate America, they look at a tenure of a CEO and they say 10 years is about right."
It's hard to imagine Swann reaching a decade, let alone half that, on the job given what has transpired over the last 18 months, in which three USC athletic department employees working under him have been arrested by the FBI. Swann calls them rogues who took advantage of his trust, but it also speaks to the lack of oversight in the department under his watch. USC has been without a president since C.L. Max Nikias stepped down in August. Whenever a new president is named, one of their first jobs will be to decide whether Swann is the right person to lead the athletic department.
"The Board of Trustees haven't shared with me anything about the search for a new president or who that person will be," Swann said. "Wanda Austin is the interim president, and she's very supportive of the athletic department. This is a very difficult time, but we're going to work together to improve and make sure this doesn't happen again."
Even before Tuesday's revelation of a college admissions bribery scandal, Swann was under fire for the normal things an athletic director is for. You know, athletics, rather than federal investigations. USC's football team (5-7) and men's basketball team (16-17) both finished with losing records in the same academic year for the first time since 1983-84 and for just the third time in the last 100 years. Swann, however, said he is committed to Clay Helton and Andy Enfield.
"Everybody has an opinion on what should be done with those teams," Swann said. "There's a lot of people who think we need to change coaches. I try to be consistent. I think if you pull the trigger too quickly, you do more damage than good. Clay's our head coach. We have to give him time to operate. We have a really good football team. There's talent on this football team, and I believe this team can win and I believe Clay can get the job done, so I'm giving him the opportunity to get the job done."
"The basketball season was very disappointing. I believe we deserved a spot in the NCAA tournament last season, but we didn't get it. We came back this year, and Andy Enfield did a great job of recruiting and bringing in some talented kids, but it's a young group that just didn't jell and you look at the injuries and transfers and it's not the same team. He's got a great recruiting class coming in next season that he feels really strong about, and we're going to give him the opportunity moving forward."
Swann was also criticized in December, when, for the first time since 1968, there were no Song Girls at a USC men's basketball game and they were told they would not be performing at basketball games for the rest of the season. Their future performing outside of football games is still in limbo, which seems ridiculous. We can debate the state of the football and basketball programs, but I thought the Songs Girls were the one USC team we could all support.
"The Song Girls don't report to the athletic department," Swann said. "The Song Girls report to student affairs, and there were some issues on the court with game management and time constraints and we kept trying to work those out. I brought in both ladies that run the Trojan Dance Force and the Song Girls. We had a meeting with student affairs, our marketing team and game management. It was decided by student affairs and the athletic department that the Song Girls would not be at the basketball games for the rest of this year and we would take a look at it again before next season to see if we could work something out, but I don't know if they'll be back."
Depending on who USC's next president is, you could also say the same for Swann as athletic director.
******
The Lakers and Clippers don't have much of a rivalry on the court. The Lakers have been historically bad during the Clippers' recent run as a playoff team, and the Clippers were historically bad when the Lakers were winning 10 championships over 30 years. But thanks to Nathan Fenno's excellent story in The Times this past week on the Lakers considering a move to the Forum in Inglewood, we see there is at least a rivalry among the owners. In one email uncovered in the story, Lakers owner Jeanie Buss opines on Clippers owner Steve Ballmer's plans to build his own arena in Inglewood. "Didn't Ballz see what we did to my brother?? He will have nothing but Clippers basketball. Whoopee." I don't know what's better — Buss's nickname for Ballmer or cold-bloodedly bragging about getting rid of her brother.
******
I love Santa Anita Park. I've been going there my whole life, but it's going to be hard for me to go back anytime soon after 22 horses have died there since the end of December. Santa Anita Park and the Thoroughbred Owners of California reached a deal Saturday that will allow the track to reopen racing March 29, but I won't be there until they figure out what's happening and aren't regularly announcing the death of another horse.
******
Which school will be desperate enough for a winner that it hires Rick Pitino to turn around its men's basketball program? UNLV makes too much sense. I can see Pitino getting a booth named after him at Piero's if that happens.
*****
Kevin Rooney will be resigning as the athletic director at Sherman Oaks Notre Dame at the end of the school year but will stay on as the head varsity football coach. He has held both jobs at the high school since 1980. Rooney was always gracious with me while I was a student reporter at the school. I still think former Knights Justin Fargas and Travis Johnson were the best offensive and defensive high school players I ever saw.
*****
The over-under on the number of times Pac-12 commissioner Larry Scott would be seen in his courtside seat during the four-day Pac-12 tournament was two. If you took the under, you left Las Vegas a big winner. To be fair, Scott's seat was just one of thousands of empty ones at T-Mobile Arena during the tournament, and I'd be more inclined to stay in my hotel suite too if I had 24-hour butler service.
Editor's note: An earlier version of this story didn't mention that Arash Markazi was an adjunct professor at USC.
---
Get the latest on L.A.'s teams in the daily Sports Report newsletter.
You may occasionally receive promotional content from the Los Angeles Times.