USC-Stanford is an early-season litmus test for two Pac-12 heavyweights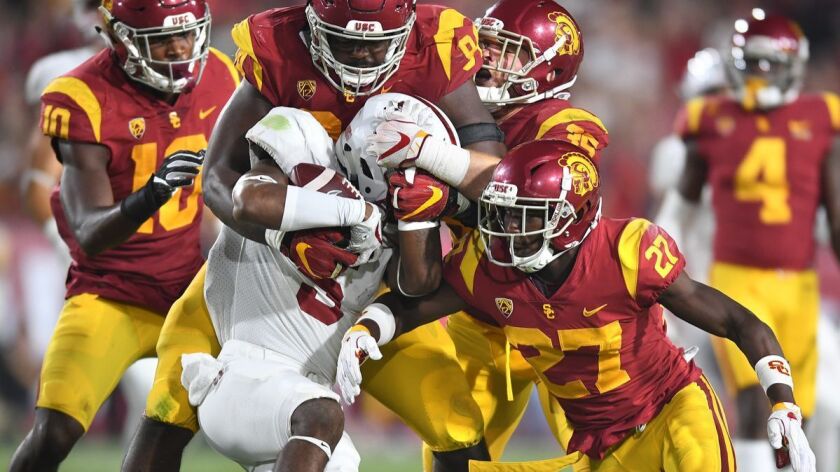 Reporting from Palo Alto —
In the heyday of the Pete Carroll years, the idea that in 2018 the USC football team would measure itself by how it competes against the Stanford Cardinal would have led to some hearty laughs among the Trojans and their faithful.
Entering the 2007 matchup, USC had won 23 of the last 30, including five of six games under Carroll. Stanford's historic 24-23 upset of the Trojans that year in the Coliseum, engineered by first-year head coach Jim Harbaugh and offensive coordinator David Shaw, led to a decade-long shakeup in the rivalry from which USC didn't recover until beating the Cardinal twice last season on the way to the program's first Pac-12 championship since 2008.
Shaw, now in his eighth season as Stanford's head coach, has been the one constant during this defining stretch of what has become the Pac-12's signature rivalry. USC coach Clay Helton has been a part of the last 10 meetings. They have been tenure-shaping for Lane Kiffin, Steve Sarkisian and Helton himself.
"In my nine years here, it's just increased each and every year," Helton said, "and it's always been a close game. It's been some of my favorite memories and some of my favorite heartbreaks. I've been a part of a triple-overtime loss [in 2011], I've seen Andre Heidari kick a 53-yard to win one at their place [in 2014]. It just seems like an extremely physical contest. Both teams take a lot of pride into this game."
Every rivalry has its distinct place among its peers. Since 2007, the Stanford game has risen above UCLA and Notre Dame in competitiveness (USC is 5-8 against the Cardinal, 6-5 against the Fighting Irish and 8-3 against the Bruins). Plus, the stakes of this one are heightened by its now-annual September placement on the schedule, which has set Stanford up as the early-season barometer for USC.
Saturday, in the game's 99th installment, the Trojans will once again find out where they stand in the Pac-12 and national picture.
"We will be able to find out the identity of this team," USC outside linebacker Porter Gustin said. "It will be something that will open our eyes."
Shaw has brought a winning formula that rarely wavers. Helton knows going into Stanford each time that USC must play a clean game and convert on a high percentage of third downs offensively because Stanford will try to eat clock and limit possessions for its opponent. Defensively, the Trojans must keep the Cardinal behind the chains on first and second down, forcing Stanford into clear passing situations in which USC can unleash its outside pass rushers without conscience.
It will be a mental test as much as anything.
"They're going to keep pounding it and waiting for somebody to mess up and then capitalize on it," Gustin said. "We have to stay disciplined throughout the game."
Helton said this week that Stanford's offensive line has altered the way USC has recruited along its defensive front in recent years.
"They're an athletic line, and they're also anywhere from 300 to 320 pounds," Helton said. "They're big men. It's one of the reasons you saw us recruiting Jay Tufele at 315. You think of a Brandon Pili at 330. Liam Jimmons is a 300-pound man. Those interior guys are very important people to be able to hold the point."
USC and Stanford have been forced into the September matchup because each play Notre Dame later in the season when the rest of the Pac-12 is playing only conference games. Shaw has voiced that he would prefer other league teams play nonconference games in October and November as well, which would allow for some variability in when this game happens.
But for now, there is no change afoot. One of these marquee programs will continue to sustain a big blow early each season.
"It's an opportunity game for both teams," Helton said. "If you remember last year, it took 8-1 in conference to win the South. The year before, we went 7-2 in conference and it got us left out by a game. You want to make sure that every time you play a Pac-12 opponent you bring your A-game, and you better for Stanford or you'll get your butt beat."
Twitter: @BradyMcCollough
---
Get the latest on L.A.'s teams in the daily Sports Report newsletter.
You may occasionally receive promotional content from the Los Angeles Times.