USC pulls away for a 73-55 victory over UC Davis by shooting 64% in second half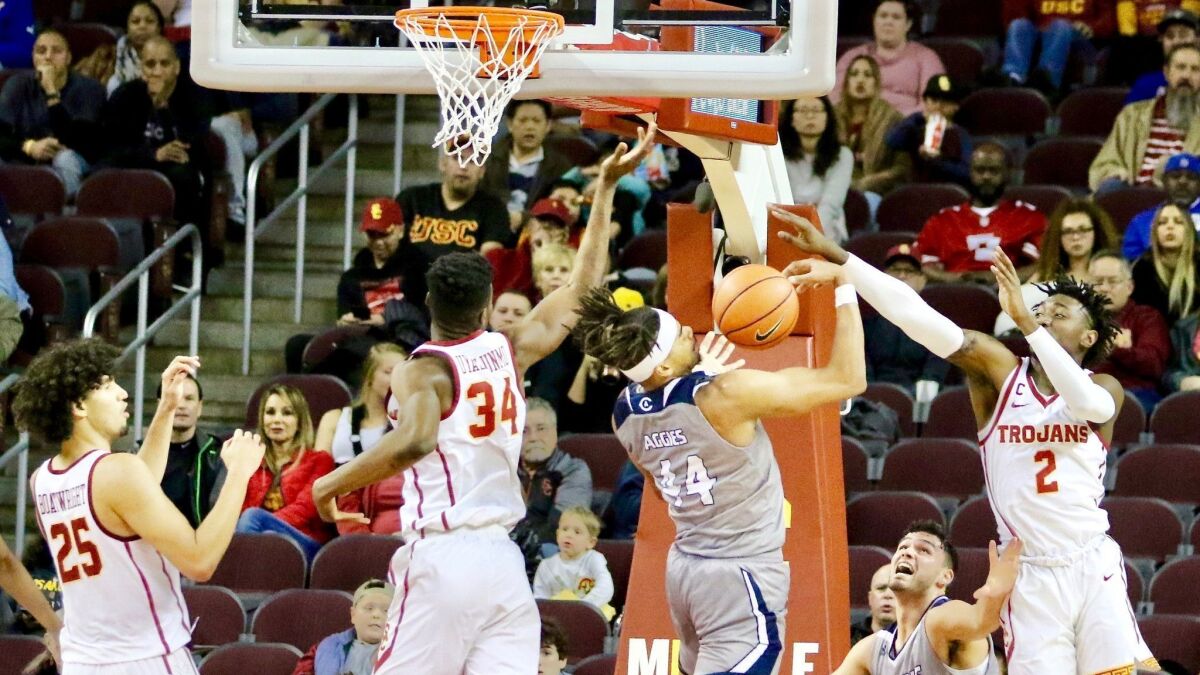 Red-hot shooting in the second half ensured that the USC men's basketball team will begin Pac-12 Conference play with momentum, and a winning record, after a 73-55 victory over UC Davis on Sunday night at Galen Center.
The Trojans (7-6) held the Aggies (3-10) scoreless over the last 4 minutes 15 seconds in the first basketball meeting between the schools.
"We played extremely hard tonight," said Andy Enfield, who picked up his 101st victory in his sixth season as USC's coach. "We're improving in practice, we've held our last two opponents to 49 and 55 points and we've had 24 and 20 assists in these two games.
"We have to keep defending and sharing the ball, but it's nice going into conference play feeling confident."
USC cruised past Southern Utah 91-49 on Dec. 21.
Slow starts plagued USC in its recent four-game slide and the Trojans appeared out of sync early against the defending Big West Conference champions, who led by as many as seven points in the first half.
Senior forward Bennie Boatwright played nearly 39 minutes and led the Trojans with 19 points, eight rebounds and four assists. Derryck Thornton scored 16 points and dished out six assists, and fellow guard Jonah Mathews had 11 points and a game-high seven assists as the Trojans shot 64% from the field in the second half.
"We got back into the groove quick after the long break," Thornton said. "The coaches did a good job with that."
TJ Shorts led the way with 14 points and four assists for the Aggies, who fell to 0-8 on the road this season and extended a losing streak to three games. Siler Schneider scored 13 points, Matt Neufeld had nine, and Garrison Goode had eight points and five assists.
Freshman point guard Elijah Weaver, who sat out the game against Southern Utah because of a sore left ankle, marked his birthday by scoring a career-high 13 points on five-for-six shooting in nearly 29 minutes.
Still unable to play were sophomore guard Charles O'Bannon Jr., who underwent left pinkie surgery Nov. 13, and freshman guard Kevin Porter Jr., who is recovering from a right quadriceps contusion. Enfield said that sophomore guard-forward Jordan Usher is suspended indefinitely because of conduct issues.
"The ankle feels good and the less I focus on it the better it feels," said Weaver, who first sprained the ankle Dec. 15 against Oklahoma. "The defense is what did it tonight. In the timeouts I kept telling the guys just get stops and we'll win this game. We've had lots of ups and downs so just finishing the year with a win feels good."
Junior forward Nick Rakocevic had five points and six rebounds, and redshirt senior guard Shaq-quan Aaron scored five points as USC improved to 6-2 at home.
Enfield has frequently emphasized limiting turnovers, as USC entered the contest averaging 13.3 per game. The Trojans committed only 10, the Aggies 15.
USC led 32-30 at halftime thanks to a three-pointer by Boatwright with 36 seconds left for the last of eight lead changes in the first 20 minutes.
Get the latest on L.A.'s teams in the daily Sports Report newsletter.
You may occasionally receive promotional content from the Los Angeles Times.