Nearly passed over by USC, Uchenna Nwosu is now one of the Trojans' most disruptive defenders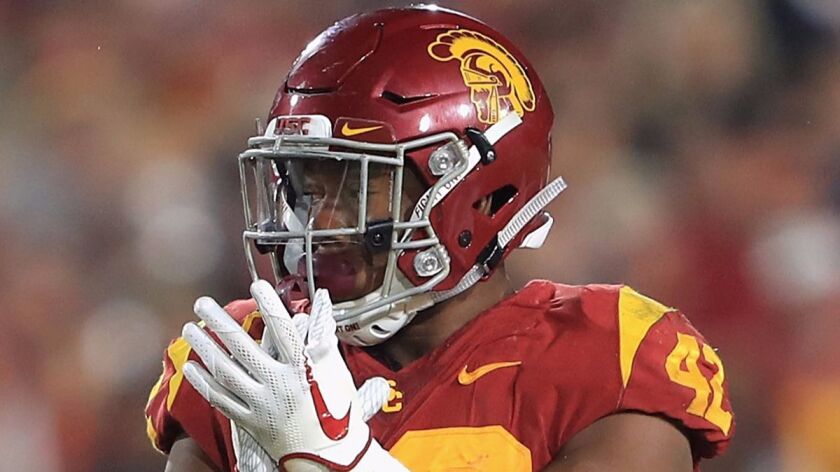 Robert Gill was coaching Harbor City Narbonne High's linebackers in 2012, a side gig while he also worked in maintenance services at USC.
Gill has worked at USC for more than three decades now. Work long enough on campus, he said, and a man gets to know people. People like then-interim coach Ed Orgeron.
When Gill had work to do near Heritage Hall that fall, he'd see the coach and offer a reminder. There's a pretty good talent playing at Narbonne, he'd say. Worth a look.
"I had to talk them into offering," Gill said. Not, he added, that he needed to do much selling.
He just thought that if USC watched enough film, they'd see what he saw in one of his players, linebacker Uchenna Nwosu.
Whether through Gill's insistence, as Nwosu partially credits, or through USC's own diligence, Orgeron ultimately offered a scholarship to Nwosu, and Steve Sarkisian honored it when he became coach. They were taking a flier. Nwosu had been a starter for just one season in high school.
Nwosu, now a senior at USC, has never been as heralded as his more well-known linebacker partners with the Trojans, Porter Gustin and Cameron Smith. He began football late. He didn't play in high school until his sophomore season. He nearly quit.
But by last season, Nwosu was one of USC's most dependable players, with the third-most tackles for loss on the team. And last Saturday against Stanford, Nwosu was USC's most disruptive.
He blew past tackles with speed. He used his hands, ripping and churning toward the quarterback.
"Not every time did he hit the quarterback," USC coach Clay Helton said. "But you always felt his presence."
By official count, Nwosu broke up five passes, the most in a game by a USC player in several years. It is a startlingly figure when put into perspective. Consider that USC quarterback Sam Darnold threw only five incomplete passes in the game. Nwosu swatted so many balls that he irked some teammates.
"It takes away some of our picks," safety Chris Hawkins joked. "I think we're in good position to make some picks, but he bats the balls down."
Nwosu has also injected some fury and emotion into a relatively laid-back locker room. USC's three other captains, Hawkins, Smith and Darnold, mirror Helton. They are steady and serene. Nwosu is intense, fiery, loud.
Helton has called him "the king of the lions." Hawkins said Nwosu provides what other teammates rarely do: He'll rip into the team when warranted.
"We all don't like to lose, but he doesn't like to lose to an extreme," Hawkins said. "If the offense beats us at the last segment of practice, he'll have a fit."
Smith said Nwosu, "won't say anything when he loses, and he'll say everything when he wins. He's gonna let you know that he wins. And he always wins. I'm gonna say that right now. He dominates. But his personality and his style of leading is really important for our team."
Nwosu never planned to play football. He tried the sport in middle school and promptly quit. It wasn't for him, he said. He always wanted to be a basketball player.
It took him a year, but Narbonne football coach Manuel Douglas persuaded Nwosu to play in high school. Nwosu played on the junior varsity team as a sophomore, the grade when most recruits first pop up on coaches' radars.
After that season, he told Douglas he was quitting again. Basketball was his best chance at a scholarship, he thought. Basketball, he told Douglas, was his future.
"I said 'Chenna, you're a good student, and you might get a D-III [offer],' " Douglas said. "'But you're 6-2. And you play forward.' "
Nwosu recalled a blunt message. "He was just like, 'Are you dumb? What are you doing?' " Nwosu said.
Nwosu stuck with football. But at outside linebacker Narbonne also had Keishawn Bierria, now a starter at the University of Washington. So Nwosu spent his junior season, the most crucial season of recruiting, as a backup.
Nwosu's athleticism was apparent once he started the next season. USC acted swiftly.
At USC, Nwosu's temperament found trouble. Before USC played in the Holiday Bowl in 2014, his freshman season, Nwosu got into a fight with another player. "A dumb decision," he said, and he was sent home. He did not enroll in classes the following semester. He had time to reflect.
When he returned, he realized "that it could all be shunned away and taken. I just didn't want that to happen." He set out to show his coaches and teammates that he'd matured.
Nwosu said his journey at USC taught him how to inspire his teammates.
"My experience here has always been things will go good, and then go bad really fast. Then it goes good again," Nwosu said.
The experience repeats itself in games all the time, he said, as it did during last season's Rose Bowl, when the Trojans forged a lead, the fell behind before rallying for a win.
He tells his teammates that it's never over, even when they feel like quitting.
Follow Zach Helfand on Twitter @zhelfand
---
Get the latest on L.A.'s teams in the daily Sports Report newsletter.
You may occasionally receive promotional content from the Los Angeles Times.