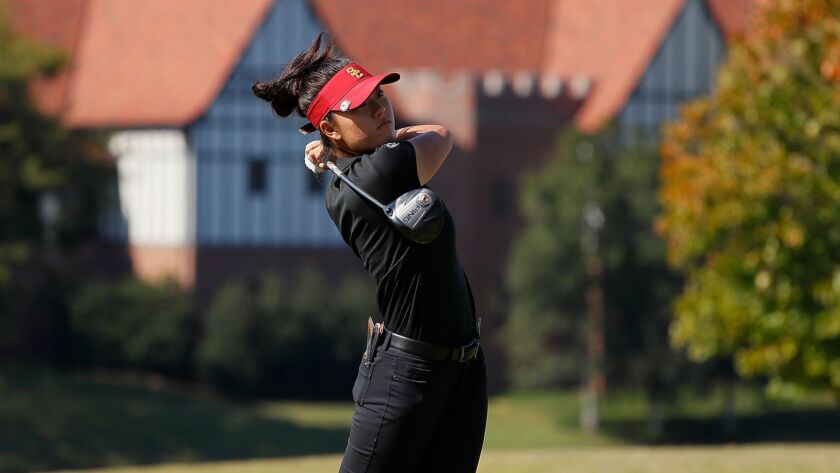 The first sign that the USC golfers had reached their destination came when they were told to put away their cellphones.
Then they saw the green metal gate, and a white wooden sign with the logo for Augusta National Golf Club. Below the logo, green block letters proclaimed, "MEMBERS ONLY." They are not members, but USC athletic director Lynn Swann is. So the gates opened, and the car rolled down Magnolia Lane with Swann, Alyaa Abdulghany, Jennifer Chang and Allisen Corpuz inside.
It was a weekend in January when Swann brought the trio to play two rounds at Augusta National, site of the Masters. Abdulghany, Chang and Corpuz were among the 30 top U.S. amateur golfers who accepted an invitation to play in the inaugural Augusta National Women's Amateur. They used the time with Swann to prepare for the competition, which begins Wednesday.
California has more women represented in the tournament than any other state, with 14 who are from here or attend college in the state. That number includes three high school golfers from the Los Angeles area. Two UCLA golfers were invited, but declined.
The first two days will be played at a local golf course. The entire 72-player field will play a practice round at Augusta National on Friday, then the top 30 after the first two rounds will compete in a final round Saturday on the course where the PGA Tour's first major will be decided eight days later.
When the three members of the top-ranked Trojans golf team visited Augusta, the greens looked lush and pristine. It was during that practice round that the reality of playing in the tournament hit Abdulghany, a moment she compared to an "out-of-body experience."
"I'm gonna be here," she thought. "I'm gonna be playing in this prestigious tournament. I'm going to be able to be a part of something that's monumental in history."
Abdulghany has watched the Masters since she was a preteen. But she never thought she would have the chance to compete at Augusta National.
"It would be cool just imagining yourself to play that course," Abdulghany said. "But at the time it's like, well, it's only on the men's tour."
When Augusta National Chairman Fred Ridley announced the tournament's launch in April of 2018, he said the club's desire to grow the game and his own daughters' passion for golf reinforced his reasoning. Ridley said of golf: "Hopefully it is colorblind, is blind to gender."
Augusta National admitted its first female members in 2012.
"This is one of the big surprises in sports, that the previously all-male … bastion of golf, Augusta, is actually hosting a women's tournament," said Christine Brennan, a columnist for USA Today and a television commentator who has covered Augusta National's history of club membership. "That is a sentence that I, for years, I never thought I would say."
No African American golfers were permitted to play in the Masters until 1975, and the club welcomed its first African American member in 1990.
In 2002, Martha Burk, then-chair of the National Council of Women's Organizations, wrote a letter to the club encouraging it to allow women to be members. Hootie Johnson, then the chairman of Augusta National, released a statement in response, saying, "We will not be bullied, threatened or intimidated."
"There may well come a day when women will be invited to join our membership," Johnson added, "but that timetable will be ours and not at the point of a bayonet."
The statement sparked Burk's protest of the 2003 Masters, several lawsuits and intense public debate before Augusta National accepted two women, Darla Moore and Condoleezza Rice, in 2012.
Seven years later, four known members are women, out of more than 300 at the club. In his first news conference as chairman, Ridley said he would welcome "more" women to the club's membership, but offered no specifics.
To Burk, the current numbers hardly indicate progress.
"They tokenized the women," Burk said. "It's not by a long shot any kind of open system down there at all. It's, in some ways, a joke."
That the women membership numbers remain sparse at Augusta National made Burk skeptical of the club's motivations for having the tournament.
"I think it still remains to be seen whether this amateur women's tournament that they're so hugely touting is gonna be anything but a PR stunt," Burk said. "I don't think they care very much about opening golf to women. They care more about their own image. … I'm not impressed."
Brennan sees the tournament as a positive for women's golf. NBC Sports will broadcast the final round, and tickets have sold out. In a USA Today column published last year, Brennan called the tournament "the most prominent platform women's golf will have ever received," because the sport typically receives sparse media coverage, she said.
Sign up for our daily sports newsletter »
USC's golfers saw the effects of that platform in the months they spent scouring the amateur rankings, striving for a spot in the tournament before receiving their invitations in January.
"It just really kind of gives female golfers the opportunity to be like, 'Oh my gosh, we have the chance to play at Augusta National,' " Chang said. "You know, not a lot of people get that chance."
Brennan said having the tournament was a business decision, one aimed at growing a demographic of golfers that was previously ignored.
"All of these daughters of Title IX have grown up with sports and are looking for sports to play the rest of their lives," Brennan said. "They could be golfers. And right now most of them aren't. And so I think they're going to try to send a message that golf is for women, too.
"The question is, is it too late?"
---