Two days after USC was snubbed by the NCAA tournament, hints of disappointment lingered throughout the Galen Center as the Trojans opened play in the National Invitation Tournament.
"All of us at USC were very confident that they had earned their way in," athletic director Lynn Swann said Tuesday before USC defeated North Carolina Asheville, 103-98, in double overtime in front of 1,614 fans.
"That's why we're all in shock."
Even as the Trojans (24-11), considered a 14-point favorite over Asheville, advanced in a late thriller to the second round of the consolation bracket, it was the perceived snub that stayed on everyone's minds.
"It was tough, it was tough for me," point guard Jordan McLaughlin said afterward when he spoke to reporters for the first time since the bracket was released. "I thought we had a pretty good resume."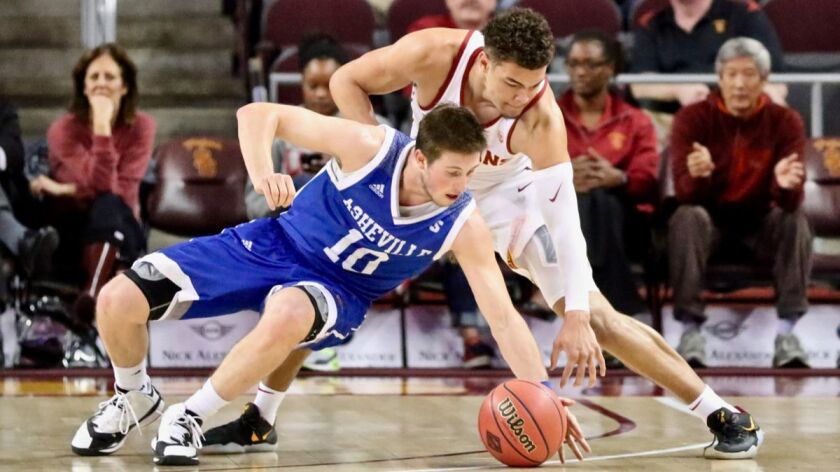 USC finished second in the Pac-12 this season before falling to Arizona in the conference tournament title game. With an RPI of 34, they became the highest-ranked major conference team to be left of the NCAA tournament since it was expanded to 68 teams in 2011.
"The difficult part about this process is that once they select, there is no time to have a counter opinion, to have a voice in trying to create change," Swann said.
"It's done."
Arizona earned a No. 4 seed in the NCAA tournament. UCLA, which finished tied for third in the Pac-12, and Arizona State, which finished tied for eighth and lost in the first round of the conference tournament, got at-large bids and were among the "last four" in.
The Bruins fell to St. Bonaventure, 65-58 on Tuesday in their play-in game.
"It happens to be one of the biggest snubs in NCAA tournament history," forward Nick Rakocevic said. "So that right there speaks for itself."
In the aftermath of the snub, junior forward Chimezie Metu sat on the bench Tuesday in a white polo shirt and jeans. Metu, who averaged a team-high 15.7 points and 7.4 rebounds per game, is projected as a first-round pick in the NBA draft and will not play in the NIT to avoid injury.
McLaughlin scored a team-high 26 points against Asheville (21-13), including a three that sent the game to double overtime. He also had 13 assists. Rakocevic scored 24 and had 19 rebounds. Elijah Stewart scored 22.
UP NEXT
Monday vs. Western Kentucky, 8:30 p.m. PST, Galen Center. TV: ESPN2 — The Trojans will play their remaining games without their top two scorers, Metu and Bennie Boatwright, who averaged 15.7 and 13.6 points per game, respectively. Boatwright has been sidelined since last month because of a knee injury. McLaughlin, who was averaging 12.4 points and 7.5 assists, almost doubled those numbers on Tuesday night.
Follow Lindsey Thiry on Facebook and Twitter @LindseyThiry
---