The pressure's on the offensive line in more ways than one as USC prepares for Washington State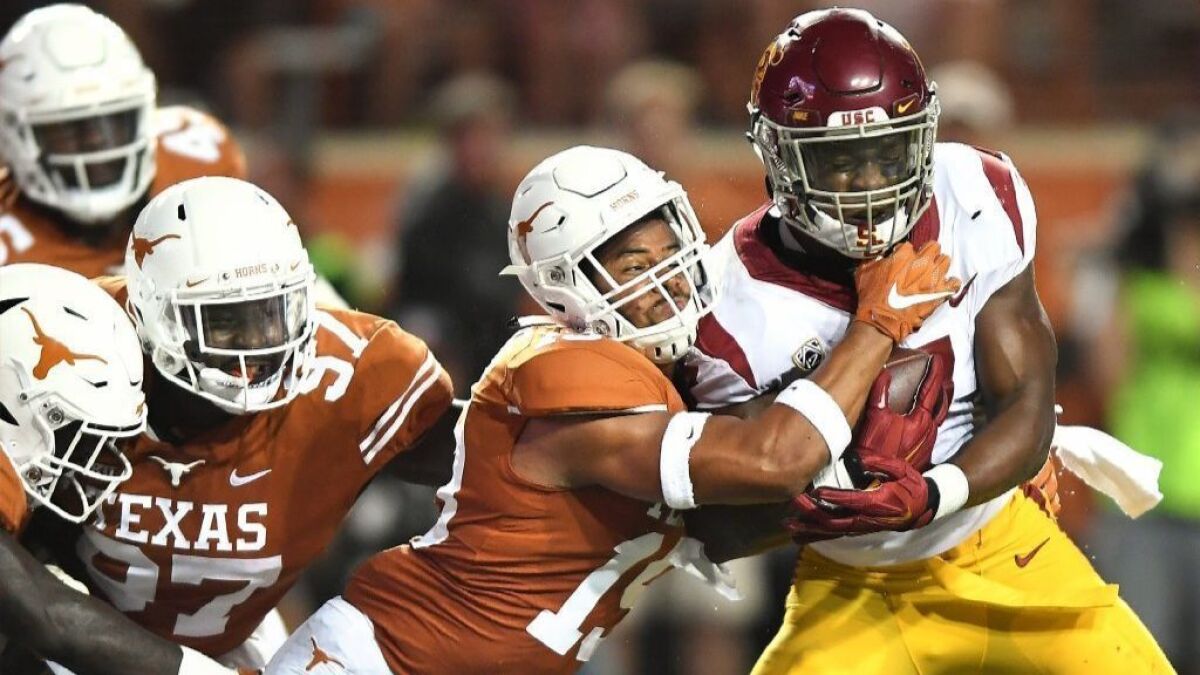 The USC football team plane landed Sunday morning around 2. Clay Helton allowed himself a trip home to shower before arriving at the McKay Center in the dewy darkness. The film and the truths that it always held awaited him in his office. He would watch all three games of this frustrating, confusing season, hoping to find some answers as to how another opportunity for a big win so emphatically slipped through the Trojans' fingers the night before at Texas.
To Helton, this wasn't a painful process. Long nights and early mornings with the clicker in his hand are part of why he has relished being a football coach for more than half his life, why he followed his father, Kim, into this crazy profession.
"I'm a film junkie," Helton said this week. "I love being a student of the game. That's why I spend the night up here. … I watch it until the film is watching me and then I fall asleep on the couch."
Offensively, it was hard to see common themes from game to game — other than inconsistency all around. In the first two games, as USC broke in freshman quarterback JT Daniels, the Trojans were able to mount a pretty effective rushing attack but had gaps in pass protection that cost them at Stanford with four sacks. Texas presented an opposite scenario in which the USC offensive line was so befuddled with the Longhorns' movement patterns up front that it failed to execute the basics of the Trojans' run game.
One of the most telling moments of Helton's film review came with USC's failed fourth-and-goal attempt from the one-yard line that could have given it a 21-13 lead in the second quarter. The toss sweep for the speedy Stephen Carr with stocky Vavae Malepeai as a lead blocker, Helton felt, was the perfect play call for the defense Texas showed. But the play was doomed before the snap because an offensive lineman didn't get the correct signal.
"That's what makes you sick to your stomach," Helton said.
Ultimately, what that told Helton was that he and the other coaches needed to do better this week at helping the offensive linemen understand their assignments. After practice Wednesday, having had more time to digest his offense's issues, Helton was adamant that the issue up front was not the group's physicality or effort.
"They're a physical bunch of kids," Helton said, "and I believe in them, and believe they can get the job done."
Texas' defense ran a lot of "zone pressures," which USC running backs coach and run-game coordinator Tim Drevno described as a defense overloading one side of the field with a safety blitz off the edge while the defensive line slants back to the opposite side of the field.
"When they slant they do big, hard-looping moves," Drevno said. "What they're trying to do as defensive linemen is get their hat in the crack and penetrate, which gets people off blocks."
Sure enough, Washington State, USC's opponent Friday at the Coliseum, will bring similar zone-pressure movement throughout the game. Certainly, Texas provided a blueprint for how to interrupt what the Trojans want to do, but the good news for USC is that it has had two weeks now of learning how to block the scheme.
Washington State hired former Minnesota head coach Tracy Claeys as defensive coordinator this offseason. Drevno came to USC from Michigan, where he was offensive coordinator the last three seasons. Drevno said he recalled going against Claeys' defensive scheme in the Big Ten.
"We have to do a good job communicating and making sure we understand what the front is and where we need to go," Drevno said. "It takes all 11 to make things go. We'll get it fixed. We've all been there before. It's not just one person and one group. We've all got our fingerprints on it, and we have to do a better job as a coaching staff of putting our players in successful situations."
Helton knows there will be no excuse if USC's offensive line can't facilitate a more balanced attack against the Cougars. The Trojans should not be confused by movement two weeks in a row.
"We've committed a lot of resources to trying to fix the run game," Helton said, "and it's something that I thought was doing well up until the last game. Hopefully it's a one-game thing we put a lot of investment into."
Twitter: @BradyMcCollough
---
Get the latest on L.A.'s teams in the daily Sports Report newsletter.
You may occasionally receive promotional content from the Los Angeles Times.