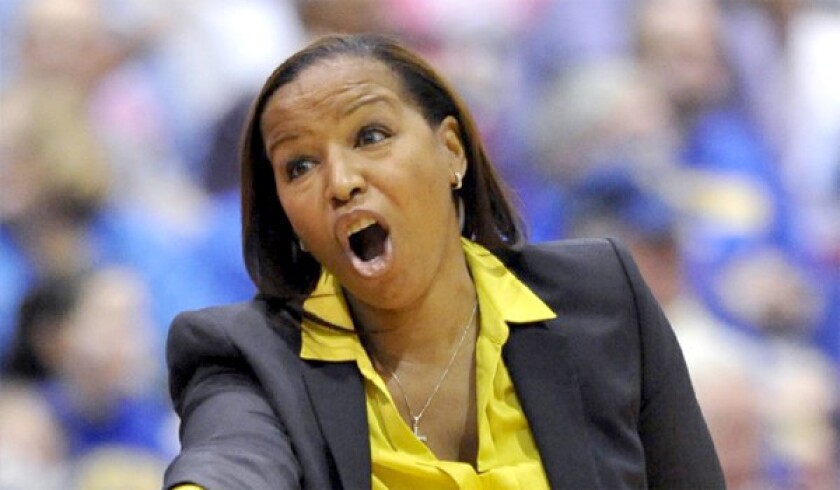 Cynthia Cooper-Dyke is coming home.
The Los Angeles Locke High alum who played on two NCAA championship teams at USC and competed in the WNBA was hired as USC's women's basketball coach, the school announced Thursday.
Cooper-Dyke, who coached last season at Texas Southern, replaces Michael Cooper, whose USC team finished 11-20 last season.
"If you were to ask me what my dream job was at any point in my coaching career, I would always have said my dream is to come back and lead the USC women's basketball team," Cooper-Dyke said in a statement.
Cooper-Dyke, 49, has also coached at UNC Wilmington and Prairie View A&M.; She has an eight-year record of 150-106.
Last season, Texas Southern finished 20-12 and won the Southwestern Athletic Conference regular-season title.
Cooper-Dyke is Athletic Director Pat Haden's second major hire this month. Last week, Haden tabbed former Florida Gulf Coast coach Andy Enfield to head the men's basketball program.
Cooper-Dyke takes over a program that has not appeared in the NCAA tournament since 2006.
"She has three turnaround experiences with college programs," Haden said. "And she is really connected to the university in so many ways."
Cooper-Dyke, then known as Cynthia Cooper, played for USC's 1983 and 1984 national championship teams, won an Olympic gold medal in 1988 and helped lead the Houston Comets to four consecutive WNBA titles. She was inducted into the Naismith Memorial Basketball Hall of Fame in 2010.
In 2008, the NCAA penalized Prairie View for violations that occurred during Cooper-Dyke's first season in 2005-06. The violations reportedly included Cooper-Dyke giving players small amounts of cash and allowing unauthorized workouts.
The NCAA found that the school had failed to educate Cooper-Dyke about rules.
Haden, who spoke of creating a "culture of compliance" when he became athletic director in 2010, said USC had "fully vetted" Cooper-Dyke's involvement at Prairie View and had communicated with the NCAA.
"If you really look at the report, it was the school at fault or partly at fault for giving her no training at all," Haden said, adding that Cooper-Dyke, like all Trojans coaches, would have "a lot" of compliance education at USC.
---