Evan Mobley, the nation's top basketball prospect, commits to USC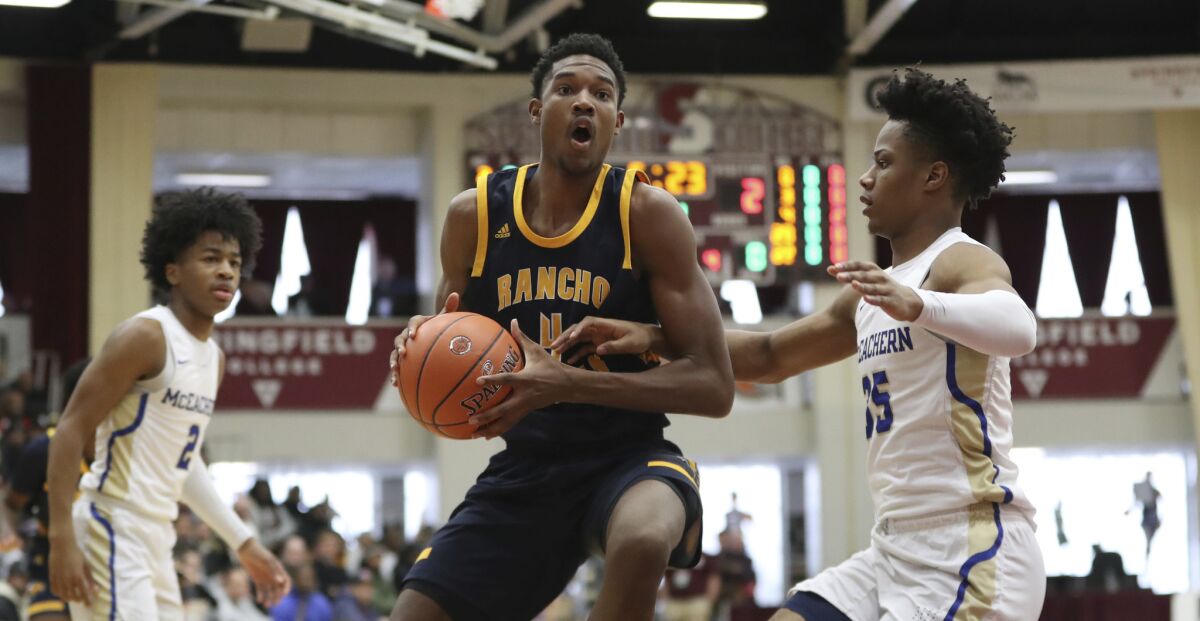 The consensus top basketball prospect in the country is on his way to USC.
Evan Mobley, the No. 1 overall recruit in the 2020 class according to the 247Sports Composite Rankings, chose the Trojans on Monday, The Times has confirmed. Mobley will be one of the highest-rated recruits to ever play for USC's basketball program.
Mobley's commitment has long been viewed as a foregone conclusion, since his father, Eric Mobley, joined Andy Enfield's staff. Mobley's brother, Isaiah, is also a five-star forward who is already practicing with the team as a freshman.
The opportunity to play alongside his brother -- and for his father, who joined USC as an assistant in wake of Tony Bland's unceremonious exit -- undoubtedly played an outsized role in Mobley's decision.
In an interview with 247Sports, Mobley assured that his recruitment was kept open, in spite of his family connection to the Trojans. Though, other schools, apparently convinced he was unattainable, never "recruited me super hard," Mobley said.
"USC was always at the top."
For a school that has spent most of the last decade in relative basketball obscurity, the significance of such a high-profile commitment can't be overstated. A freakishly athletic 7-footer, capable of dominating on both ends and in transition, Mobley averaged 19 points, 10 rebounds and nearly five blocks per game last season as a junior at Rancho Christian in Temecula.
Mobley, who also boasts a 7-foot-5 wingspan and a 40-inch vertical, is viewed by most as "a generational talent," says Etop Udo-Ema, the founder of Compton Magic, Mobley's AAU program.
As USC's Austin Jackson recovers from a bone marrow surgery that could save his sister Autumn's life, the Trojans plan to take things slowly with his recovery.
As far as Udo-Ema is concerned, Mobley is the best big man to come out of Los Angeles since Dominguez High's Tyson Chandler, who was chosen No. 2 overall in the 2001 NBA draft.
Ray Barefield, Mobley's coach at Rancho Christian, actually takes that projection a step further. He described Mobley's potential as "a little bit of the Greek Freak and Kevin Durant, all in one."
"As a prospect," Barefield says, "I can't imagine he's not in the top three ever in California."
As such, his commitment, the first for USC in the 2020 class, could shift how recruits, now and in the near future, view USC's basketball trajectory. It's widely believed that Mobley will play just one season at USC before departing for the NBA. But even just one season with such a generational player could turn the tide for a school that has long trailed other top programs on the recruiting trail.
"When has USC had the No. 1 player in the country?" Udo-Ema said. "This is a positionless 7-footer who really could be a marquee guy in the NBA someday."
The last time the Trojans signed one of the nation's foremost recruits, it didn't quite go as planned. O.J. Mayo arrived at USC in 2007 as one of the most-hyped recruits in program history and averaged 20 points per game during his lone season. But in 2010, an NCAA investigation revealed that Mayo received improper benefits during his recruitment and had thus forfeited his amateur status. USC was then forced to vacate all 21 of its wins from Mayo's only season, as well as withdraw from postseason action in 2009-10.
While Mobley's commitment is certainly the most celebrated in some time at USC, the Trojans' incoming class of freshmen appears to be one of the best in program history. The class is highlighted by five-star forwards Isaiah Mobley and Chino Hills' Onyeka Okongwu, the reigning Times player of the year.
That impressive recruiting class will get its first taste of game action together this week as USC travels to Europe for a 10-day trip which will include stops in Barcelona, Paris and Cannes.
---
Get the latest on L.A.'s teams in the daily Sports Report newsletter.
You may occasionally receive promotional content from the Los Angeles Times.