JT Daniels is named USC's starting quarterback by Clay Helton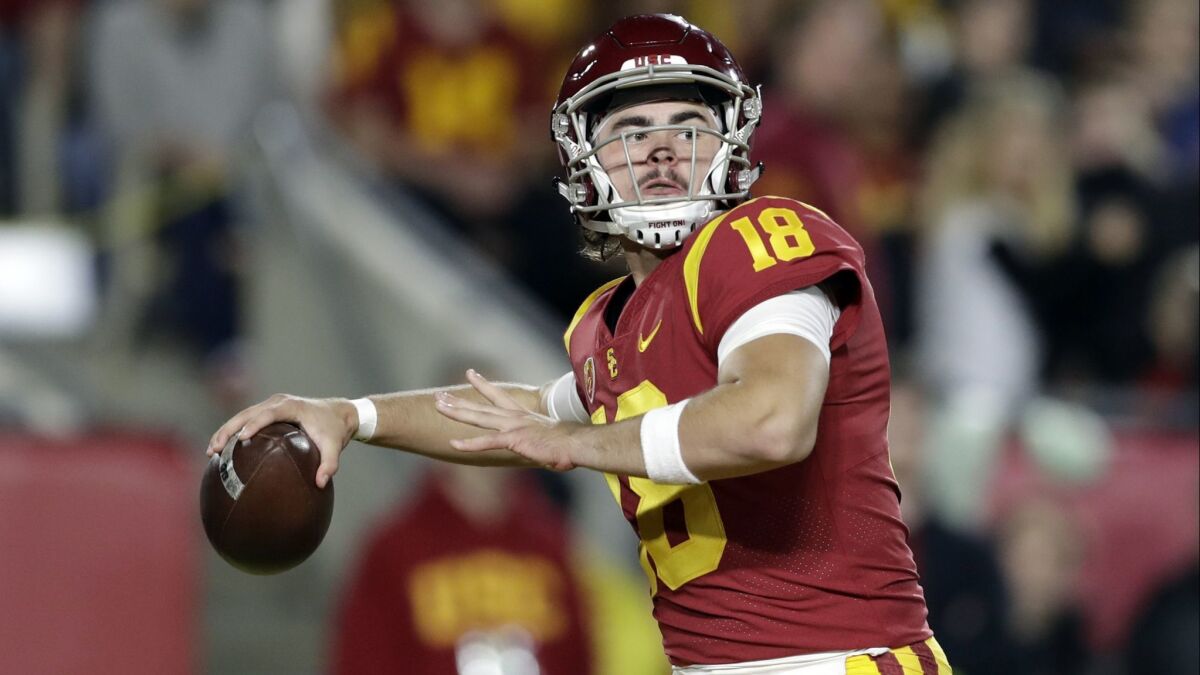 For months, it felt like a foregone conclusion. Even as USC declared its quarterback competition open, splitting reps evenly through the spring and fall, it seemed only a matter of time until JT Daniels, the former No. 1 quarterback prospect from Santa Ana Mater Dei, regained his rightful place as the Trojans' starting signal caller.
On Tuesday, after 30 practices of a protracted battle, that competition was officially closed. Daniels, a sophomore, was named the starting quarterback for USC's season opener against Fresno State on Aug. 31, reprising the role he played all of last season.
Even amid systematic changes on offense, that decision was largely anticipated, given Daniels' experience and five-star pedigree. But as Clay Helton explained on Tuesday, his starting quarterback didn't land atop the depth chart simply because he'd been there before.
Daniels earned it all on his own, Helton said.
"We came into the process and said it's not going to be about age or who's been on the field," the USC coach explained. "It's going to be about how people play and how people compete on a day-to-day basis and execute the offense and how they do it consistently. JT did that."
Jim Hardy, the oldest living football player from both USC and the Rams and the former general manager of the Coliseum, has died. He was 96.
Behind Daniels on the depth chart will be freshman Kedon Slovis, who joined the team in the spring as a three-star recruit and initially was expected to redshirt. That isn't likely to be the case now, as Slovis outperformed and surpassed more proven veterans in redshirt junior Matt Fink and redshirt sophomore Jack Sears on the depth chart.
Unlike Daniels' rise, Slovis' ascent from unheralded recruit to top backup was largely unexpected heading into the fall. After he outperformed both Fink and Sears, it was proof of how much competition did alter USC's depth chart.
"We were very surprised with Kedon coming out of the spring, very impressed," Helton said. "We went through this camp and another 15 practices to see if it wasn't just spring. He did it again."
Consistency, in Daniels' case, was crucial to earning the confidence of coaches again. As a freshman, he was often erratic. At times he appeared overwhelmed, as flashes of greatness were tempered by ill-advised mistakes. Over 11 games, Daniels threw for 2,672 yards, 14 touchdowns and 10 interceptions as USC went 5-6 and missed a bowl game.
Daniels' best showing as a freshman, though, came in the final week of the season, in a loss to Notre Dame. That week, USC specifically simplified the playbook to let its talented quarterback take the reins, and that performance has given USC hope that with a similarly simplified playbook under new coordinator Graham Harrell, Daniels could take another step forward as a sophomore.
Clemson is pre-ranked No. 1 for the first time in school history in the first AP top 25 football poll of the 2019 season.
"I have a year of college under my belt," Daniels said two weeks ago. "I'm starting to understand how things work more and more. I definitely feel a lot more prepared."
That preparation became clear to Helton, as his quarterback confronted the fact that he needed to earn his starting role again.
"I really appreciate how JT came into it understanding, that that's real life," Helton said. "He knew he had three really talented guys right there competing with him, and he never took it for granted that, you know, 'I've had success in the past,' but rather, 'I need to raise my game to earn and fight for this job.' That's where I've seen his maturity grow."
As far as Helton saw it, a quarterback competition brought out exactly what he hoped it would.
"I've never been in that situation to have four quality quarterbacks on one team," Helton said. "That's very rare. To watch them compete in a first-class manner, to not be afraid of competition, is special."
Etc.
After sitting out the previous two weeks with a knee sprain, running back Vavae Malepeai returned to practice. The Trojans' top returning rusher will be slowly worked back into the offense and is expected to regain his sizeable. … Wideout Devon Williams sat out practice with a thigh contusion and remains "day to day".
---
Get the latest on L.A.'s teams in the daily Sports Report newsletter.
You may occasionally receive promotional content from the Los Angeles Times.