USC pulls away with tough defense, beats Drake in NCAA tournament's first round
Tenacious defense had taken USC this far, back to the NCAA tournament for the first time in four years, primed for a possible postseason run at a pivotal point in the program's otherwise pedestrian history, but just as that journey began Saturday, Joseph Yesufu was threatening to upend it all on his own.
The point guard had started the season on Drake's bench, but by the tournament's first round, he'd become the center of USC's game plan, single-handedly keeping the Bulldogs within striking distance. He hit one three-point shot. Then another. Then another. He drove with impunity through the teeth of the Trojans' defense and made contested jumpers, scoring 11 of Drake's first 13 points and 18 overall in the first half, keeping USC honest in a way few players have been capable of this season.
But that was before USC had a chance to regroup, before it could refocus its defense and retrain its efforts on the surging point guard. When the Trojans finally decided to clamp down, Yesufu and 11th-seeded Drake abruptly came apart. From there, sixth-seeded USC rolled to a 72-56 victory in a West Region game at Bankers Life Fieldhouse in Indianapolis. It was USC's first win in the tournament since 2017.
It's finally time for USC basketball to turn regular-season greatness into an NCAA tournament dance Los Angeles will never forget.
"Our goal was to take their best player out of the game in the second half and make everything tough," USC coach Andy Enfield said.
Mission accomplished. As Yesufu was swarmed on the perimeter, Drake made just two of its first 23 shots in the second half. The Bulldogs scored 19 points and shot a 19% in the final 20 minutes.
It was the kind of defensive effort USC (23-7) will no doubt need again Monday, when the Trojans face third-seeded Kansas for a chance to go to the Sweet 16 for the first time since 2007.
The size disparity won't be nearly as significant as it was Saturday, as USC swarmed Drake in the second half, sending multiple defenders after Yesufu on the perimeter, and using a zone to clog the paint.
Drake still outrebounded USC 39-35, a total that would usually portend poor results for the Trojans. But their defense was simply too much for Drake (26-5) to handle. Even Yesufu acknowledged that he ran out of gas as the Trojans honed in.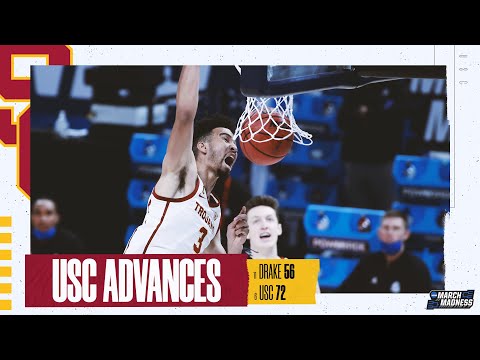 Highlights from USC's win over Drake in the first round of the NCAA tournament on Saturday.
"That zone really bothered us," Drake coach Darian Devries said. "That length was hard for us to get in the interior and finish. We were trying to get it inside to anywhere around the rim where we could get some scores or some easy baskets."
But nothing came easy in the second half as USC reminded just how dominant it can be on the defensive end with a potential superstar 7-footer commanding the paint.
UC Santa Barbara barely misses out on winning its first NCAA tournament game since 1990 when a late shot fails to drop in a 63-62 loss to Creighton.
The spotlight certainly wasn't too bright for Evan Mobley in his NCAA tournament debut, as the freshman led USC with 17 points, reeled in 11 rebounds and added three blocks. His presence alone was enough to deter Drake from driving into the paint in the second half, as he stood tall in the center of the Trojans' zone.
He will be faced with one of the most difficult matchups of his stellar season Monday. Kansas center David McCormack returned Saturday after missing the previous two weeks following a positive COVID-19 test and paced the Jayhawks in their narrow victory over 14th-seeded Eastern Washington.
USC won't be able to rely on Mobley alone if it hopes to advance to the Sweet 16. On Saturday, his brother, Isaiah, offered a helping hand with one of his most efficient outputs of the season, finishing with 15 points on six-for-seven shooting.
As the Trojans pulled away over the final 12 minutes, Enfield said, Isaiah Mobley was "sensational".
"It changes the game," Evan Mobley said of his brother's showing Saturday. "When other people, other players are a threat on our team, they've got to lock in on them more, which leaves other players open, such as me or anybody else. So when other players are doing well, it always just opens the floor up."
The door was still open for Drake, as Yesufu hit a three-pointer with just under seven minutes remaining, giving him 26 points. His shot cut USC's lead to 57-50 and forced Enfield to call a timeout.
USC guard Tahj Eaddy will get the chance to finish his college career in the NCAA tournament. It's an opportunity Jonah Mathews wishes he would have had in 2020.
But USC regrouped again. Drew Peterson hit a three, and Tahj Eaddy added another. The Trojans' defense tightened its grip and never let go.
"They gave us everything we could handle [today]," Enfield said. "I thought our guys showed a lot of defensive toughness, especially in the second half, to pull this win out. We're happy to go on to the next round."
Get the latest on L.A.'s teams in the daily Sports Report newsletter.
You may occasionally receive promotional content from the Los Angeles Times.