USC's Final Four dreams shattered in Elite Eight loss to top-seeded Gonzaga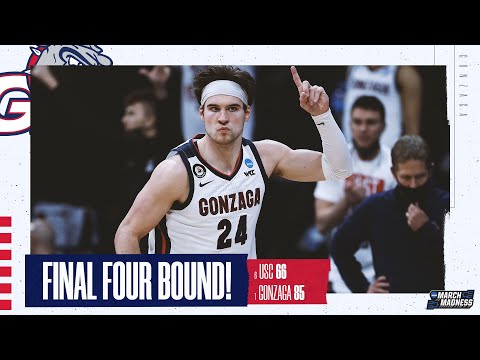 Highlights from USC's loss to Gonzaga in the Elite Eight of the 2021 NCAA tournament.
Its best hope had been perfection. And perhaps, even that wouldn't have been enough.
But as one pocket was picked, then another ... as one pass was errant, then another ... as one NCAA tournament dream was deferred, then another, any last, desperate attempt at steering USC away from an early, ugly skid disappeared in a hurry. Destiny had pulled the Trojans into the direct path of a juggernaut. It didn't end well.
The end arrived swiftly, at least. It came in a flurry of careless turnovers in Tuesday's West Region final in Indianapolis, served up on a platter to top-seeded Gonzaga. It came in transition, where the silky-smooth Bulldogs bludgeoned a Trojans defense that supposedly had prepared for tempo. It came in the paint and on the perimeter and along the offensive glass, where USC was outmuscled, outclassed and overwhelmed in an 85-66 loss to the national title favorite, which has won 30 games in a row this season for a reason.
"It's tough to come back on this team," USC coach Andy Enfield said. "We were missing some of the shots we normally make, and they were making everything."
USC coach Andy Enfield knew what was coming but failed to prepare his team for one of the most important games in program history.
Sometimes, it's just as simple as that. Gonzaga left no room for respite, no opportunity to regroup, no chance for USC (25-8) to catch its breath. Before the Trojans even could find their footing, it was too late. A magical March run that saw them soar to the Elite Eight for the first time in two decades was over, long before the buzzer sounded.
It wouldn't minimize their memorable march to this moment. Before the season, the conference media picked USC to finish sixth in the Pac-12, and the Trojans never forgot the slight. They roared to within a few percentage points of a Pac-12 title, then ran roughshod over their first three tournament opponents, beating Drake, Kansas and Oregon by an average of more than 21 points.
"This season was very important for our program," Enfield said. "To make the Elite Eight for the second time in 67 years is a credit to our players and what they accomplished this season."
But as the beatdown came back around on Tuesday, they could go no further. The defense that defined USC all season suddenly was discombobulated by one of the most efficient offenses college basketball has ever seen. A matchup billed as one between USC's top interior defense in the nation (allowing 41.5% shooting) against Gonzaga's top interior offense (shooting 63.7%) couldn't have been more lopsided.
Where Evan Mobley's presence was once enough to deter any player from driving in the paint, Gonzaga's Drew Timme dominated the star freshman without a second thought.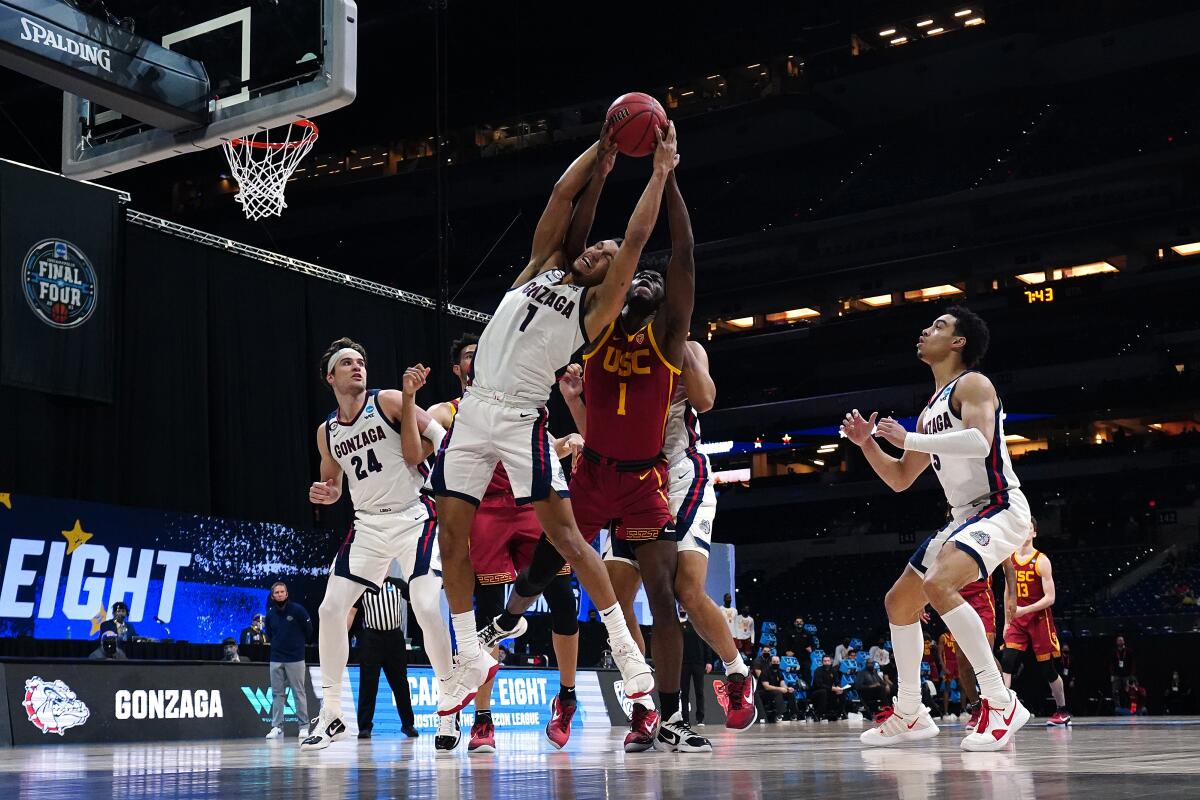 He stood in the middle of USC's maddening zone and directed traffic with ease, dishing to driving teammates off screens or simply taking it himself, contorting up and around Trojans defenders including Mobley, the Pac-12's defensive player of the ear.
As Gonzaga flew out to a 19-6 run to open the game, Timme scored eight in a row. After one basket, he shrugged. After another, he stroked his mustache. Before long, he'd run out of celebrations, as he finished with 23 points.
"They kept getting it to the middle, and then it would just cause miscommunications and stuff," Mobley said. "That's where he got most of his buckets, in the middle of the paint."
Mobley still scored 17, while his brother, Isaiah, led USC with 19. But the Mobley brothers couldn't do it alone. The Trojans' other two starters made just a third of their shots.
Still, their star 7-footer tried in vain to get USC back in it. He came out aggressively in the second half, but by then, the clock already was ticking on a collegiate career that, while likely brief, will go down as one of the best in USC hoops history.
"The whole entire experience was great," Mobley said. "I'm glad I came and chose this school to play for. It was everything I hoped it would be. We fell a little short, but I'm glad we made it this far."
No reasonable soul had expected even that much, not from a team cobbled together with three returning players and a handful of transfers. But as an unlikely run came to an unsatisfying end, the journey was enough to salve the sting of defeat.
With UCLA winning over Michigan Tuesday night, Pac-12 has now broken the record for most upsets by a conference.
Referee collapses
The game was interrupted by a frightening moment early, when official Bert Smith collapsed on the floor and had to be taken off in a wheelchair. In the second half, CBS passed along word that Smith was feeling OK and resting in the arena.
The Associated Press contributed to this report.
Get the latest on L.A.'s teams in the daily Sports Report newsletter.
You may occasionally receive promotional content from the Los Angeles Times.