Caleb Williams rescues defensively challenged USC in win over Arizona State
TEMPE, Ariz. —
USC wanted to be road villains. For most of Saturday night, it looked like the type of antagonists that spoil their own dastardly plans with silly mistakes.
Akin to cartoon characters who step on rakes or slip on banana peels, USC's self-inflicted wounds piled up in missed tackles, dropped passes and basic procedure penalties before the No. 5 Trojans (4-0, 2-0 Pac-12 Conference) finally pulled away for a 42-28 win over Arizona State (1-3, 0-1 Pac-12) at Mountain America Stadium.
The No. 5 Trojans started off like they extended their bye week against a team that was coming off an embarrassing home shutout against Fresno State. Playing on the road for the first time after three home crowd-fueled blowouts, USC fumbled twice in the first quarter, gave up a 25-yard pass by a running back on fourth-and-five in the second quarter and committed a false start that left star quarterback Caleb Williams doubled over in pain in the third quarter.
USC will meet Arizona State for the 40th meeting as members of the Pac-12 for the last time on Saturday. Here are five memorable games of the series.
Center Justin Dedich's unexpected snap hit Williams below the belt, and the Heisman winner crumbled to the grass. When he peeled himself off the field, he playfully shoved Dedich before getting set for the next play.
"For the first three quarters, it was kind of an example of how the road games can challenge you," USC coach Lincoln Riley said. "It was an example how mistakes tend to show up on the road a little bit different than they do at home."
Playing a whole game for the first time this season, Williams helped USC stave off disaster by throwing two touchdown passes in the fourth quarter, finishing with 322 yards and three touchdowns on 20-of-31 passing with two more scores on the ground. The Trojans sacked Arizona State quarterback Drew Pyne seven times in the final frame and forced two takeaways in the second half, with an interception by Calen Bullock and a forced fumble by Solomon Byrd.
Receiver Brenden Rice had a career high seven catches for 133 yards and two touchdowns, while running back MarShawn Lloyd paced the ground game with 154 rushing yards on 13 carries.
"Every win is different," Lloyd said. "The value is it shows us what we need to work on. It shows us the toughs and the fights and everything. Overall, it was a good game, but I feel like a game like this really showed us there's a lot of stuff we can fix in the long run."
After focusing on cutting down on penalties during the bye week, USC had the nearly same number of penalties (six) as the Sun Devils had points (seven) during a sloppy first quarter lowlighted by two Trojan fumbles. ASU recovered a bad handoff between Lloyd and Williams at the USC 15-yard line to set up an easy touchdown drive that tied the game 7-7 with 6:57 remaining in the first quarter.
The 15-yard touchdown run by running back Cam Skattebo ended a six-quarter scoreless streak for the Sun Devils, who were licking their wounds from a 29-0 blowout against Fresno State last week that was their first home shutout since 1988. In the aftermath, head coach Kenny Dillingham took over play calling duties, and the former Oregon offensive coordinator didn't hold back.
USC's Max Williams will play against brother Macen and Arizona State on Saturday. Football has been a family affair for them, along with brother Marcelles.
The Sun Devils ran a fake punt, a surprise onside kick that USC recovered and lined Skattebo up at quarterback during a chaotic first half that offered an appropriate swan song to the impending end of the Pac-12 After Dark era. Including a 25-yard completion on fourth-and-five, Skattebo had more passing yards in the first half (42) than Pyne, who was 8 for 15 passing for 33 yards in the first half.
The highest-scoring offense in the country went scoreless in the third quarter, allowing Arizona State to move within one possession. Clinging to a six-point lead entering the fourth quarter with ASU's sold-out crowd rocking, Riley pulled his team into a close huddle on the field.
"On a road game, it's just us," Lloyd said. "It shows our brotherhood. There's no one behind us."
The crowd noise led to miscommunication that forced USC to burn timeouts early, but the Trojans ultimately silenced the fans late.
"It's our first road game, we took a punch to the face and we punched them back," Rice said. "We came out on top and that all matters."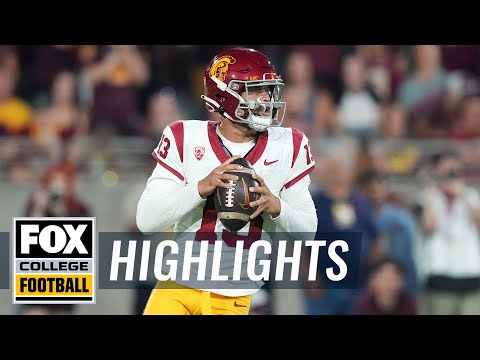 Get the latest on L.A.'s teams in the daily Sports Report newsletter.
You may occasionally receive promotional content from the Los Angeles Times.