Judge opens door for Bryce Dixon to return to USC football team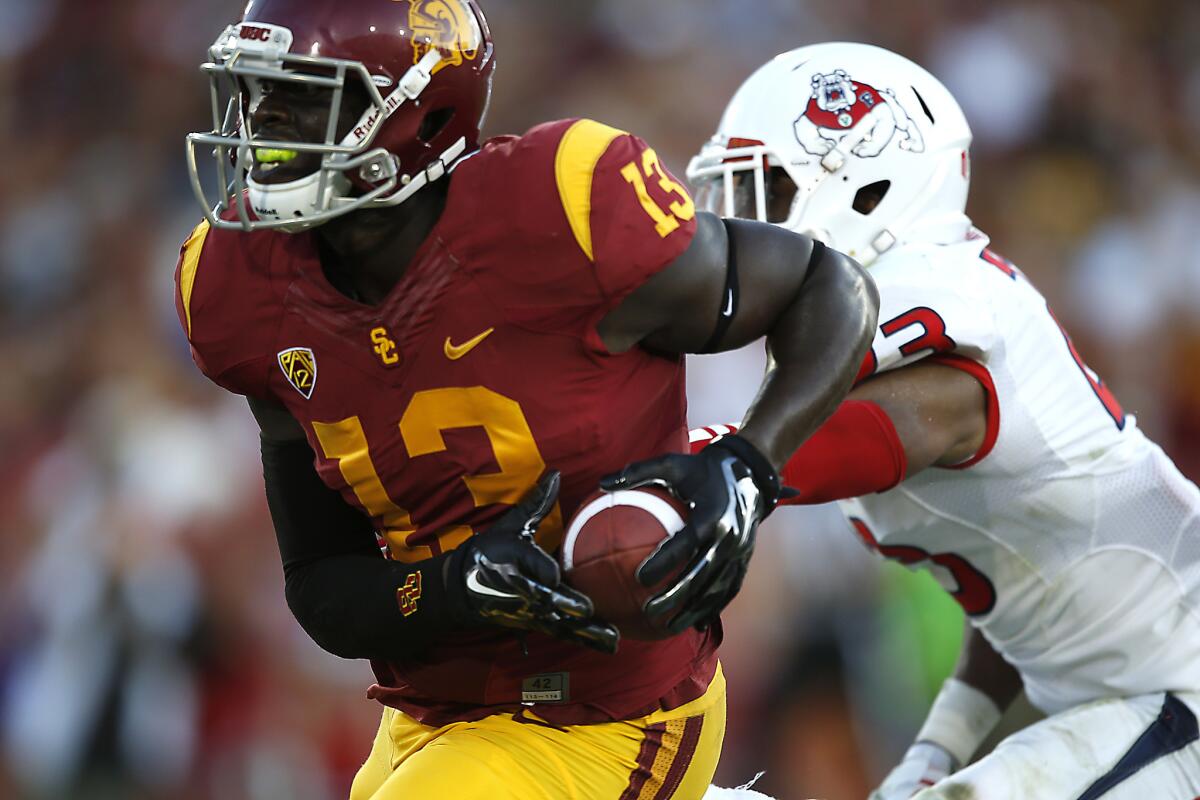 A Los Angeles Superior Court judge Wednesday opened the door for Bryce Dixon's possible return to USC's football team by putting his expulsion from the university on hold.
Dixon, a tight end who played in 12 games last season as a freshman, was expelled in May in the aftermath of a USC sexual misconduct investigation.
In granting Dixon's request to stay the ruling, Judge Robert H. O'Brien said in court he was concerned about USC's investigative and hearing processes and due process.
"I'm happy," Dixon said outside the courtroom after the hearing. "I just hope everything comes my way and they find out that I'm telling the truth. I've been telling the truth the whole time."
Dixon's immediate future with the football team, however, is in the hands of USC.
Karen J. Pazzani, an attorney representing USC at the hearing, said she could not comment on pending litigation, "but we have confidence in the process."
The school issued a statement saying: "The university stands by its student disciplinary processes that were conducted in compliance with state and federal regulations and its decisions in this case. We will carefully evaluate the judge's written order once it is issued in order to determine our next steps."
Last month, Coach Steve Sarkisian declined to comment on Dixon's situation, but said, "We'd love to have him." After practice Wednesday, Sarkisian cited the school's statement.
Asked if he wanted Dixon back, Sarkisian said he wanted what was best for his players, whether it was on the field, in school or in their personal lives. "As the university makes their decision, then we'll make ours," he said.
Mark M. Hathaway, Dixon's attorney, said the judge's ruling should enable Dixon to have his spring semester grades and athletic scholarship restored and begin fall semester classes.
"I fully expect USC to comply with the court's order," Hathaway said. "If the only reason his scholarship was taken away and he can't play football is the expulsion, then USC would undo that because that's what they've been ordered to do."
------------
FOR THE RECORD
Aug. 12, 2:27 p.m.: An earlier version of this article misspelled the last name of Ainsley Carry as Carr.
------------
Dixon filed his petition Wednesday, naming USC Title IX investigator Kegan Allee and Vice Provost for Student Affairs Ainsley Carry as respondents. Dixon claimed that USC's sexual misconduct investigation process "is utterly lacking in due process, with no hearing, no right to counsel, no rules of evidence, no presumption of innocence, no right to possess copies of witness statements and evidence and no right to confront witnesses against him."
According to the petition, Dixon's case stems from a relationship with a female USC student who was an athletic trainer.
Dixon was investigated for two alleged incidents of misconduct.
He was cleared of misconduct for an Oct. 9 incident but was found to have violated USC's "affirmative consent" policy on sexual activity on Oct. 23.
Dixon's appeal to USC's Student Behaviors Appeals Panel was denied.
Dixon, 19, said he would like to rejoin the Trojans for the upcoming season.
"I know the coach is accepting and the team is accepting," he said.
"The school is something I still don't know."
In November, Dixon was suspended for a game against California for what Sarkisian said was a student-conduct issue. Sarkisian would not comment further, citing privacy laws.
Dixon returned the following week against UCLA and played in the Trojans' final three games.
Dixon was not allowed to participate in spring practice because of what Sarkisian again described as a student-conduct issue.
On May 14, USC announced on its athletic department website that Dixon was "no longer enrolled at the University of Southern California."
School officials at the time declined to comment on the expulsion.
gary.klein@latimes.com
Twitter: @latimesklein
Klein is a Times staff writer. Thiry is a Times correspondent.
Get the latest on L.A.'s teams in the daily Sports Report newsletter.
You may occasionally receive promotional content from the Los Angeles Times.