Ex-USC receiver Victor Blackwell faces 11 misdemeanor charges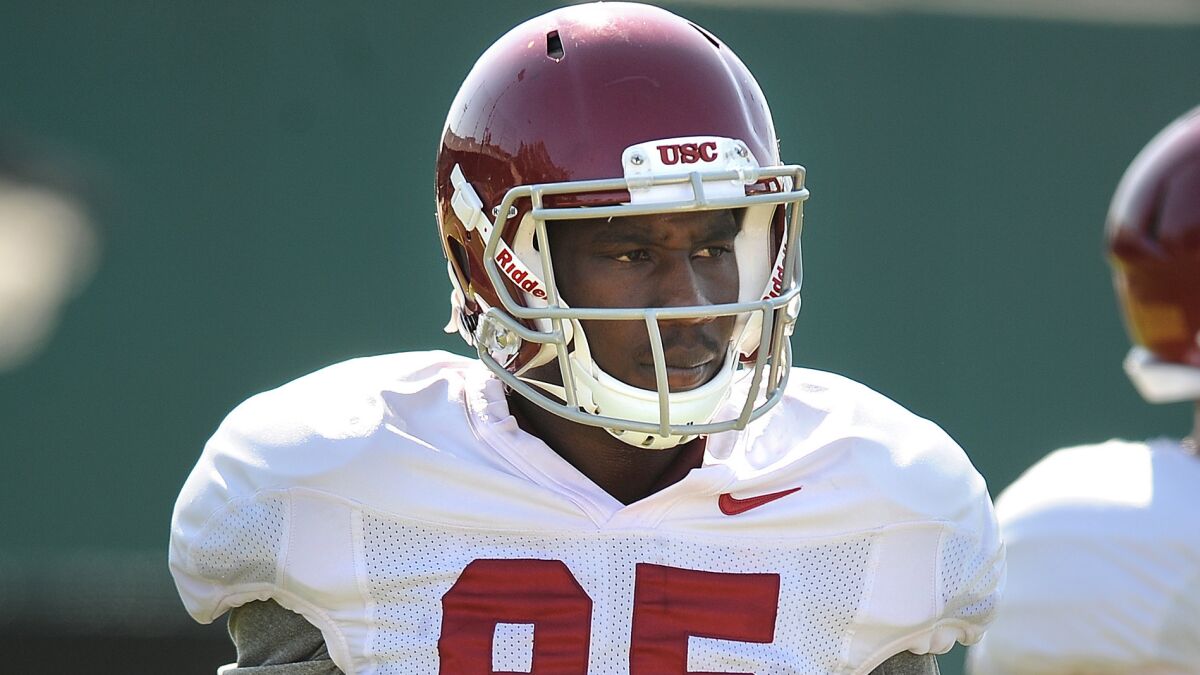 Former USC receiver Victor Blackwell faces misdemeanor charges of domestic violence, vandalism and others involving resisting arrest and battery on a police officer, a spokesman for the Los Angeles city attorney's office said Tuesday.
Blackwell, 21, was arrested last Wednesday and pleaded not guilty to 11 counts at his arraignment Friday, the spokesman said.
If Blackwell is convicted on all counts, he could be sentenced to up to 11 years in jail.
Blackwell was arrested on suspicion of domestic violence after campus public safety officers responded to a call from the University Gateway Apartments. A woman who said she was Blackwell's girlfriend told officers she had been punched several times in the face during an argument and her boyfriend also threw a chair at her, authorities said.
The woman also told officers her boyfriend smashed her computer and cellphone on the floor and punched several holes in a door after she retreated to her bedroom.
The Los Angeles district attorney's office declined to file felony charges and referred the case to the city attorney for misdemeanor consideration.
Blackwell played in the opener against Fresno State but not in the next two games. He had been absent from practice since the Trojans returned from a Sept. 13 game at Boston College.
Coach Steve Sarkisian announced last Thursday that Blackwell had been eliminated from the roster three days earlier.
Sarkisian said Tuesday Blackwell's situation was "disappointing."
"As a coach, part of your job is to help develop young men and when it doesn't work out it's disappointing," Sarkisian said after the Trojans' morning practice, adding, "I hope the situation is not as I read it."
Asked what his reaction was when he learned Blackwell had been arrested, he said, "Just again, disappointing. I extended both hands to him numerous times and it just didn't happen. I feel there's a little bit of a sense of failure there because it's part of my job."
Times staff writer Richard Winton contributed to this report.
Get the latest on L.A.'s teams in the daily Sports Report newsletter.
You may occasionally receive promotional content from the Los Angeles Times.