17 gifts that will guarantee a healthier 2016
The holidays are here, and we've got plenty of gift ideas to keep everyone happy. Skip to gifts for: Kids, pets, cooks and the socially conscious as well as those who are into home décor and amazing experiences. And you'll find even more holiday gift ideas here.
Luci Lux Inflatable Solar Light
At just 4 ounces, this is light enough for backpacking or for a kid who loves camping gadgets. It can hang in a tent or be used to decorate a backyard party. The light is warm, thanks to the frosted finish on the plastic cylinder. It charges in eight hours in direct sunlight and gives light for up to 12 hours. $19.99. Adventure 16, 11161 W. Pico Blvd., Los Angeles.
Camelbak Skyline pack
To relieve the aching shoulders of all-day hikers and bikers and allow more freedom of movement, Camelbak lowered the center of gravity on its new Skyline 10LR hydration pack, keeping the 3-liter hydration reservoir down by your hips. Nestled in the low back and attached to a hip belt studded with storage compartments, the Skyline features tool rolls, external cinch straps for knee and elbow pads, a helmet carry system, a zippered trapdoor that provides instant access to the reservoir for refilling and a magnetic "Tube Trap" that keeps the suck-hose in place. $130, www.camelbak.com
Ultra-Sil Kitchen Sink
Washing dishes in the woods can be a real chore and not a great thing for streams or lakes. Check out this Sea to Summit 10-liter nylon and Cordura leak-proof collapsible sink. It packs into a tiny stuff sack and opens to a free-standing sink with handles. $29.95, Adventure 16.
PocketRocket Stove
This one is for serious backpackers and outdoor cooking only. The PocketRocket from Cascade Designs in Seattle is an ultralight, fast-boiling canister stove that weighs just 3 ounces. It is supposed to boil a liter of water in less than 3.5 minutes. The $39.95 stove operates with a liquid pressurized gas canister, which is purchased separately. Adventure 16 and www.msrgear.com
Vimmia Slimming Capris
Everyone seems to be wearing leggings from morning till night — and yet not everyone has legs and a behind that are ready for prime time. These capri-length pants from Los Angeles-based Vimmia are made from a compression fabric called Vimmia X that doesn't feel too constraining but gives a little cozy help. The company says that wearing them post-workout helps muscle recovery too. $134, www.vimmia.com
The Torch
If your loved ones are not so vigilant about wearing a helmet, this one might motivate them. It looks really cool, and it's got front and back LED lights. The Torch comes in eight colors, including black and high-visibility brights. The size is adjustable. $139.99. Bike Attack, 2400 Main St., Santa Monica. www.bikeattack.com
Formulary 55 Foot Soak
It takes a lot of footwork to get to Dec. 25. Express your gratitude with a stocking stuffer to ease your loved one's holiday stress. Formulary 55's Sea Mineral Foot Soak with eucalyptus and peppermint is a lovely way to do that. $6. formulary55.com
Meier skis
Making something beautiful out of junk, the Meier Quickdraw incorporates wood from dead Colorado pine trees, stained in unusual blue patterns by the bark beetle infestation that is ravaging Rocky Mountain forests.Every pair from this boutique ski maker is a unique, eco-friendly work of art. The performance is great too,with an upturned rocker in the tip, a traditional camber and a soft-flexing, responsive ride. $695. www.meierskis.com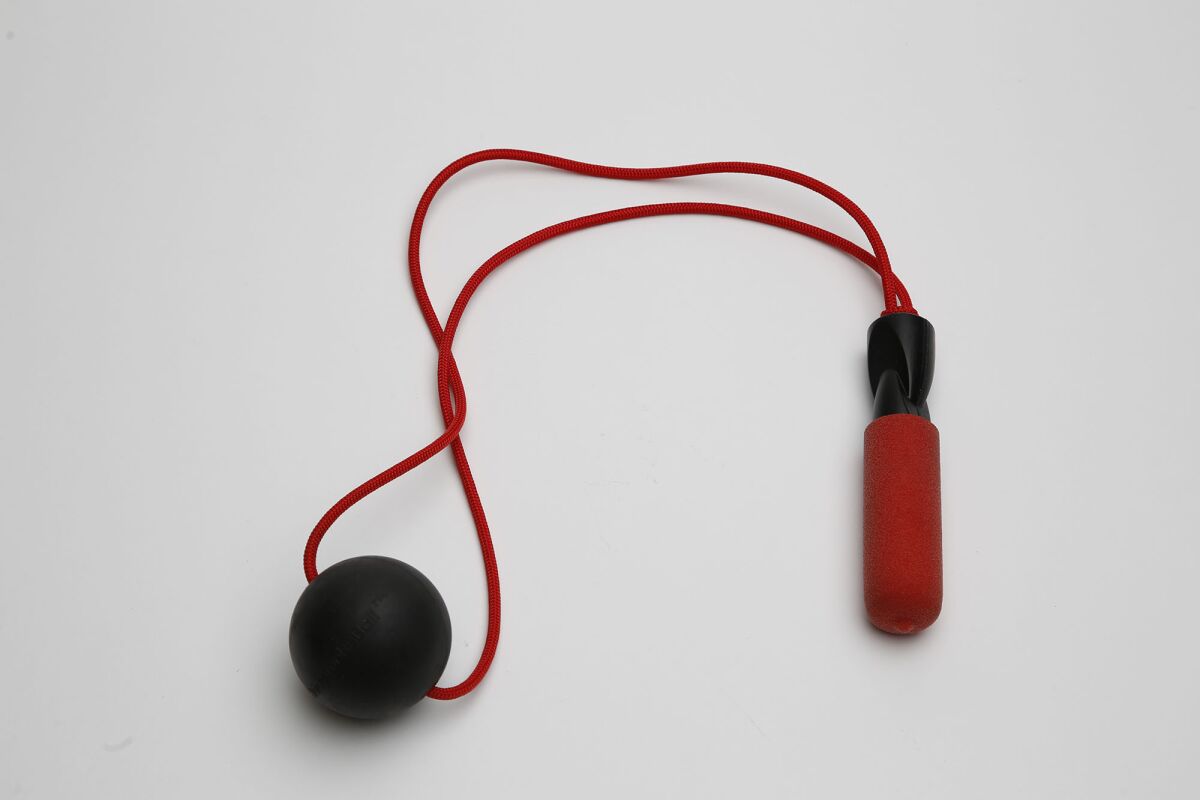 BodyworksBall
Take this self-massage tool with you and you've got a simple way to get a little relief from stress wherever you are. BodyworksBall is a simple idea: a hard ball attached to a rope and handle. Just position the ball where you need the relief and hold the handle to manipulate it and get the kinks out of shoulders, feet and other spots. $34.99. www.bodyworksball.com
Charcoal bar soap and exfoliating glove
Charcoal is hot these days — in juices and in skin-care products — so no one will complain about getting this coal in their stocking. This soap is made with coconut and olive oils, shea butter and activated charcoal. The soap can stay in the bag it comes in, which is made to be used as a scrubber. It is sold at Alchemie spa, which has a full range of face and body treatments too. $15. Alchemie spa, 2021 Main St., Santa Monica. www.alchemiespa.com
Zuri Zip-Up
We like the sophisticated style of this athleisure jacket, which comes in gray or blue and can go from workout to night out. It's got a subtle off-center zip-up front, pretty black accents and a roll-down neckline that suits varying temperatures. There's a useful zippered back pocket for phone or keys too. It is made by 27Fit, a new company in Hollywood that also has capris in six prints. $75.99. www.27fit.com
PostureFit Bar
Our world of devices and screens has been no friend to our posture. Most of us could use a little help standing and sitting straighter. PostureFit Bar has a cushion wrapped around a metal bar designed for exercises to improve posture. It doesn't work if it isn't used, of course; the company recommends 25 minutes three to five times a week. The bar, which costs $89 to $119 depending on the weight, comes with a poster showing exercises. www.getposturefit.com
OneWheel board
The OneWheel board simplifies personal transportation with a 2-horsepower electric motor tucked in the hub of a single air-filled 111/2 - by-61/2 -inch rubber tire, a top speed of 15 mph, front and rear lights, and hands-free controls that speed it up when you learn forward and slow it down and stop when you lean back, much like a Segway. (It looks a bit like a skateboard with a wheel embedded in the middle.) The company says it goes on- and off-road. $1,499.www.rideonewheel.com
Towel Tech
Traipsing around the gym with keys, phone, ID and towel can be a drag. Towel Tech may assist with that problem with a Tencel hand towel that has a zippered mesh pocket, plus an embedded magnet (removable for washing) to hang on lockers or gym equipment and avoid the floor. $24.99. www.toweltech.com
Powerarmz
4id makes various safety lights to protect active people outdoors at night. For runners determined to get their miles in no matter the hour, as well as bicyclists or skateboarders, this armband LED light attaches with an adjustable Velcro strap. It emits a steady or a flashing light. It's also useful to put on a dog collar. $19.95. www.4id.com
Coloring books
The idea that coloring is not just child's play — but is meditative and perhaps even therapeutic — has fueled a fad for coloring books that just might suit the doodler or nail-biter on your list. Although there's a preponderance of somewhat trippy graphics, there are many choices. Among them are "The Mindfulness Coloring Book," Emma Farrarons' book aimed as a stress reliever for busy people, $9.95, theexperimentpublishing.com, and "Flower Patterns," $14.99, www.adamsmedia.com. www.arttherapycollection.com
Serena & Lily surfboards
A series of three hand-painted surfboards designed by Serena Dugan of Serena & Lily and shaped by acclaimed surfboard shaper Michel Junod in his Santa Cruz shop will make a statement in the surf or hanging on a wall. $2,400. Handling fee, $200. www.serenaandlily.com/junod-egg-surfboard-%E2%80%93-seaglass/101753.html
MORE HOLIDAY GIFT GUIDES:
Experiences | Kids | Pets | Foodies | Home | Health | Gifts that give | Tech | Books | Travel gear
Get our L.A. Goes Out newsletter, with the week's best events, to help you explore and experience our city.
You may occasionally receive promotional content from the Los Angeles Times.