Recipe: Halibut and shimeji baked in parchment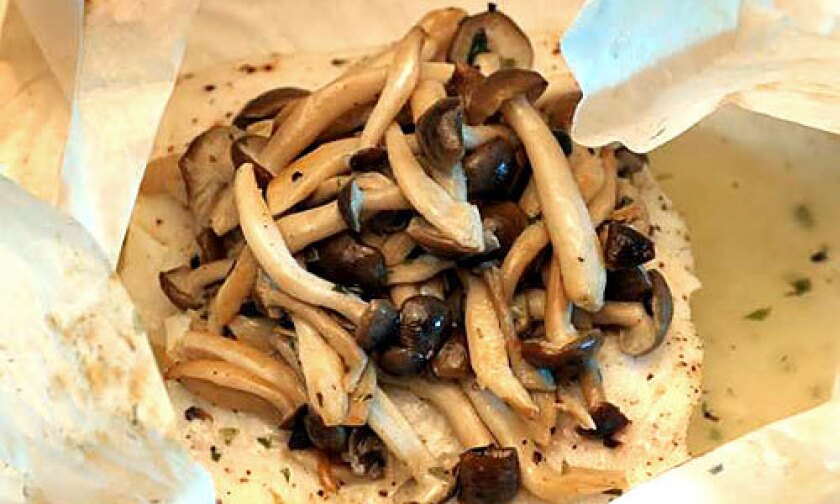 Some exotic mushrooms may be becoming commonplace. A San Diego company is opening a plant this spring that will more than triple the total U.S. output of king trumpet, shimeji and maitake mushrooms within just a couple of years. Just as portobellos came out of nowhere to become supermarket staples in the 1990s, so might these flavorful Japanese mushrooms find their own place on the American table. This recipe by Food editor Russ Parsons is a perfect way to show off the delicate flavor and graceful shape of the shimeji. And it couldn't be simpler to make. Cook the mushrooms, wrap them in a parchment-paper pouch with halibut and bake -- that's all there is to it. Even better, you can prepare the packets in advance and refrigerate them until you're ready to cook. If you don't have parchment, you can use aluminum foil.
Total time: 40 minutes
Servings: 6 to 8
Note: Shimeji mushrooms are generally available at Asian markets.
Canola or vegetable oil
1/2 pound brown or white shimeji mushrooms, tough base removed (leave stems on), and broken into sections
Salt
2 teaspoons minced shallots
1 teaspoon minced tarragon
1/4 cup white wine
Freshly ground black pepper
2 (1-pound) halibut steaks
1. Heat the oven to 400 degrees. Cut 2 (15-inch-square) pieces of parchment paper or aluminum foil and lightly oil one side.
2. Heat 1 tablespoon of oil in a large nonstick skillet over high heat. When the oil shimmers, add the mushrooms, three-fourths teaspoon salt and cook, tossing frequently, until the mushrooms start to soften, 2 to 3 minutes. They'll begin to sizzle and shine as they release their moisture.
3. Add the shallots, tarragon and white wine, reduce the heat to medium and cook until the wine evaporates, about 2 minutes. The mushrooms should be tender and lightly browned in places. Season with just a dash of black pepper.
4. Lightly season each halibut steak with three-eighths teaspoon salt and a few grinds of pepper. Place a steak in the center of each piece of parchment paper and spoon the mushrooms evenly over the steaks. Crinkle together the edges of the parchment paper to make an airtight packet, with some room left for the packet to expand. Place the packets on a baking sheet. (The recipe can be made to this point several hours in advance and refrigerated until ready to cook.)
5. Bake the packets until they puff slightly, 25 to 30 minutes (you may need to unwrap the packets a little to make sure the halibut is firm and opaque). Remove from the oven and place the packets, still sealed, on a platter. To serve, open the packets and divide the halibut and mushrooms onto plates.
Each of 8 servings: 152 calories; 25 grams protein; 1 gram carbohydrates; 0 fiber; 4 grams fat; 1 gram saturated fat; 36 mg. cholesterol; 390 mg. sodium.
---
The essential weekly guide to enjoying the outdoors in Southern California. Insider tips on the best of our beaches, trails, parks, deserts, forests and mountains.
You may occasionally receive promotional content from the Los Angeles Times.