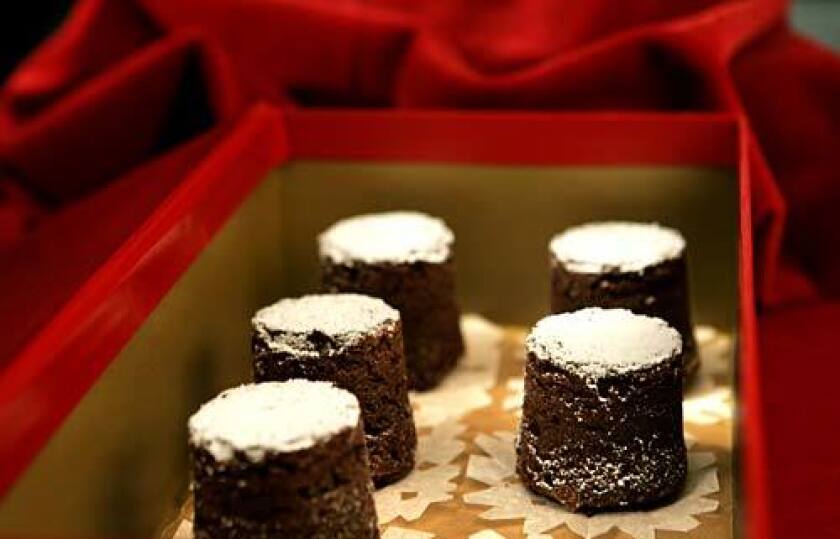 Total time: 45 minutes, plus cooling time
Servings: Makes 12 bouchons
Note: Adapted from "Bouchon" by Thomas Keller. Timbale molds are available at Sur La Table stores and at www.cooking.com and www.amazon.com. Keller suggests using 3-ounce (2 to 2 1/2 -inch diameter) stainless-steel timbale molds.
3/4 cup (3 1/2 ounces) flour
1 cup unsweetened cocoa powder
1 teaspoon kosher salt
3 large eggs
1 1/2 cups plus 3 tablespoons granulated sugar
1/2 teaspoon vanilla extract
1 1/2 cups (3 sticks) butter, melted and just slightly warm
6 ounces semisweet chocolate, such as 55% Valrhona, chopped into pieces the size of chocolate chips
Butter and flour for the timbale molds
Powdered sugar
1. In a medium bowl, sift together the flour, cocoa powder and salt.
2. In the bowl of a mixer fitted with the paddle attachment, mix together the eggs and sugar on medium speed until thick and pale in color, 3 to 5 minutes. Add the vanilla and mix until incorporated.
3. With the mixer on low speed, add about one-third of the dry ingredients, then one-third of the butter, and continue alternating with the remaining flour and butter. Add the chocolate and continue to mix to combine. (The batter can be made up to this point and refrigerated, covered, for up to one day.)
4. Heat the oven to 350 degrees. Butter and flour 12 timbale molds. Set aside.
5. Put the timbale molds on a baking sheet. Place the batter in a pastry bag without a tip, or with a large plain tip, and fill each mold about two-thirds full. Bake the bouchons until the tops are shiny and set (like a brownie), and a toothpick inserted in the center comes out moist but clean (there may be some melted chocolate from the chopped chocolate), 20 to 25 minutes.
6. Transfer the bouchons to a cooling rack. After a couple of minutes, invert the molds and let the bouchons cool in the molds. Remove the molds and serve, or store until needed (the bouchons are best eaten the day they are baked).
7. To serve, invert the bouchons and dust them with powdered sugar. Serve with ice cream, if desired.
Each of 12 servings: 453 calories; 5 grams protein; 46 grams carbohydrates; 3 grams fiber; 30 grams fat; 15 grams saturated fat; 113 mg. cholesterol; 116 mg. sodium.
---