Recipe: Grilled Gruyère and marinated onion sandwich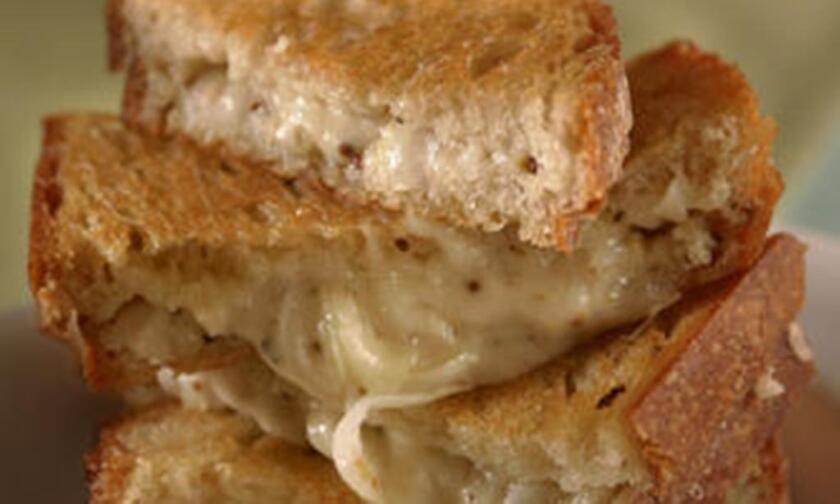 Total time: About 25 minutes, plus marinating time for the onions
Servings: Makes 2 sandwiches
Note: Adapted from Campanile chef-owner Mark Peel
1/2 cup Spanish or brown onion, very thinly sliced
1/4 teaspoon kosher salt
1/4 teaspoon freshly ground black pepper
1 tablespoon best-quality olive oil
1 tablespoon white wine vinegar
4 slices country white bread
4 tablespoons salted butter, melted
5 ounces Gruyère cheese, coarsely grated
4 teaspoons stone-ground mustard
1. In a small bowl, mix together the onion, salt, pepper, olive oil and vinegar. Cover and let sit for at least 1 hour.
2. Heat a cast-iron pan or griddle over low heat. Brush one side of each slice of bread with the melted butter. Place two slices of bread, butter-side down, on a cutting board. Spread half of the grated cheese evenly over the bread. Drain the excess liquid from the marinated onions and scatter them evenly over the cheese-topped slices. Distribute the remaining cheese evenly over the onions. Spread the mustard over the unbuttered sides of the remaining 2 slices of buttered bread. Place these, mustard-side down, on top of the slices spread with cheese.
3. Using a spatula, place one of the sandwiches into the hot pan and weight with another heavy skillet or a steak weight. (If your pan is big enough, cook both sandwiches; otherwise, cook one at a time.) Cook until golden brown, about 3 to 4 minutes. Flip the sandwich and weight it with the pan or steak weight, and cook until golden brown, another 3 to 4 minutes.
4. Remove the sandwich to a cutting board and cut it in half or quarters. Serve immediately.
Each sandwich: 745 calories; 29 grams protein; 37 grams carbohydrates; 2 grams fiber; 55 grams fat; 29 grams saturated fat; 138 mg. cholesterol; 1,131 mg. sodium.
---
The essential weekly guide to enjoying the outdoors in Southern California. Insider tips on the best of our beaches, trails, parks, deserts, forests and mountains.
You may occasionally receive promotional content from the Los Angeles Times.