Away from the crowd at the Hall at Palihouse Holloway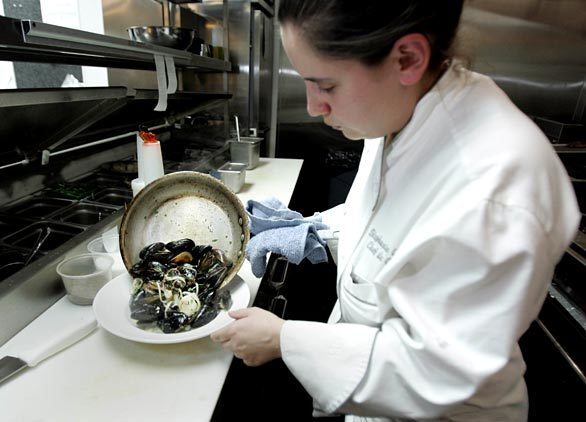 Chef Stephanie O'Mary prepares moules frites.
(Ann Johansson / For The Los Angeles Times)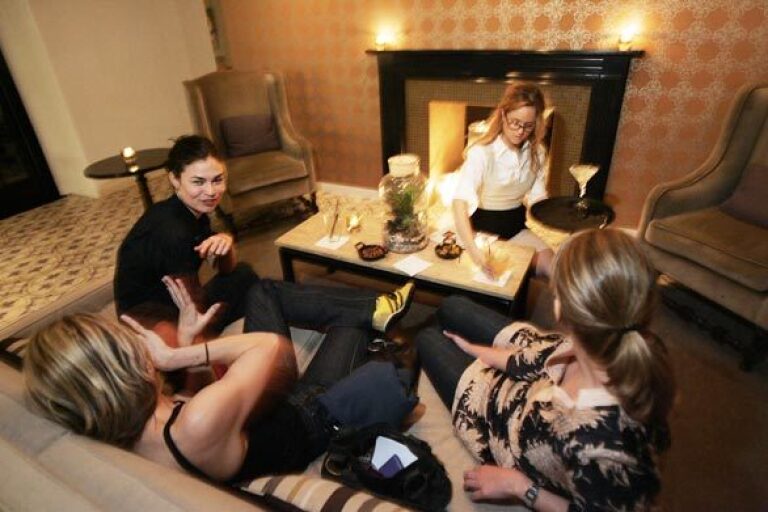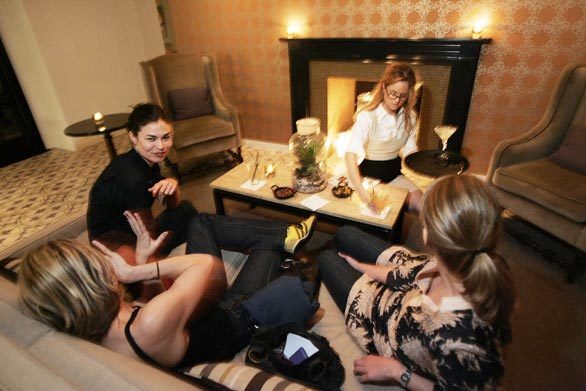 The bar and lounge at the Hall, where the wait staff is endearing.
(Ann Johansson / For The Los Angeles Times)
Oysters on the half shell (West Coast or East Coast, you choose) come out nicely chilled and are $25 for a dozen.
(Ann Johansson / For The Los Angeles Times)
Baby lamb chops with onion tapenade.
(Ann Johansson / For The Los Angeles Times)
Kabocha squash agnolotti.
(Ann Johansson / For The Los Angeles Times)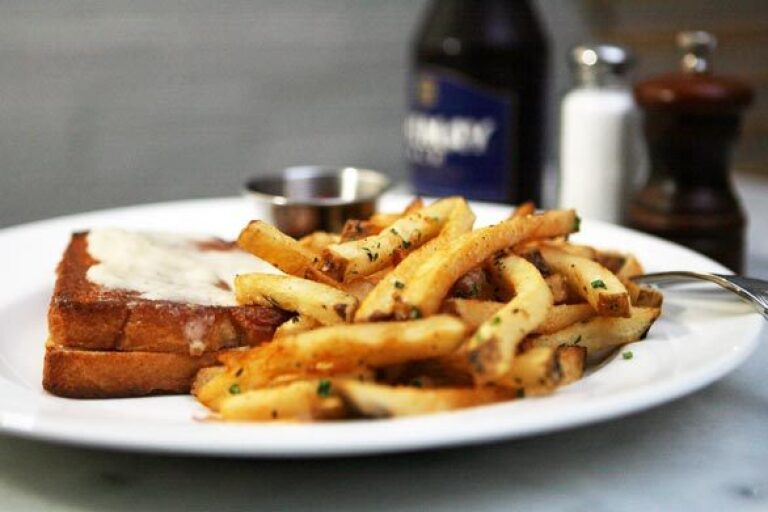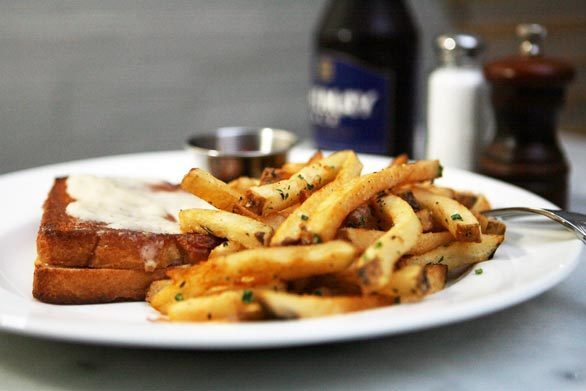 Croque-monsieur.
(Ann Johansson / Los Angeles Times)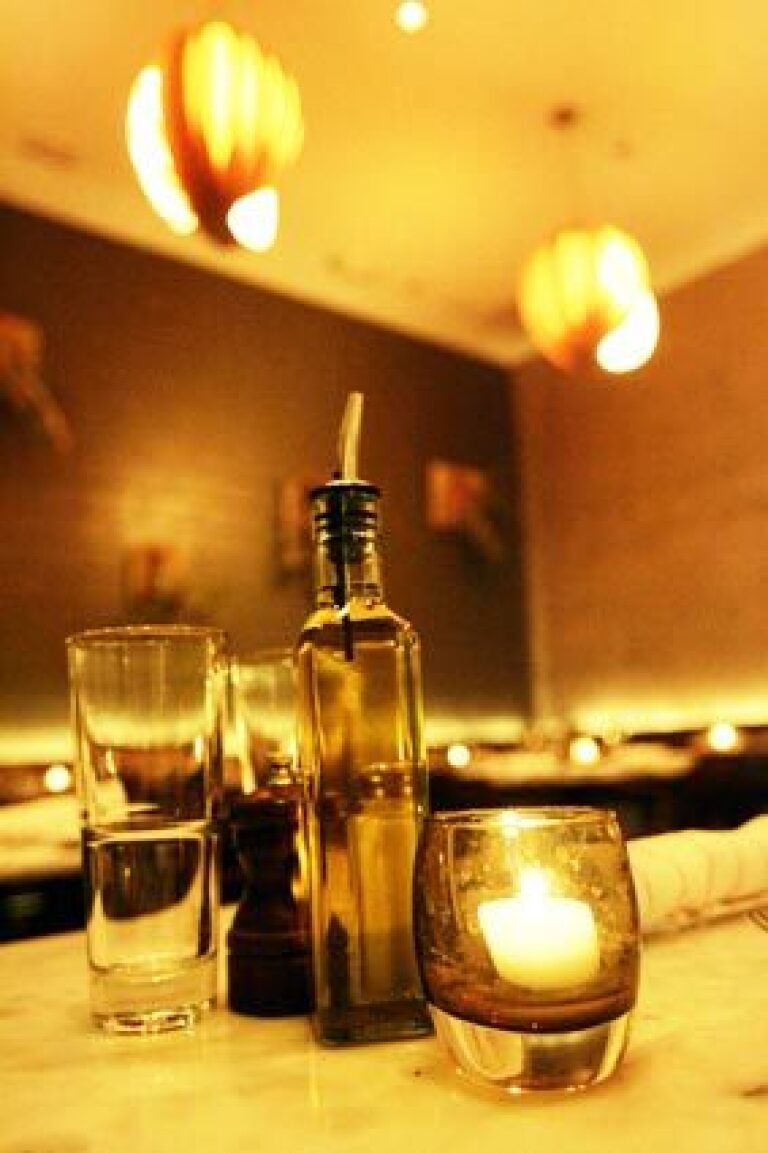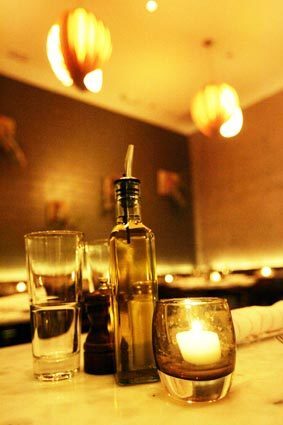 At the Hall, glasses are thick, narrow tumblers like you might find at a flea market in Paris.
(Ann Johansson / For The Los Angeles Times)
Times Restaurant Critic
IF you haven't driven past the section of West Hollywood's Holloway Drive where it joins Santa Monica Boulevard lately, you're in for a surprise. Seemingly overnight, an impressive building housing an extended-stay hotel with a condo wing has sprouted up. That's Palihouse Holloway. Inside is the new brasserie in town, the Hall restaurant. With no presence on the street and no sign, you'd never know it was there if you hadn't heard about it beforehand.
You'd never know if you tried to call either, because the phone is rarely answered. Most often you get a recording asking you to leave a message or to reserve on Open Table. When I did that one night, I couldn't get the time I wanted -- 8 p.m. -- and had to settle for 7:15, when traffic is at its worst. We naturally got caught in a fierce slowdown and worried that we'd lose our table if we didn't show within 15 minutes of our reservation. We rushed in to find that just three were occupied, and the place was still half empty when we left at 9:30. So why was it impossible to make a reservation at 8?
Oh, well, it's such a lovely, understated room, we relaxed once we were there. It's beautifully proportioned, with rough concrete walls that contrast with gleaming metallic-leather banquettes and white marble tabletops veined in gray. A heavy concrete-gray curtain covers one wall, the better to absorb the sound. The lighting is as good as any restaurant I've been to lately. That in itself is a pleasure. Outside the sliding glass doors is a courtyard at the heart of the complex with tables set out under potted pepper trees.
The menu, from chef Stephanie O'Mary, who has worked at Olives and Fiamma in Manhattan and Dakota in the Hollywood Roosevelt hotel, is printed on ruled paper, a single easy-to-read page. It doesn't get into elaborate descriptions but simply lists its fairly classic French brasserie dishes: frisée au lardons, croque-monsieur, pissaladière, moules frites, steak frites, and, more interestingly, boudin noir (blood sausage), which I'm thrilled to see on the menu.
Bread, a baguette from La Brea Bakery, hasn't been baked enough, so it's still a little doughy inside. Water comes in an unusual bottle with undulating curves, from Iceland, I think. Napkins are white cotton dish towels with fine red stripes to reinforce the French theme. And glasses are thick, narrow tumblers like you might find at a flea market in Paris.
We dive in, ordering a few of the small bites, which are perfect if you're just having a cocktail at one of the sofas in the lounge. Choices include punchy deviled eggs, Indian-accented roasted cauliflower with currants and pine nuts, and radishes with sweet butter and sea salt, all perfectly decent. Marinated olives, though, look like canned Spanish olives with the pimento missing and taste about the same.
Oysters on the half shell, West Coast or East Coast (you choose), come out in a timely fashion, nicely chilled, and reasonably priced at $25 per dozen. The cucumber mignonette that comes with them is subtle and light too.
Chef O'Mary's handmade agnolotti have a delicious, deep-flavored kabocha squash filling. And the thick-cut baby lamb chops -- two of them -- served with a little olive tapenade make a strange first course, but order them as a light main course. They're beautifully cooked a true medium rare and very tender.
After that comes the disenchantment, despite the endearing waiters and affable staff, who work the tables as a team.
Roasted tomato tart comes out of the oven with the dough still raw. You can see that it is, before anyone takes a bite. It's whisked away, and some minutes later -- the kitchen sends out a couple of amuses to keep us busy in the meantime -- the tart reappears. It's the same tart, not a new one, still just as doughy and raw, but now a little crisped at the edges. It's not much of an improvement.
Pissaladière, the classic pizza-like tart of Nice and the French Riviera, is made from the same dough. It's better cooked than the tomato tart, but tough, and slathered in caramelized onions with sharp vinegary -- and fishy -- anchovies substituted for the usual salt anchovies. The whole point is the taste of the salt against the sweetness of the onions, so for me, this version loses.
Salads are made with greens that aren't as perky as they should be and are often overdressed. House-mixed lettuces with goat cheese sounds as if you're getting one of the those pretty salads with a crottin rolled in bread crumbs and warmed, but, no, the goat cheese is merely spread on top of a piece of toast.
About that boudin noir
ONLY two main courses pass muster: the boudin noir, rich blood sausage with puréed potatoes and sautéed apples, and the steak frites. The cut of the latter isn't named, but it's tender enough, though without much flavor, and comes with an herb butter and soggy fries. The Brasserie burger could be another good option, but it's piled with the same caramelized onions that top the pissaladière and oddly, no lettuce or any of the usual fixings.
In this handsome space, nobody seems to be paying that much attention to the food anyway. Guests pick at their plates desultorily, but they're mostly talking. Hey, this is one of the few new restaurants where you can actually have a conversation and everyone is reveling in the opportunity.
Good thing, because if you've ordered the skate wing or loup de mer, you're bound to be sorely disappointed. My skate wing is tired when it should be pristinely fresh. Whole loup de mer is a tiny fellow, overcooked, and with a funky taste. For another main course, a trio of seared scallops sits on top of shredded short ribs. The whole thing is just awful.
Fortunately, you can take solace in the wines, which are mostly French country wines, with some California labels mixed in, at standard markups.
Pour yourself a glass of rouge before attacking the croque-monsieur, i.e. French grilled-cheese sandwich. If you think a so-called French brasserie could do a decent croque-monsieur, you could be wrong. This one comes with béchamel applied to the outside like a wad of Elmer's glue. I'd love a place to come for a croque and a glass of wine, but this isn't going to be it.
Still, I'm riveted by the older actor at the next table telling his lady friend about his early career in films, and, another night, by the fun-loving table of young actors and assorted talents celebrating a birthday, caught up in the moment.
You can count on a few desserts, including the créme brûlée, with its custard cool beneath a warm sugar crust. Or the respectable profiteroles filled not with ice cream but vanilla pastry cream and drizzled with dark chocolate sauce. The table might want to share an order of sweet pear crumble, which arrives warm with a big ball of vanilla ice cream on top.
Sitting in the courtyard garden strung with piazza lights and dotted with potted trees, we're enjoying the warm spring evening, reluctant to head back into the West Hollywood traffic snarl. The Hall is so much an oasis from the noisy restaurants on Santa Monica Boulevard and the trendy scene on La Cienega that no doubt the restaurant will do all right in spite of the kitchen's lapses. Prices are moderate for the neighborhood and particularly for a hotel with a design-conscious lounge and bar. At this point, the food just doesn't live up to the setting. C'est dommage, it's too bad.
The Hall at Palihouse Holloway
Rating: 1/2
Location: 8465 Holloway Drive, West Hollywood; (323) 656-4100; www.palihouse.com.
Ambience: Chic French brasserie inside a discreet West Hollywood hotel. There's a sleek, contemporary dining room and lounge and a lovely courtyard garden. The crowd is a mix of guests and people from the neighborhood looking for a quiet place to eat, away from the crowded spots on Santa Monica Boulevard.
Service: Genuinely helpful and attentive.
Price: First bites, $4; dinner appetizers, $9 to $15; main courses, $14 to $26; desserts, $6.
Best dishes: Deviled eggs, oysters, kabocha agnolotti, lamb chops, burger, steak frites, creme brulee, pear crumble, profiteroles.
Wine list: Succinct list of French country and California wines at standard markups. Also some nice beers. Corkage fee, $25.
Best table: One in a corner of the garden or a corner banquette in the dining room.
Details: Open for breakfast from 7 to 11 a.m., and for lunch from 11:45 a.m. to 3 p.m Monday to Friday; for dinner from 6 to 11 p.m. Sunday through Thursday, until midnight Friday and Saturday; and for brunch from 11 a.m. to 4 p.m. Saturday and Sunday. Full bar. Valet parking, $7.
---
Life is stressful. Our weekly mental wellness newsletter can help.
You may occasionally receive promotional content from the Los Angeles Times.