Review: Taking the bait at Gladstone's Malibu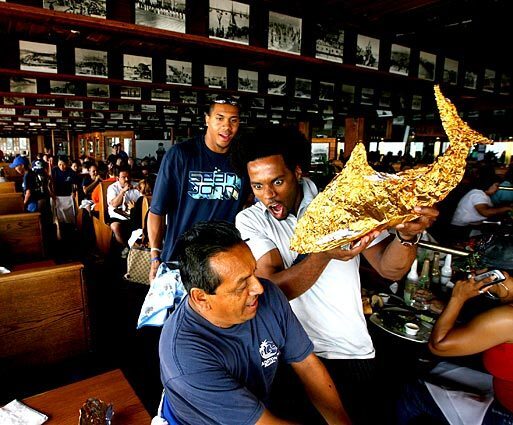 Kamal Moummad turns the tables on a Gladstone's employee with his whimsically wrapped leftovers. The foil creations are a trademark of the hugely popular
Pacific Palisades restaurant
.
(Liz O. Baylen / Los Angeles Times)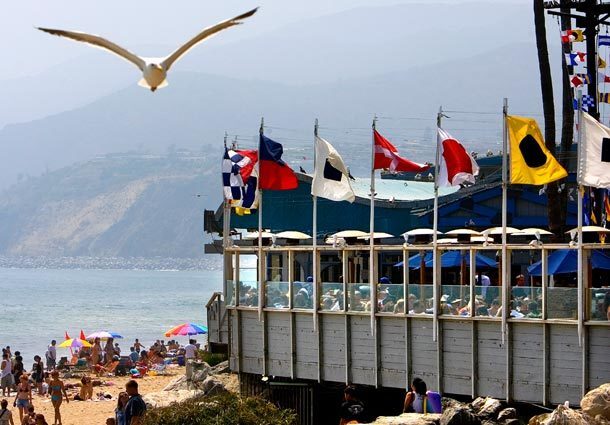 The ocean-front restaurant is Southern California's highest-grossing, reportedly selling about 500 pounds of shrimp and about 50 New England lobsters a day. It's open for breakfast, lunch and dinner every day except Christmas.
(Liz O. Baylen / Los Angeles Times)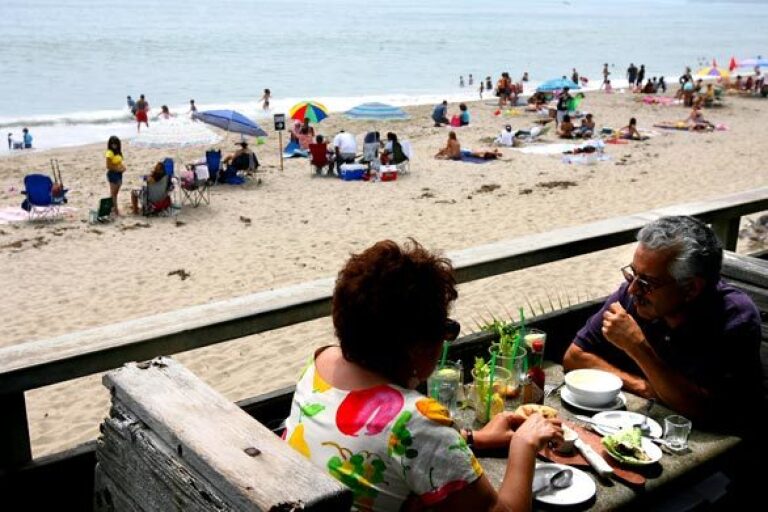 Paul Flores of Covina and Sandra Perez of Walnut enjoy their first meal on the deck. The two usually eat inside Gladstone's. Though the tables outside offer cool breezes and up-close beach scenery, they're also in full sun during the day.
(Liz O. Baylen / Los Angeles Times)
Bill Bennett of Santa Clarita eyes the 3-pound lobster brought to his table. The steamed dish, served plain with vegetables on the side, is one of the better offerings at Gladstone's.
(Liz O. Baylen / Los Angeles Times)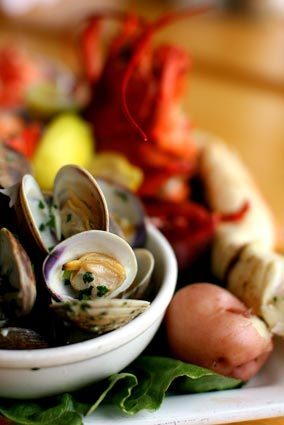 Gladstone's hefty clambake for two includes steamed clams, a 1 1/2-pound lobster, a pound of Alaskan king crab legs, steamed shrimp, corn on the cob and boiled red potatoes.
(Liz O. Baylen / Los Angeles Times)
You can order live Maine lobster three ways: stuffed with crab meat, 'Santa Fe-style' or steamed, shown. The sides include corn on the cob and huge portions of either coleslaw or mashed potatoes.
(Liz O. Baylen / Los Angeles Times)
A server hands Lucille Disbrow a fruity drink as she dines with her son Edward Disbrow III, left, and her husband Edward Disbrow Jr. Chief Executive Jean Hagan says Gladstone's serves 1,500 to 3,000 people a day.
(Liz O. Baylen / Los Angeles Times)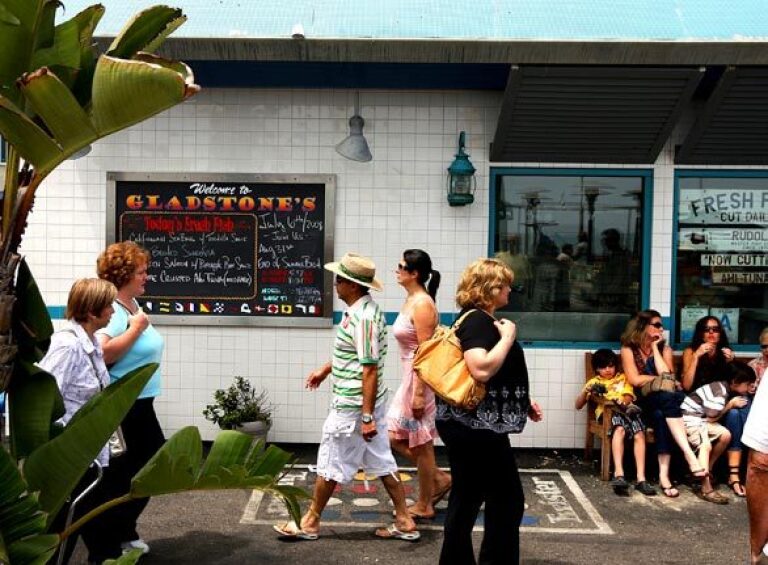 There's usually a wait to get into Gladstone's, but the beach-side scenery helps the time pass by.
(Liz O. Baylen / Los Angeles Times)
Los Angeles Times Staff Writer
DRESSED IN shorts or pretty little sundresses, late breakfasters parade out of Gladstone's at noontime, carrying wonderful, whimsical, shiny gold packages -- a whale with an upswept tail, a bunny that could stop Jeff Koons in his tracks. Hungry diners stroll in for lunch, past the tables overlooking the beach, past the outdoor bar. In they go, and out they come, fantastical creatures held aloft -- hour after hour, as the sun sets over Point Dume in the distance, and late into the evening as the moon climbs high.
The gold foil creatures? If you've ever been to Gladstone's Malibu, you know they're filled with leftovers. Why so many doggy bags?
To understand, step inside Southern California's highest-grossing restaurant, with its nautical theme and peanut shells on the floor and tanks of live lobsters. Gladstone's isn't just an L.A. institution; it's a phenomenon.
In the name of commerce and fun, Gladstone's sells some 500 pounds of shrimp and about 50 New England lobsters per day -- that's according to Chief Executive Jean Hagan. The restaurant, which seats about 500 for breakfast, lunch and dinner every day except Christmas, serves 1,500 to 3,000 people a day, she says; revenue was about $14.5 million last year.
That's volume. And there's a lot on each table too. In fact, you might be tempted to guess that there are so many leftovers because the portions are so huge. A calamari appetizer, served in an outsized martini glass, is big enough for four. A slice of chocolate cake is as big as a bone-in ham.
Or you could posit that everyone wants to take something home because those takeout packages are so wonderful. Watching a mermaid form under the hands of 27-year veteran Miguel Carillo is quite the show.
You could suppose those things, and maybe you'd be right. But the most important reason there are so many leftovers at Gladstone's is that the food, for the most part, is abominable.
Don't believe me?
Consider our waiter's response when my husband orders blue crab cakes with remoulade sauce at lunch.
"Have you had them before?" the waiter asks.
"No," says my husband.
The waiter leans in close and says, "I don't recommend them."
"Why not?" I ask.
"They're too bready. They're unimaginative. And frankly," he continues, looking around to make sure he's not overheard, "they're the worst crab cakes I've ever had, anywhere."
When I was in high school in the late 1970s, Gladstone's was a few miles south, at Channel Road, on the other side of the coast highway, and my boyfriend and I used to drive there on Tuesday nights -- clam night. For some crazy low price, you could get clams different ways, as I remember -- on the half shell, fried, steamed -- all you could eat. We always got them steamed: Bucket after bucket, they'd bring them, plump, briny, delicious. And hot sourdough bread. We'd dunk the bread in the clam broth, then in melted butter, a squeeze of lemon, and we'd close our eyes and pretend it was lobster. What heaven.
Dissolve to 2008. The right-on-the-beach location's even better, and the staff is great about seating diners at the window seats, if possible. The deck is swell too, though the tables are all in full sun during the day.
Is it clam chowder?
ON A recent Saturday night, we're led all the way through the restaurant to a room that's still under construction. No matter, we have a great table overlooking the pretty beach. The place is filled, with lots of parties of eight or 10 -- birthday celebrations, big families, people with friends in from out-of-town. The atmosphere is boisterous yet relaxed.
We order drinks and the waiter suggests starters "to get you going." We order those crispy calamari, a cup of chowder and the iced seafood tower.
It's not easy to find great chowder, nor is Gladstone's the place to seek it. Is it clam chowder? Fish chowder? Who knows. It's New England-style, with a mild, clammy flavor, but you have to seriously fish around to find anything resembling a clam; the overriding impression is of library paste. She-crab soup ("shee crab" on the menu) has a decent flavor, but again, it's very floury and has none of the crab roe that defines the dish. The copious order of fried calamari is nicely cooked, but the batter's hard and heavy.
The iced seafood tower lands on our table. The bottom tier holds four oysters on the half shell and a handful of small, flaccid shrimp, all drowning in a pool of melting ice water. Only two of the five of us dare to sample an oyster. Mine is watery and dull. The shrimp have a terrible off-taste, which makes me nervous that I ate an oyster. On other tiers are poached mussels, sauced with Italian dressing that tastes like it comes from a bottle, a steamed lobster claw and tail, crab claws, mediocre red snapper ceviche and, weirdly, smoked salmon. The lobster's fine, though it has none of the sweetness of good lobster; the salmon includes the funky brown parts careful cooks cut off.
When we get the bill, we're shocked to learn that the market price for the unappetizing appetizer is $75.
That's also the price for the 2-pound live Dungeness crab the waiter pushes. That would be outrageous enough if the crab were as good as Dungeness (even frozen) usually is. (Retail, it's going for $6.99 per pound at Ranch 99 in Van Nuys.) But there's something seriously wrong with this one. It has the texture of undercooked crab, though the fat under the shell looks overcooked, and a bitter, metallic flavor. It's inedible. (On our way out, we notice the murky-looking Dungeness tank. Could that be the problem?)
Lunch is no better. One of my guests would like a seafood salad, but has trouble choosing because none of them sounds good -- not the Santa Fe Cajun salad with black beans, corn, onions, tomato, avocado and Cajun ahi tuna or jerk salmon, nor the "blue wave" salad with broiled salmon, blue cheese, tomato, red onion, papaya and avocado. Where's the shrimp salad? Where's the crab Louie?
This is among the worst menus I've ever seen. Parmesan halibut. Salmon pesto pasta. Something called "Gladstone's original seafood molcajete: Hot lava cauldron filled with scallops, shrimp, 6-ounce lobster tail, panela cheese, bell peppers, onions, cactus and ranchero sauce." Memo to chef: With few exceptions, fish doesn't go with cheese.
More leftovers
MY GUEST opts for the seafood Cobb -- a metal mixing bowl stuffed with iceberg lettuce and topped with bay shrimp, anemic diced tomato, slimy bacon, avocado, chopped hard-boiled egg, crabmeat and blue cheese. A few pieces of smoked salmon (again, with brown edges) are draped on one rim, and two oysters are perched on top. My guest removes the salmon to her bread plate and tries to toss the salad, but it's packed in there so tightly, it's not easy. She gives up about a third of the way through. (Doggy bag!)
Grilled Cajun fish tacos come wrapped in big, industrial-quality corn tortillas. I've rarely met a taco I didn't at least like, but these are awful, served with black beans and a mountain of rice that tastes of tomato paste. "Down home" lobster roll in a dense bun is so loaded with mayonnaise that the lobster meat's flavor is lost. Shrimp, crab and lobster pasta is heavy, creamy and huge.
Beware the Gladstone's clambake, which the servers push hard. Intended for two, it includes steamed clams, a 1 1/2 -pound lobster, a pound of Alaskan king crab legs, steamed shrimp, corn on the cob and boiled red potatoes. The corn is desiccated. The lobster is fine, but the crab leg, with the same shape and texture as a dog chew toy, seems to suffer from freezer burn. The shrimp are as toxic-tasting as those on the tower. It's terrible to gaze out to the ocean and imagine the volume of precious seafood being pulled out and ruined every day by this restaurant. Suddenly those doggy bags seem almost sinister.
Live Maine lobsters are offered three ways -- steamed, stuffed with crabmeat or "Santa Fe-style." Stuffed with crabmeat sounds like a crime against nature, so one of my guests orders Santa Fe-style. That comes filled with a sprightly medley of corn, diced peppers and tomatoes. The lobster meat hiding underneath is over-grilled, badly dried out. The sides -- bland coleslaw (huge portion) and heavy mashed potatoes (huge portion) don't save it.
The plain steamed lobster's much better.
But ack! A 1 1/2 -pound lobster sets us back $50. The clambake is $95.
Dinner for five? I almost fall out of my chair when I get the bill: It's just over $500, before tip, and we didn't even order a bottle of wine. (We had three cocktails between us, three glasses of wine and one beer.)
That's Pacific Coast Highway robbery.
brenner@latimes.com S. Irene Virbila is on vacation.
Gladstone's Malibu Rating: PoorLocation: 17300 Pacific Coast Highway, Pacific Palisades; (310) 573-0212; www.gladstones.com.Ambience: Casual, lively seafood house right on the sand with huge portions of bad food at astoundingly high prices.Service: Friendly and efficient. Except when it comes to clearing plates -- dirty ones might be left on the table.Price: Appetizers, $6 to $75 (market price last week for the iced seafood tower); salads, $13 to $25; sandwiches, $13 to $19; main courses, $23 to $71 (or more, for market-price items); desserts, $8 to $13.Best dishes: Plain steamed Maine lobster.Wine list: Very minimal -- only nine low-end California bottles, all available by the glass. Corkage fee, $10.Best table: Any table by a window.Details: Open 8 a.m. to 10 p.m. Sunday through Thursday, until 11 p.m. Friday and Saturday. Full bar. Valet parking, $5.50.Rating is based on food, service and ambience, with price taken into account in relation to quality. ****: Outstanding on every level. ***: Excellent. **: Very good. *: Good. No star: Poor to satisfactory.
---
Life is stressful. Our weekly mental wellness newsletter can help.
You may occasionally receive promotional content from the Los Angeles Times.