Sage on the Coast's Asian beef short rib appetizer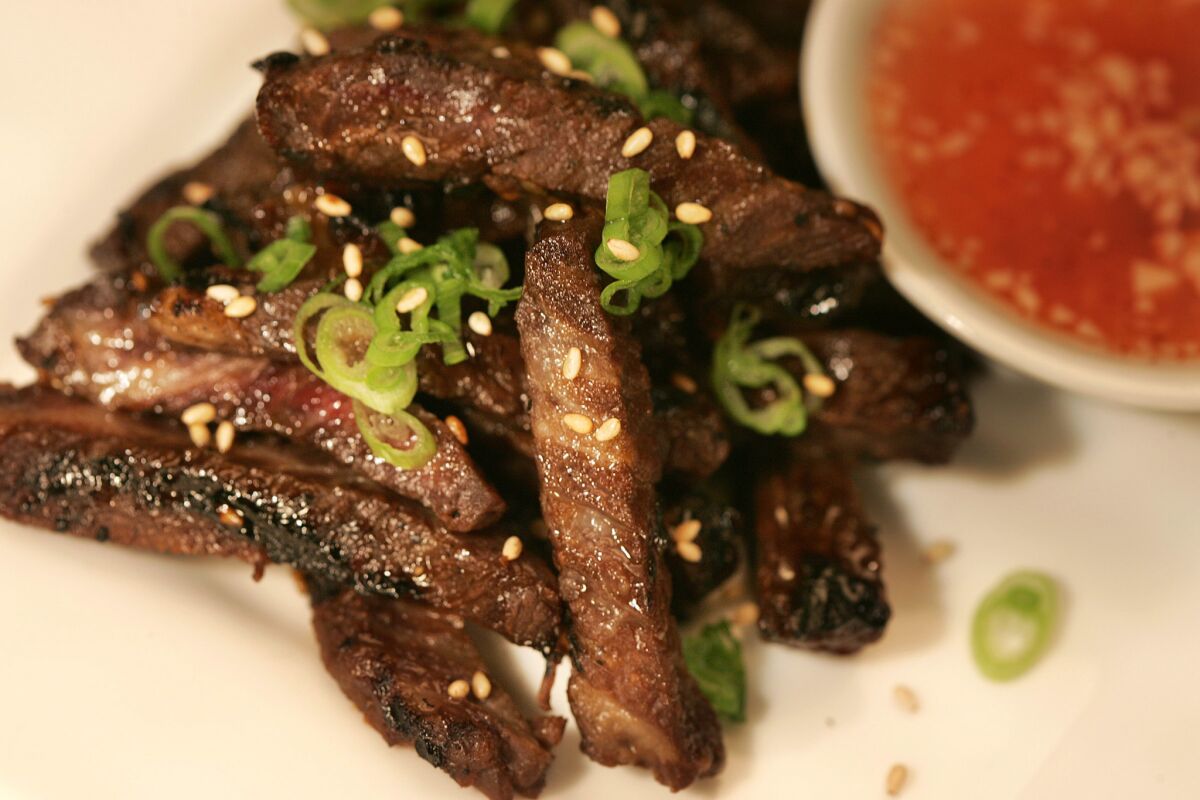 Dear SOS: My wife and I had dinner last week at Sage on the Coast in Newport Beach. The Asian barbecue short ribs were delicious. I'd like to make them at home. Could you get the recipe for me?
Bob Foutz
Huntington Beach
Dear Bob: These tasty Korean-style short ribs are a perfect appetizer when you're entertaining with little time to spare. Simply marinate the ribs the night before in a lively soy marinade flavored with brown sugar, red wine, ginger, garlic and a little sesame oil. Just before serving, char the beef quickly over a hot grill, then slice and serve with a sweet and spicy Thai dipping sauce. You'll have happy guests in almost no time.
Grilled Asian beef short rib appetizerTotal time: 25 minutes, plus overnight marinating time for the ribsServings: 6 to 8Note: Adapted from Sage on the CoastThai sweet and spicy sauce 1/4 cup sugar 1/3 cup white vinegar2 teaspoons chile paste2 teaspoons minced garlic1 teaspoon salt 1/3 cup water1. Combine the sugar, vinegar, chile paste, garlic, salt and water. Stir to combine. Cover and refrigerate until needed. This makes three-fourths cup of sauce and will keep, refrigerated, for 5 days.Short ribs and assembly2 pounds boneless beef short ribs no thicker than 1/2 -inch2 cups soy sauce1 1/2 cups brown sugar2 tablespoons dry red wine2 tablespoons toasted ground sesame seeds, divided3 tablespoons sesame oil 1/4 cup plus 2 tablespoons minced green onion, divided1 tablespoon chopped ginger1 tablespoon chopped garlicThai sweet and spicy sauce1. Combine the beef in a sealable plastic bag with the soy sauce, sugar, wine, 1 tablespoon sesame seeds, sesame oil, one-fourth cup green onion, the ginger and garlic. Close and shake the bag to evenly distribute the contents. Refrigerate overnight.2. Heat a grill over high heat until hot. Remove the meat from the bag and discard the marinade. Grill the beef 1 1/2 to 2 minutes per side for medium-doneness, or to taste. Remove and allow to rest a few minutes.3. Slice the beef crosswise into one-fourth- to one-half-inch strips. Plate each serving with a side of the dipping sauce, sprinkling additional green onions and toasted sesame seeds over the beef for garnish. Serve immediately.Each of 8 servings: 247 calories; 17 grams protein; 20 grams carbohydrates; 0 fiber; 11 grams fat; 4 grams saturated fat; 46 mg. cholesterol; 1376 mg. sodium.
Send SOS requests to noelle.carter@latimes.com or Culinary SOS, Food, Los Angeles Times, 202 W. 1st St., Los Angeles, CA 90012. Please include your name and phone number and the restaurant's phone number.
---
Get our L.A. Goes Out newsletter, with the week's best events, to help you explore and experience our city.
You may occasionally receive promotional content from the Los Angeles Times.