Fashion rules thrown out at Cannes Film Festival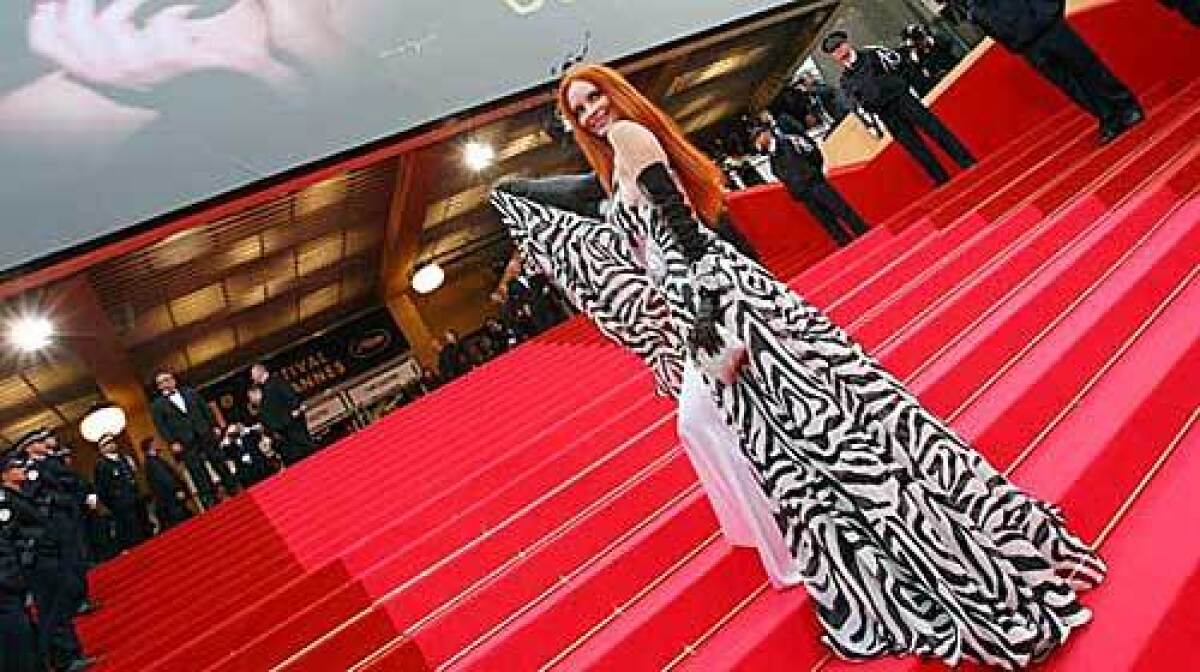 Los Angeles Times Staff Writer
CANNES —
IT'S RAINING chats and chiens in Cannes, and nobody cares. Penelope Cruz doesn't rush along the red carpet at the premiere of the new Woody Allen film or pause to brush away the dew glistening on her inch-long eyelashes. She waves. She smiles. She mounts a few steps in a Marchesa gown as white as her teeth and repeats the drill. The crowd -- beneath a sea of colorful umbrellas that look like scattered bonbons from above -- whoop and wetly applaud.
Wait. White silk in the pouring rain? Other than a determined bride, who would dare? Precisely. This is Cannes, and on this rouge carpet, there are no rules.
"What's great about Cannes is that women don't walk down the carpet in black dresses -- which is a photographer's greatest fear," says WireImage co-founder and photographer Jeff Vespa, who's covered the festival since 2000 and has a short film here this year. "There's no other red carpet like this in the world."
Indeed, compared with the spectacle of Cannes, the bland fashion show at this year's Oscars felt more like a Junior League luncheon. Lots of actresses wore black or red, and there weren't enough diamonds on display to finance the next "Indiana Jones" sequel.
In Cannes, every night elicits at least one "Mon Dieu!" See-through lace and obscene side slits are sartorial staples here. Cocktail dresses on the red carpet mean more to-die-for shoes. Or not -- Sharon Stone walked the carpet barefoot in 2002. This year, Faye Dunaway proudly showed off faint but visible panty lines in a pastel pink satin suit with a mermaid cut that would impede any hasty exit. Gwyneth Paltrow furrowed a few brows for wearing a short, toga-style canvas Lanvin dress with gladiator sandals that some considered too casual for an exclusive party on the Croisette. Eva Longoria probably shined her costars' shoes in a tornado of a white Versace Atelier dress with a train of tulle that extended for yards at the "Kung Fu Panda" premiere. Longoria, a face of L'Oreal, which is a co-sponsor of the fest, is here with nary a movie and yet appears to be everywhere.
Though the Oscars are still the premiere venue for designers, Cannes is quickly getting its due as a showcase for memorable red carpet moments.
"We feel that Cannes is less formal than the Oscars," says Stefano Gabbana of Dolce & Gabbana. "The dress code is more relaxed, and the celebrities have the chance to be more daring."
Those risks resound too. Angelina Jolie, in vintage lemon yellow Ungaro, uplifted critics and fans alike last year. In 2006, Cate Blanchett wore an abstract kimono-style Alexander McQueen that thrilled fashion purists. That same year, Audrey Tautou opted for an asymmetrical Balmain and one diamond earring.
This year has also seen its standouts. The film festival, which takes place over 13 days in a rollicking seaside town on the French Riviera, kicked off May 14 with Julianne Moore wearing a Christian Lacroix dress sprouting canary yellow feathers to the opening-night premiere of her film, "Blindness." Natalie Portman -- a Cannes jury member -- opted for a high-voltage purple Lanvin that grazed her girlish knees, while Blanchett seemed to waft up the steps to the Palais in a veritable macaroon of a gown by Giorgio Armani Privé and diamond earrings by Chopard.
"Here, the actresses don't just wear diamond studs and bracelets," says Chopard co-President Caroline Gruosi-Scheufele, as she opens a case to reveal a necklace of prawn-sized emeralds edged with diamonds, and matching drop earrings. Eleven years ago, she showed Salma Hayek jewelry in a junior suite while her husband slept on the bed. Now, the Swiss company co-sponsors the festival and flies out a staff of 40 to man a floor and a vault at one of the city's major hotels. "They are not worried about any dress codes, and they wear necklaces and enjoy the glamour."
Is Cannes the new Oscars? Or maybe Cannes is just the way the Oscars used to be, with fashion missteps and triumphs and everything in between.
"Unfortunately, the Oscars lack spontaneity now. No one wants to make any mistakes," says Ennio Capasa, the designer of Costume National, during an elegant dinner he hosted on the beach. "Cannes is much more daring and spirited."
That's probably because there are 11 nights to flounder and redeem yourself on that lolling tongue that leads up to the Palais, where the premieres take place. A traipse up the 21 stairs typically takes about 20 minutes, and many ensemble casts stick together like ibex on the Serengeti. No reporters are permitted. So Longoria doesn't have to stop to explain the reasoning behind the turquoise Versace she wore on opening night, and Jolie needn't define why she loves the mossy-green Max Azria Atelier gown she chose for the premiere of "Kung Fu Panda." And unlike at American award shows, paparazzi flank the carpet to the right and left.
The Fug Girls -- ever seeking fodder for wicked fashion critiquing on their website -- appreciate the sartorial hiccups that sometimes ensue. "The Oscars are getting safer and safer, and this year it was a snore," says co-founder and blogger Heather Cocks. "At Cannes, you get A-listers to F-listers. Didn't Bai Ling once dress as a pirate to a premiere?"
International spotlight
THAT endless plethora of talent and those nonstop flash bulbs intrigue the fashion industry too. Now, more than ever before, designers and brands flock to Cannes to get a toehold on an international red carpet. (Cannes is the second-most covered global event, after the Olympics.) Days before the start of the fest, luxury brand reps overtake the Martinez Hotel -- think the Ritz-Carlton of the Cote d'Azur -- in suites that double as salons.
Craving a celadon chiffon column gown? Visit the Alberta Ferretti suite. Need stiletto sandals to match? Sweep into the Sergio Rossi room, where you can fondle a limited-edition satin platform designed just for Cannes. Over at the Jimmy Choo suite -- with its white leather divans and scattered orchids -- shoes can be dyed any hue within 24 hours and there are purses and sunglasses too. The Armani salon, three airy rooms in all, offers a mix of tulle couture, vintage and even cocktail dresses that look breathlessly eager to be worn. Typically, actresses return borrowed gowns now that most designers have archives and prefer to showcase the sartorial memento. Shoes and other accessories rarely get sent back.
A starlet could waltz into the Martinez naked and emerge red carpet-ready. (And with all the skimpy leopard print and neon outfits spotted on the main drag here, a modern-day Lady Godiva would hardly halt traffic.)
"This is not just all glamour and fun, with the parties and films. It's still business, and you need a big organization to be here for nine days," says the designer Ferretti, who has a team doing fittings for actresses including Mischa Barton and Gillian Anderson. Her house brought along 60 dresses, while Roberto Cavalli's people carted more than 150 gowns from Milan, and Armani has about 40 to loan out. "In Cannes, the actresses wear what they like because there are not so many stylists to tell them what to do," says Cavalli, who typically fares well here with his sexy, kittenish gowns.
It's not just about dressing Angelina either. The chance to connect with an Italian megastar or an Israeli ingénue is increasingly more important too. With the American dollar loitering in the doldrums, the global market has plenty of appeal to luxury brands.
"Cannes is a significant opportunity to support the European and international actresses who are so visible during the festival," says Jimmy Choo's president, Tamara Mellon.
But this cold fusion of film and fashion doesn't just occur in hotel suites. Ferretti and Chopard hosted a panoply of exclusive parties, while Diego Della Valle of Tod's threw a last-minute splashy cocktail party aboard a yacht for Paltrow to announce their recent partnership. (In a town where a good latte costs $10, an 11th-hour soiree must break the bank.) Nevertheless, Swarovski festooned an entire nightclub with Austrian crystals for an after-party following the annual amfAR charity blowout, and Dolce & Gabbana dazzled with its third-annual bash.
Surprisingly, no one seemed to be a bit worried about what to wear.
Get our L.A. Goes Out newsletter, with the week's best events, to help you explore and experience our city.
You may occasionally receive promotional content from the Los Angeles Times.