How to make a jeans cut-off skirt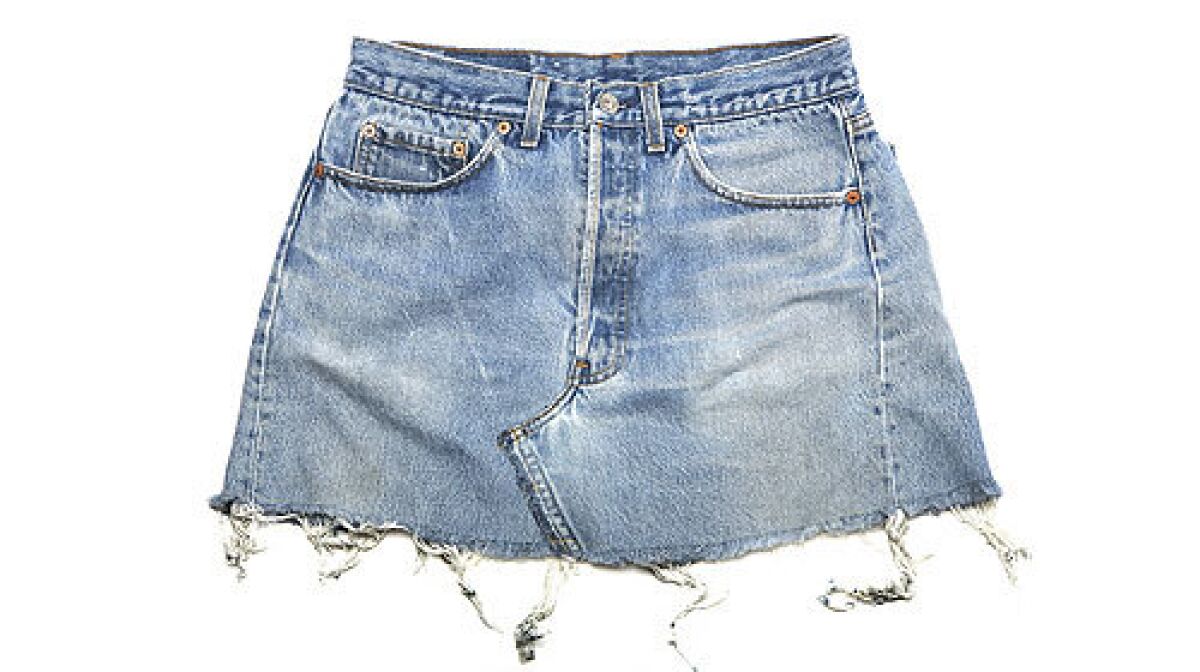 Time: About 45 minutes, plus washing and drying
Materials: One pair of old jeans, scissors, seam ripper, thread, pins, sewing machine.
1. Put the jeans on and mark a spot about 4 inches above the knee with a pin. This will be the hem of your skirt (if you want it shorter, place the pin higher -- but no higher than 3 inches below the crotch seam).
2. Smooth the jeans out on a work surface. Measure the length from the top of the waistband to the pin, and mark the distance across both legs. Cut straight across both legs, about an inch below where you marked, to give yourself a little leeway (you can trim later, after you've tried the skirt on).
3. Turn the jeans inside out. Using a seam ripper, rip out the crotch seams, taking out all the stitches up to the zipper. In the back, take out the bottom 3 inches of the center seam (so you can eliminate any bunching).
4. Turn the jeans right-side out again, and smooth out on a work surface. Fold the flap below the zipper over the fabric underneath (left over right), to create a zigzag front seam below the zipper. Place the fabric so that it falls smoothly, with no flare. Pin in place.
5. Flip the jeans over. Pin the back seam together, eliminating a little fabric so that it doesn't flare and so that the center seam is straight.
6. On a sewing machine, sew the front and back seams, tracing the original seam lines and making sure to back-stitch at the top and bottom to secure the seams.
7. Try on the skirt, adjust the length if necessary and make sure that the edges are straight. Sew around the edge of the skirt, about half an inch up from the raw edge (do not make a hem). Trim the threads. Wash and dry the skirt to fray the edges.
---
Get our L.A. Goes Out newsletter, with the week's best events, to help you explore and experience our city.
You may occasionally receive promotional content from the Los Angeles Times.