Suddenly, it's cool to be cheap -- even among the wealthy.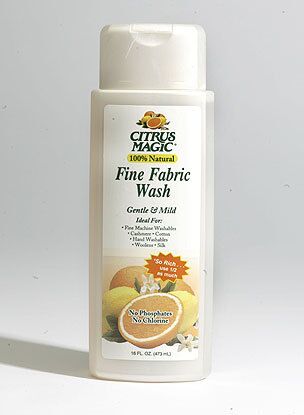 By Monica Corcoran, Times Staff Writer
The troubled economy has everyone shaving a little off the top. These experts offer their own cost-cutting measures:
Washing cashmere
Cameron Silver, co-owner of the influential vintage boutique Decades: "I was spending $45 to dry clean my Loro Piana sweaters at Effrey's. Now I wash them by hand with a squirt of Citrus Magic Fine Fabric Shampoo. I wash them in my bathroom sink in lukewarm -- almost room temperature -- water. Toss the sweater in the sink for a bit, then rinse the sweater, but never wring it. Roll it in a beach towel to absorb water and then place it flat on a dry towel on a flat surface to dry. I sometimes change the towel halfway through the drying process and turn the sweater over too.
"This is economical and better for the environment. It's spiritual for me to do my wash too."
Citrus Magic Fine Fabric shampoo, $3.99 at Whole Foods markets.
(Karen Tapia-Andersen / Los Angeles Times)
Entertaining at home
Lulu Powers, Hollywood event planner and chef: "Instead of spending $150 on a dinner party for six, you can throw a brunch for less than $50. Buy some mini-croissants from La Conversation and bagels from Trader Joe's and serve them with cream cheese, different jams and fresh fruit. Pour Cristalino Cava Brut -- I actually use it a lot at parties. It's great, and I actually prefer it over Veuve Clicquot. I like to buy a bunch of newspapers and magazines and have those on the table too."
Cristalino Cava Brut, on sale at Cost Plus World Market for $5.99 through Aug. 5
.
Mini-croissants, $12 per dozen, by special order from La Conversation, 638 N. Doheny Drive, West Hollywood, (310) 858-0950
.
(Karen Tapia-Andersen / Los Angeles Times)
Talking money
Lara Shriftman, author and event planner: "Everyone is talking about the recession, but you have to be careful when you talk about money. Don't bring up your personal financial situation or talk about people who just got laid off at a dinner party. It can make people feel uncomfortable. Keep it broad and speak about the overall economy."
"Party Confidential: New Etiquette for Fabulous Entertaining" by Lara Shriftman and Elizabeth Harrison, on sale at www.amazon.com for $19.79.
(Karen Tapia-Andersen / Los Angeles Times)
Los Angeles Times Staff Writer
HOLLYWOOD HAS never been known for its subtlety. Here, downsizing means losing weight. But with the economy in the doldrums, even this town built on excess is scaling back. Lipo is half-off, restaurants are half-full and even the line at Sprinkles is half as long as it used to be.
Suddenly, living large seems ridiculous. Even gauche. Nevermind if you can still afford a jaunt to Europe or a really great pair of shoes, it's understood that you don't brag about it. Instead, people are proudly sharing their recessionary measures like a new kind of social currency. Whether driven by necessity, anxiety or even empathy, it's high time for a new mind-set on consumption.
---
FOR THE RECORD:
Boutique owner: In Sunday's Image section, an article about how people are cutting back during tough times identified Cameron Silver as the co-owner of Decades. He is the sole owner of the West Hollywood vintage boutique. —

---
Liz Goldwyn, the socialite and filmmaker, is weeding out her famously bulging closet by opening her own EBay store. Cameron Silver, co-owner of Decades and designer muse, is saving on dry cleaning by hand washing his cashmere sweaters and dress shirts. Celebrity stylist Jessica Paster is holding "taco nights" at home instead of entertaining at Mr. Chow.
"In this economy, it just feels insane to spend hundreds, if not thousands, on the latest 'it' bag," says Ryan Patterson, supervising producer at "Access Hollywood." "I actually bought a Balenciaga bag from the spring/summer '08 collection, and I felt so guilty about it that I returned it."
Has social mobility stalled? Does anyone still care about keeping up with the Joneses?
"Now, there's a trend toward anti-status," says Pam Danziger, president of the research firm Unity Marketing, which found that households earning at least $100,000 a year spent 9.5% less on luxury goods in the first three months of this year than they did in the same period a year before. "The status is gained by being more responsible. You get bragging rights for buying something for less, not more."
Or, even better, practicing utter restraint and not buying anything. Last week, Nancy Davis, heir to a multibillion-dollar family fortune, hosted a shopping soiree on Melrose Place to benefit her charity, the Race to Erase MS. Even she was being discretionary.
"I think the economy is affecting everyone," she said, standing 10 feet away from a pair of $5,000 alligator riding boots at the shop Lambertson Truex. "If I want to buy something, my new rule is to put it on hold overnight and then I know if I really, really want it."
Art dealer and independent film producer Howard Askenase will gladly reveal that he now shops regularly at the 99 Cents Only store and buys his picnic fixings at Costco, rather than Joan's on Third.
"In the parking lot of the 99 Cents Only store, you see more Mercedes and SUVs than ever before," says Askenase, who also strives to schedule breakfast meetings in lieu of pricier lunches or dinners. "I intentionally set a 1:30 lunch meeting with investors this week because I hope people will show up late and not eat as much."
There is, of course, the chance that Askenase's guests will have skipped breakfast and will order enough to feed a rugby team. Especially since an informal survey of business contacts revealed that Starbucks lattes and scones are no longer an everyday indulgence and bagged lunches are suddenly all the rage. Tupperware has become a chic accessory.
"I got sick of spending $30 on lunch everyday at Erewhon," says Silver, who now totes his afternoon sustenance -- a salad of organic greens and a can of tuna -- to work at Decades, the local designer consignment store.
Fashion publicist Marilyn Heston is sweating it a bit too. Literally. "I'm watching the air conditioning and the color printing at the office," she says. "And for the first time, I am thinking twice about valet. It's $10 at that Philippe Starck sushi place." That would be Katsuya. Start circling the block now.
Customers are questioning prices at salons and shops too. A saleswoman at Trina Turk on Third Street says that some shoppers now try to negotiate discounts, along the lines of, "Can I buy three and get one free?" Over at Kalologie spa on Robertson Boulevard, the receptionist sometimes hears, "But can you do a little better?" on facials and massages.
And why not try to haggle over those buttery $250 highlights? After all, when it comes to luxury services, it's a buyers' market. A survey published last month by the Ohio-based BIGresearch marketing firm found that consumers with six-figure incomes were postponing haircuts (18%), manicures-pedicures (15%), massages (11%) and hair-color treatments (11%).
"I'm biting my nails in lieu of manicures," says Paramount Vantage publicist Meghan Gamber. "And I won't step foot in Banana Republic."
But it's not just a matter of making personal sacrifices. In a town of trophy wives and privileged kids who carry Visa Gold cards, some are having to discipline spendthrift loved ones to bypass Barneys and the Ivy.
"A lot of my patients are trying to keep their partners from spending wildly, and it's causing even more problems," says Rebecca Roy-Jarboe, a Beverly Hills psychotherapist who counsels actors, producers and directors. (She adds that some patients have upped their $150 sessions to two or three times per week.) "But at the same time, nobody in this industry wants to be perceived as poor or old."
Even celebrity jeweler Neil Lane, whose first flagship store will open in October on Melrose Place, concedes that a $30 kosher, organic chicken from Whole Foods recently caused him sticker shock. "I thought, 'Wow! That's a lot for a little, uncooked chicken.' "
And suddenly, he began to question another recent splurge: a Mercedes SL63. "It's a gas guzzler," he says, with a nervous laugh. "Did I make a mistake?"
---
Get our L.A. Goes Out newsletter, with the week's best events, to help you explore and experience our city.
You may occasionally receive promotional content from the Los Angeles Times.