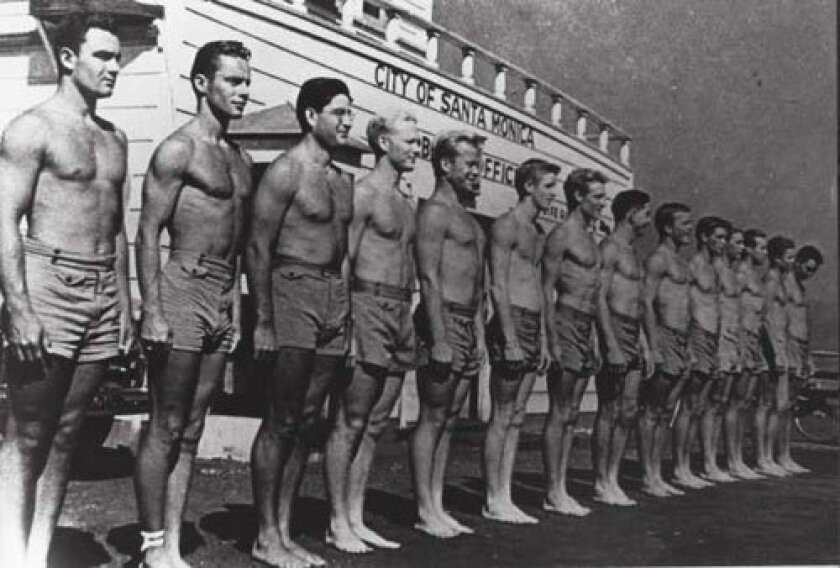 IT WAS a moment of beginnings: 14 fresh-faced young men, still wet from the surf, standing ramrod straight at the end of the Santa Monica Pier. It was the start of the summer of '46 and of careers that would make many of them legendary watermen. Surf culture was in its infancy -- the global exportation of the carefree California lifestyle was a wave decades away from cresting, the Beach Boys were still little boys, and the woodie wagon was still just a car.
The shot captures the men with colorful lives still ahead of them and one thing behind them: a 1,000-meter, 25-minute swim in the Pacific Ocean that officially certified them as the season's Santa Monica Lifeguards.
---
FOR THE RECORD:
Surfers and singers: A previous version of this story erroneously showed a photo of T.Rex's Marc Bolan from the August 10, 2008 Lookback..

---
"The guys were mostly new that year," recalls Dave Heiser, second from left. "And they turned out to be a pretty famous bunch." Heiser points out Buzzy Trent, sixth from the right, who went on to become a legendary big wave surfer; Matt Kivlin, second from right, the influential board shaper; and Dave Rochlen, third from right, who went on to create the bright, floral-festooned trunks called Jams that became a 1980s clothing craze.
It was also a beginning for Heiser, then 22 and fresh out of a three-year hitch in the Navy. "I'd wanted to be a lifeguard since I was 17, but I wasn't old enough at the time," he says. "By the time I got back, I was a little older than the rest of the group." Heiser would juggle lifeguarding with teaching physical education at John Adams Middle School in Santa Monica until 1960, when vice principal duties prevented him from continuing.
The red, snap-waisted, top-of-the-thigh shorts ("Standard-issue," Heiser says) reflect the style of the day, and the neatly trimmed hair and squeaky clean demeanor give the group a look that's more Disney than Point Dume, and light-years away from the stringy-haired, checkerboard-wearing, Spicoli-style surf rat that is today's image of the wave-craving set.
The Santa Monica Lifeguards have since become part of the L.A. County force, and many of the men in the photo are gone. But for Heiser, now 84, the old guard is never far away. His Santa Monica apartment is crammed with photos documenting a lifetime on the water, and this one hangs prominently near the door and in direct line of sight from his overstuffed chair.
As I lift the picture from the wall, Heiser has only one request: "Guard it with your life."
--
Adam Tschorn
---