Luke Wilson takes a swing at golf fashion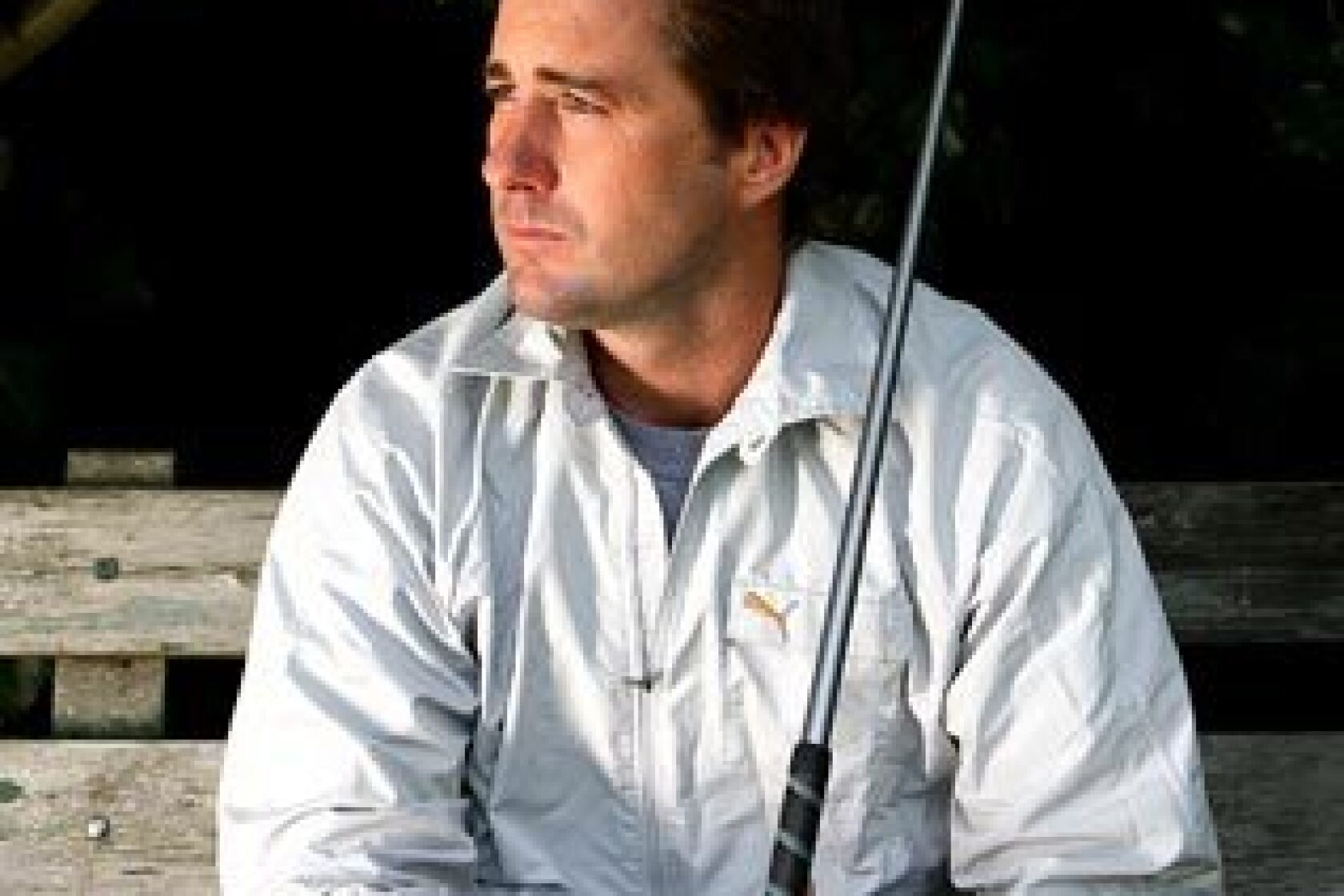 Luke Wilson wears a Puma jacket at Rustic Canyon Park in Pacific Palisades. The actor has helped design a new golf line for Puma.
(Liz O. Baylen / Los Angeles Times)
Wilson wearing pieces from Puma's special edition collection with Luke Wilson.
(Puma)
Luke Wilson, right, and golfer Johan Edfors wearing pieces from Puma's special edition Chrome collection. Edfors likes bold colors, whereas Wilson prefers retro classics.
(Puma)
Golfer Johan Edfors with pieces from Puma's special edition collection.
(Puma)
Wilson in a Puma jacket.
(Puma)
Half-zip gray windbreaker.
(Puma)
Black golf sweater with blue trim.
(Puma)
A retro, collared blue golf polo.
(Puma)
Jacquard-stripe golf pants.
(Puma)
Chrome golf weekender bag.
(Puma)
Swing GTX golf shoes.
(Puma)
C-Hopper chrome golf shoes with removable spikes. "Those are great, but ...." Luke Wilson says. "Well, I'm not the type to call attention to myself. Especially not when I'm playing golf."
(Puma)
Los Angeles Times Staff Writer
IF THE clothes make the leading man, Luke Wilson is angling to play the handsome high school lit teacher -- you know, the one who made you cry when he read aloud from "A Separate Peace." He rarely veers from his Kennedy-era haircut and typically shows up at events in rumpled khakis or cords and a preppy blazer. Then, there's that squint. More musing than macho, Wilson has perfected a studied squint -- or is it a wince? -- that precedes his answers to the tough questions.
"How would I describe my personal style?" he asks. Long squint. "Maybe free-spirited with a lot of pizazz?"
Ha. Nothing could be further from the truth. An hour ago at a photo shoot, Wilson stared down a pair of silver Puma golf shoes -- as audacious as Dorothy's ruby red slippers, but outfitted with removable spikes.
"Those are great, but . . . ." he says in his leisurely Texas drawl. "Well, I'm not the type to call attention to myself. Especially not when I'm playing golf."
The laconic actor -- whose new film, "Henry Poole Is Here," opens Friday -- may be the most earnest celebrity endorser ever. Never mind that Wilson, 36, helped co-design those metallic sneakers as part of a new golf line for Puma. (He suggested they also make a pair in black.) He's not about to slip on anything that doesn't suit his low-profile persona.
"Johan wears the splashy stuff," Wilson says referring to Swedish golf heartthrob Johan Edfors, his co-collaborator on the Chrome collection that rolled out last month. The two worked to come up with styles to suit both the extroverts and introverts on the links.
There are bold shirts in hothouse pinks and greens for Edfors and muted cardigans for Wilson. "I like the real meticulous look of guys like Sam Snead and Ben Hogan. They had their own tailors making their clothes back then," Wilson says.
No doubt Puma wanted a slice of the $5-billion golf apparel market too. In the last 100 years, golf fashion has gone from tweed knickers and neckties to neon, collarless shirts and vented trousers. There's a celebrity charity event every weekend, which has only heightened the popularity of the game. There's no red carpet yet, but the greens have become a competitive fashion forum. Tiger Woods wears hot pink Nike; Samuel Jackson prefers canary yellow Titleist.
On this afternoon, Wilson picks black pants and a retro windbreaker from the Puma collection. He looks like a guy who knows how to mix a Tom Collins and pack a family station wagon for vacation.
Wilson golfs every day he's not working, and has shot in a few Pro-Am tournaments. Handicap? "I can fire in the 70s a couple of times a year, and then I have been known to blast scores into the hundreds."
Deadpan modesty is Wilson's trademark. On screen, he often plays the self-deprecating straight man who charms the leading lady in movies such as "Old School" and "The Family Stone." But it was the look of his role as the depressed mope and ex-tennis pro Richie in Wes Anderson's "The Royal Tenenbaums" that started trends.
Guys trawled EBay for the vintage Fila tennis togs and slim-cut khaki corduroy suits Wilson wore in the film. Perhaps Puma hopes to capitalize on followers of that retro sport style too.
In "Henry Poole," he plays a man with a few weeks to live and countless bottles of vodka to polish off. "The clothes I wore were wrinkled and loose because I had given up on life. I didn't even wear shoes with laces, because I couldn't be bothered," he says. "I don't like it when a cinematographer wants me to wear one color to be part of a palette. I want my character to stand out on screen."
Growing up in Dallas with two older brothers (actor Owen and director Andrew), Luke Wilson took sartorial cues from his mom, a photographer who assisted Richard Avedon. "We always had fashion photography books around, and the pictures reminded me of movie stills."
His father, an ad exec, originally hailed from Massachusetts and probably influenced Wilson's rugged New England look.
"The fact that I have no one in my life might be reflected in my style," he says, and winces. "I don't dry clean my clothes, and I live alone. Oh, boy! This has taken a depressing turn."
After a few more verbal jabs at himself, he gets serious and name checks designers Costume National, J. Lindeberg and John Varvatos. He admits to owning a few tuxedos. "There's nothing better than a good suit," Wilson says. "That's why Eric Clapton wears them all the time. You always look better in a suit than a T-shirt."
Besides, collarless shirts, shorts and jeans are forbidden at Bel-Air Country Club, where Wilson tees off regularly. "I can't say anything more because I'm so lucky to belong and I don't want to even call attention to that fact." In other words, the silver shoes would really be his undoing.
---
The essential weekly guide to enjoying the outdoors in Southern California. Insider tips on the best of our beaches, trails, parks, deserts, forests and mountains.
You may occasionally receive promotional content from the Los Angeles Times.