Julie Ward's fabrics: out of Africa and into America's stores
Femi dress, $298, from an Ivory Coast print.
(Brian Buckley)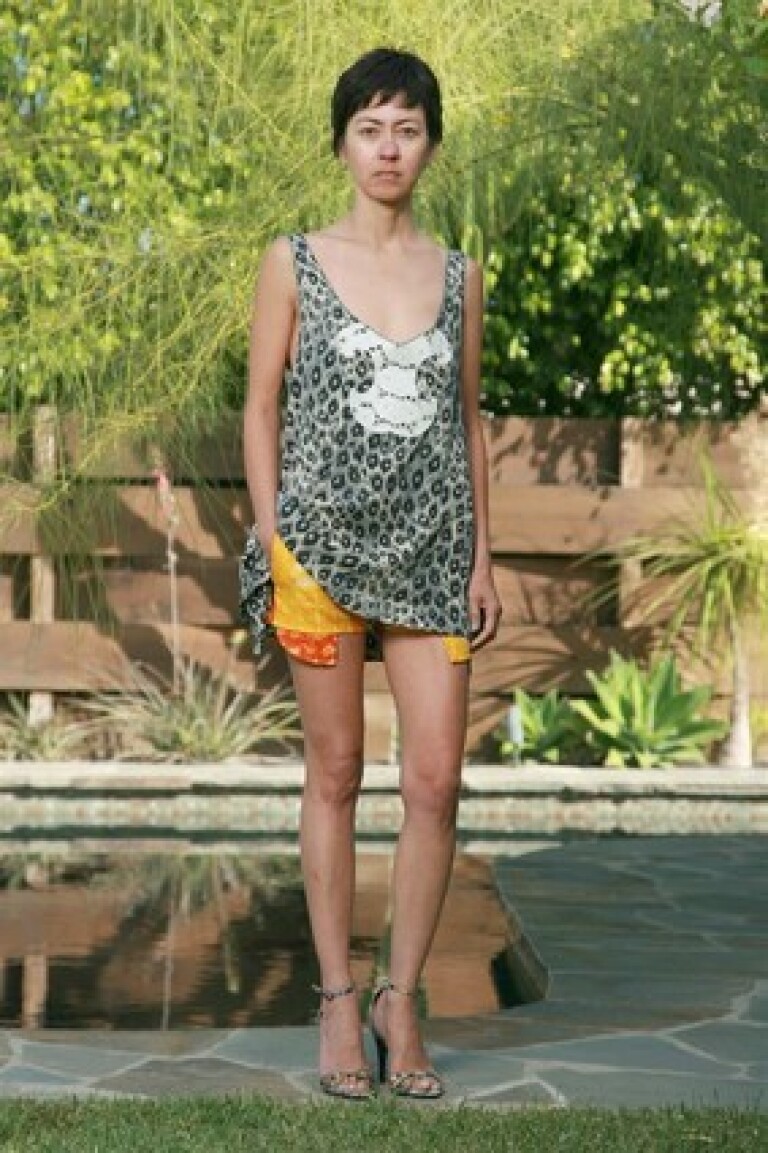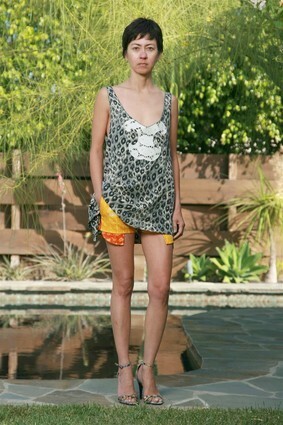 A layered print from the L.A. designer Berliner.
(BEImages)
Ward wears a dress made of linen from Mauritania.
(Bryan Williams)
Los Angeles Times Staff Writer
THE TRIBAL trend is one of the hottest this summer. The graphic prints and the bold dyes of the fabrics are popping up everywhere, but although most are mere knockoffs -- loomed, printed and dyed simply to look exotic -- a few are the real thing, and Julie Ward is often the source.
This week Ward is having her break-away moment: a series of vibrantly printed dresses made from her fabrics (and designed by Zachary's Smile) is landing in Anthropologie stores across America. Ward's exceptional Mauritania voiles, Nigerian batiks and Peruvian tapestries already have been picked up by niche designers such as Magda Berliner and Lona Gutknecht, eco-artisans Linda Loudermilk and Carol Young, and the head-banging Junker Designs.
Not bad for a woman who was teaching math in Zimbabwe 16 years ago and poking her way through some of the continent's exotic bazaars.
To visit Gallery Asha -- as Ward calls her showroom of imported textiles, objets d'art and jewelry, near South La Brea Avenue -- is to enter a foreign land filled with tribal masks, carved wooden statues, strange musical instruments and textiles. Lots of textiles.
Ward, 42, is an expert in these fabrics, and her clients realize the value of her eclectic tastes. Sold in 5-, 6- and 12-yard pieces, the fabrics range from $5 to $20 per yard.
"I like finding things that are odd and unusual, but can be tweaked and turned to fit into our lifestyle," she says.
It was a dream of hers, even before she moved to Los Angeles and started to lead shopping tours to Africa during the summer. At the continent's largest craft fair in the small country of Burkina Faso in West Africa, she fell in love with the adventure, the shopping -- and especially, the Mauritanian voile.
From the moment she discovered this hand-dyed cotton fabric, which can take three months to produce and is distinguished by its spectacular array of dots and tie-dyed swirls, she saw its potential. "I looked at it, and I immediately envisioned the Paris runways," she says. "I see the beauty. I think you can mix traditional beauty with contemporary style."
BUYING FROM AFAR
AT FIRST she would pick up the fabrics on her trips, but now with the help of a business manager in Mauritania who works with a women's collective -- and a deal with a factory in Ivory Coast -- she can order and take delivery from afar. It is an arrangement, she says, that allows her to stave off the competition, mostly from Chinese distributors who otherwise would be able to undercut her prices. The designers discovered Ward at the biannual L.A. International Textile Show.
"You see a ton of printed, really cheap stuff," designer Young says. "This stuff is really special, really handcrafted."
Berliner used the voile in her spring collection, layering it with a leopard print to create eye-popping dresses in rowdy colors. "They just had these beautiful, really rich, saturated colors, and each fabric would be a little different from the next one," Berliner says. "That's really indicative of my collection."
For the Anthropologie dresses ($298), the maker Zachary's Smile is using another Ward discovery -- dyed and hand-stamped fabric from Ivory Coast that features wax-like textures and patterns and uneven slashes of color. Pick up a bolt of the cloth and you instantly recognize its authenticity: The dense, heavy fabric has a starch-like, smooth, waxy texture.
"Designers like the wax print," she says of the honeycombed designs in kaleidoscope hues. "They are easier to use than the voile, come in larger cuts and are better suited for designers to lie on a table."
At the moment, Ward is interested in a deep indigo fabric from Nigeria called adire. One side is this dark, rich color and the other a geometric pattern of triangles with the word "Sabada" written across it. Ask Ward what it means, and she'll admit she's not sure -- which only makes it all the more interesting.
Ward has also begun selling her own designs at Gallery Asha, including dresses ($125 to $250), swimsuit coverups ($40) and Mauritanian voile scarves ($15). Her jersey knit T-shirts ($65) are being sold at Avita Co-Op in Los Angeles.
As for her next adventure? That's Indonesia in the summer. There is always the thrill of batik.
Gallery Asha, 3826 S. Muirfield Road, Los Angeles. (323) 298-4793. By appointment only.
---
The essential weekly guide to enjoying the outdoors in Southern California. Insider tips on the best of our beaches, trails, parks, deserts, forests and mountains.
You may occasionally receive promotional content from the Los Angeles Times.