Take these vacations for a spin: Cycling tours offer more than backroads biking
Cycling is fun, healthy, even in. Like skiing, it is one of those things you can do in awesome places, but with better weather.
Here is a handful of the West's best organized rides that also happen to be in great vacation spots. Several have short family-friendly or accompany-the-kids options, and you'll also be helping local charities on behalf of cancer, cycling and educational outreach programs.
Tour of Napa Valley, Aug. 21
Wine is an obvious reason to head this way. It's also a riding getaway that is easily done from Southern California without burning big hunks of vacation time. Yountville, Calif.; www.eaglecyclingclub.org
See the most-read stories in Life & Style this hour »
Rides: 100, 65, 40 or 35 miles
Cardio crunch: You can't have a valley without hills, and on the 100-miler, you might decide those are mountains, with north of 6,000 feet of cumulative climb. It trends downward from there to the mostly flat 35er on the Silverado Trail.
Off the bike: Head to Sonoma Raceway for a one-day Simraceway Performance Driving Center session and really learn how to drive that sporty car you dropped a small fortune on. (800) 733-0345, www.racesonoma.com
On a plate: The whole roasted chicken is perfection at Thomas Keller's lovable bistro Bouchon; the sweetbreads will make you think there's other stuff you shouldn't shun. 6534 Washington St., Yountville; (707) 944-8037, www.thomaskeller.com
Notable potable: So many vines, so many wines. Go for the ones with bubbles. Schramsberg Vineyards put Golden State sparkling wine on the map. 1400 Schramsberg Road, Calistoga; (707) 942-4558, www.schramsberg.com
Providence St. Mary Gran Fondo, Sept. 24
Walla Walla, Wash., sits at the start of the Palouse, an inland sea of crinkled grasslands cutting a big swath across the Evergreen State and into Idaho. Picture Iowa, but not flat. And gorgeous. washington.providence.org
Rides: 62 or 35 miles
Cardio crunch: This is rolling orchard, grape and wheat country, and although the tallest thing on most immediate horizons is a church steeple, this isn't Iowa.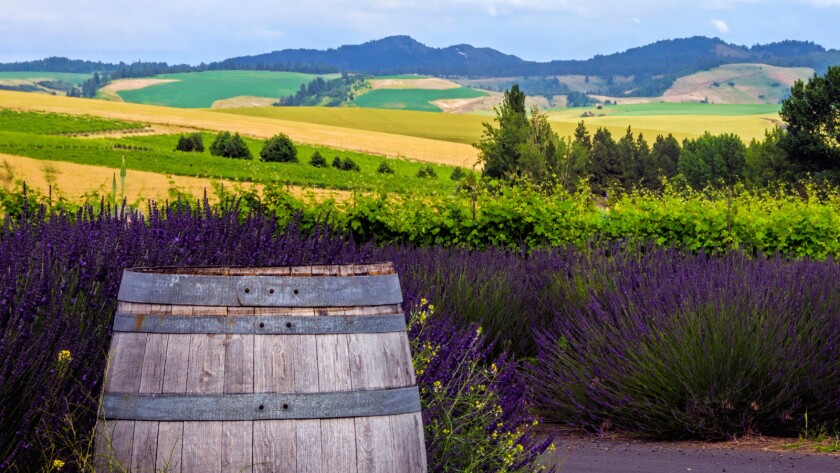 Off the bike: Walla Walla is one of the nodes of Washington's booming wine industry, with more than 100 wineries across the valley and 30 within walking distance of downtown. Leave your bike at the hotel. www.wallawallavintners.com
On a plate: My wife laughed at me for thrice hitting up Wingman Birdz & Brewz for, yes, fine wings and brews. 230 E. Main St.; (509) 529-2199, www.wingmanbirdz.com. The Maple Counter Cafe is to breakfast as Eddy Merckx is to cycling. 209 E. Alder St.; (509) 876-2527, www.maplecountercafe.com.
Notable potable: Sidle on over to Burwood Brewing Co.'s taproom on the east side of Walla Walla. The medium-bodied, hops-constrained IPA dubbed Hop Locker is a recent addition. 602 Piper Ave.; (509) 876-6220, www.burwoodbrewing.com
Sacramento Century Challenge, Oct. 1
Sacramento does tell a good measure of our great state's history, the fall weather is righteous and locavores have injected vigor into a once-staid food and drink scene. www.sacramentocentury.com
Rides: 100, 63, 37 and 20 miles (Exact routes and mileage for this and several other rides are pending.)
Cardio crunch: Medieval European geographers would warn about riding too far for fear of falling off the edge.
Off the bike: You want to stay on the bike for this diversion, albeit maybe the next day. The Jedediah Smith Memorial Trail is one of America's most acclaimed multiuse pathways, following the American River from its confluence with the Sacramento River 30-plus miles upstream to Folsom Lake. www.regionalparks.saccounty.net
On a plate: Hook & Ladder Manufacturing Co. shows that California cuisine can be fresh and indulgent. 630 S. St., Sacramento; (916) 442-4885, www.hookandladder916.com
Notable potable: Midtown's Red Rabbit Kitchen & Bar bounds about freely looking for ingredients. Gin, basil, lemon, pineapple gum syrup and absinthe crank up the Basil Cocktail. 2718 J St., Sacramento; (916) 706-2275, www.theredrabbit.net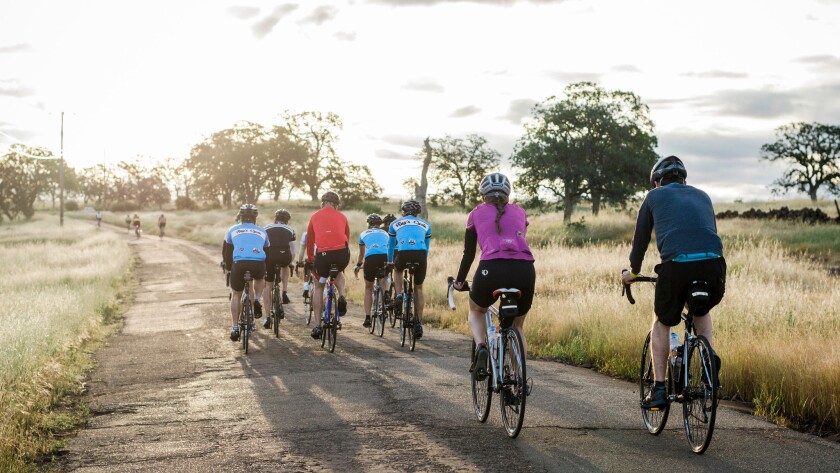 Chico Wildflower Century, April 30
Many ride options with immensely varied terrain (from orchards to arboreal Cascade/Sierra foothills) — and great pre- and post-ride parties — make this one of the most popular selections on the map. Chico is also a fun, vibrant college town. Chico, Calif., www.wildflowercentury.org
Rides: 128-, 108-, 97- and 61-mile climbers; 62- and 31-mile fast-flatters
Cardio crunch: Some climbs are short and some are sustained, but put them together, and in some rides, they total nearly 8,000 vertical feet. If spin class is more your thing, go for one of the Flatflower routes.
Off the bike: Cal State Chico, the second-oldest CSU campus, is literally in the center of town and freely shares its artistic and intellectual vigor. Stroll the lovely grounds, take in a performing arts offering, a museum or play. Remember the thrill of being 20, when your "job" was all about learning and discovery. www.csuchico.edu
On a plate: Burgers & Brew: Cyclists love beer, and beer loves burgers, so this lively bar/eatery, with several branches across the northern Central Valley, brings those feelings full circle. 201 Broadway St., Chico; (530) 879-9100, www.burgersbrew.com
Notable potable: Sierra Nevada Brewing Co., started in Chico in 1979, is one of the first practitioners of what came to be called the craft beer movement. The mothership on 20th Street is like the Lourdes of Brew. 1075 E. 20th St., Chico; (530) 893-3520, www.sierranevada.com
Tour des Chutes, July 8
Central Oregon is a special part of the world: snow-dotted volcanic peaks on one side, endless high-desert range on the other, ranches and farmland between with cascading rivers coursing through it all. Bend, Ore., www.tourdeschutes.org
Rides: 100, 75, 50, or 25 miles
Cardio crunch: No one is riding over any of those mountains, but on the four main rides, the elevation gain ranges from 1,300 to 3,900 feet.
Off the bike: Take your pick. Some of the best golfing in the land. Some of the best fishing in the world. Plus sightseeing, kayaking, canoeing, brewery hopping, hiking ....
On a plate: Zydeco Kitchen & Cocktails, where Pacific Northwest fresh meets NOLA. Does a better fusion exist? 919 Bond St., Bend; (541) 312-2899, www.zydecokitchen.com
Notable potable: Bend has 22 beer-making establishments. Try the locally made Crater Lake Vodka.
---
Get inspired to get away.
Explore California, the West and beyond with the weekly Escapes newsletter.
You may occasionally receive promotional content from the Los Angeles Times.