Fog rolls in over a farm at dusk in the countryside around Sebastopol.
(Judy Bellah / Getty Images)
The beer garden at the HopMonk Tavern is open year-round and is a great place to sample some of the 16 fresh brews on tap.
(Marc Stirdivant)
The Gingko Room at the Pearlessence Inn is tastefully furnished and a perfect base of operations for Sebastopol.
(Marc Stirdivant)
Florence Avenue is home to an amazing array of folk art sculpted by Patrick Amiot and painted by his wife, Brigitte Laurent, including this fire engine and crew.
(Marc Stirdivant)
A Babe Ruth piece can also be found on Florence Avenue.
(Marc Stirdivant)
Highway 101 divides Sonoma County neatly in half. East County tends to be sophisticated, and if it had a capital it would be Sonoma. West County is more laid-back, more bohemian. It's where terms such as "organic," "artisanal," "family-owned" and "locally grown" are taken seriously. And if West County had a capital it would be Sebastopol. The tab: A weekend stay at the Pearlessence Vineyard Inn just outside Sebastopol is $490 plus tax. Dinner at the HopMonk Tavern, including drinks, is a tasty $52. The sculptures on Florence Avenue are free.
The bed
There's a Fairfield Inn on the outskirts of Sebastopol, but my wife and I chose the Pearlessence Vineyard Inn (4097 Hessel Road, Sebastopol; (707) 823-5092, pearlessenceinn.com; two-night minimum) and found it to be ideal. Located a couple of miles south of town, this tiny B&B is the project of Linda and Greg Pearl (get it?), who left the suburbs in 1991 and never looked back. The single room they offer is part of their home but completely private and tastefully, if not lavishly, furnished. The house sits on five acres, two of which are planted in pinot noir and pinot blanc vines. Linda and Greg are charming hosts; the afternoon wine and cheese on the patio and their sumptuous breakfasts are not to be missed.
The meal
Owned and operated by Dean Biersch (of Gordon Biersch fame), HopMonk Tavern (230 Petaluma Ave., Sebastopol; (707) 829-7300, www.hopmonk.com/sebastopol) occupies a historic stone building that served as the powerhouse for the all-electric Petaluma & Santa Rosa Railway in the early 20th century. Today, it is a brew pub of the first order with 16 fresh, seasonal draft beers on tap from local, regional and international breweries. The menu includes an array of appetizers, soups, salads, sandwiches and entrees. We shared the Taco Four Pack, two smoky Korean beef tacos paired with two fresh fish tacos; a tantalizing mac 'n' cheese made with local cheddar, Parmesan and jack; and a caprese salad with heirloom tomatoes and fresh mozzarella. Its beer garden is open year-round. Live music is also on tap almost every evening in the Abbey, its indoor music venue.
The find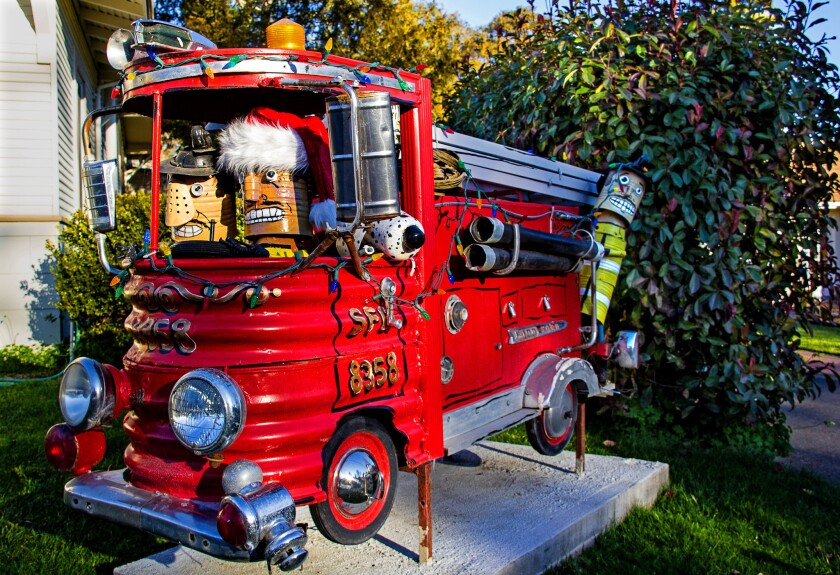 Florence Avenue, just west of downtown, looks like any small-town residential street — except for one thing: the 25 or so larger-than-life, junk-metal sculptures on the front lawns of Patrick Amiot and his neighbors. Amiot, a sculptor from Montreal, happened on Sebastopol in 1997 while on a road trip with his wife, painter Brigitte Laurent, and their daughters. His first sculpture, planted in his front lawn, was a 14-foot-tall fisherman made of recycled metal astride a fish with eyes made out of hubcaps. Today, about 200 of his sculptures are located up and down the streets of Sebastopol and far out into the countryside. However, Florence Avenue remains the epicenter, home to Batman, Babe Ruth, Alice's White Rabbit and an assortment of farmers, sea captains, truck drivers and firefighters. Using objects and materials destined for the dump, Amiot constructs these whimsical, cartoonish figures that are then meticulously painted by Laurent.
The lesson learned
Sebastopol makes for an enjoyable weekend alternative to Napa, Sonoma and other more upscale wine destinations. Wine isn't strictly the focus here, although terrific wines can be found west of the 101. Sebastopol's shopping and dining are eclectic, and exciting discoveries can be made in both. And there's no street I know of like Florence Avenue. All in all, there's a special kind of charm in Sebastopol, one that is organic, artisanal, family-owned and locally grown.
MORE WEEKEND ESCAPES
La Quinta Resort & Club is an oasis for human and dog
---