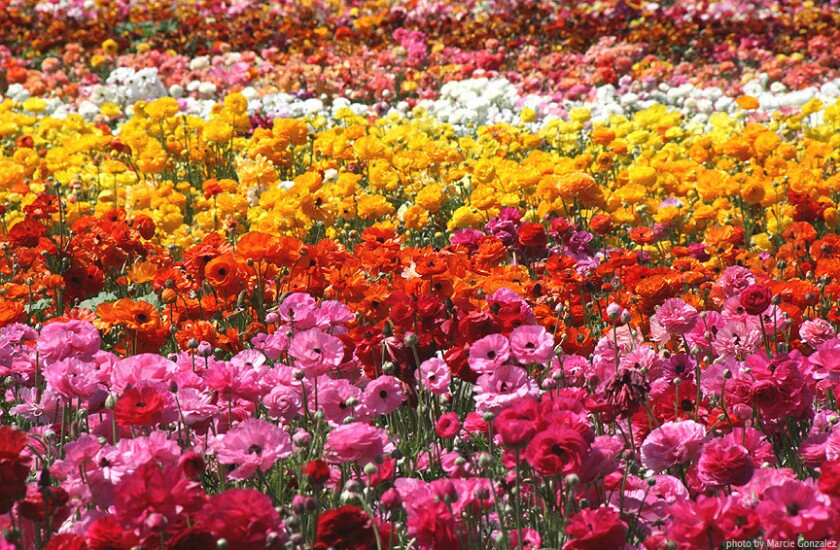 The Flower Fields in Carlsbad are open, but the giant ranunculuses are not -- or at least not all of them.
The red, pink, yellow and white ranunculuses (officially known as the Tecolote Giant Ranunculus) are the flowers that create the blazing stripes of color each year at the 50-plus acre site.
You can expect about 20 acres at the Flower Fields at Carlsbad Ranch to be in bloom within the next 10 days, spokeswoman Angelica Banales said in an email. Visitors going this weekend will see about 7 acres showing good color and another 7 acres just starting to bloom.
The fields opened Sunday and will remain open until May 10.
Though the ranunculuses are the stars, there are other plants and flowers to see, such as the greenhouse filled with cymbidium orchids and the 300-by-170-foot American flag made from red, white and blue petunias.
Spring events include Kid's Day on March 29 and performances on April 4 from Jake Taylor Smith, April 5 for Zydeco Day, April 11 for Bluegrass Day and more musical events.
From 10 a.m. to 3 p.m. April 19, visitors can take a Canon Photography Workshop that's free with admission. Guests will receive tips on how to shoot the flowers and can borrow a macro lens.
The ranunculus is native to Asia, but it was California farmer Edwin Frazee who carefully selected seeds that produced the current-day Tecolote colors and fullness, according to the Flower Fields website.
His selections resulted in 13 colors, which include a variegated variety called picotee. Frazee died in 2004.
Tickets cost $12 for adults, $11 for seniors at least 60 years old and $6 for children 3 to 10 years old. The Flower Fields are open 9 a.m. to 6 p.m. daily. Wagon rides cost $5 for adults and $3 for children.
Info: Flower Fields at Carlsbad Ranch, 5704 Paseo Del Norte, Carlsbad; (760) 431-0352
---