Chill out at LAX: Try these airport spots for a relaxing massage or shopping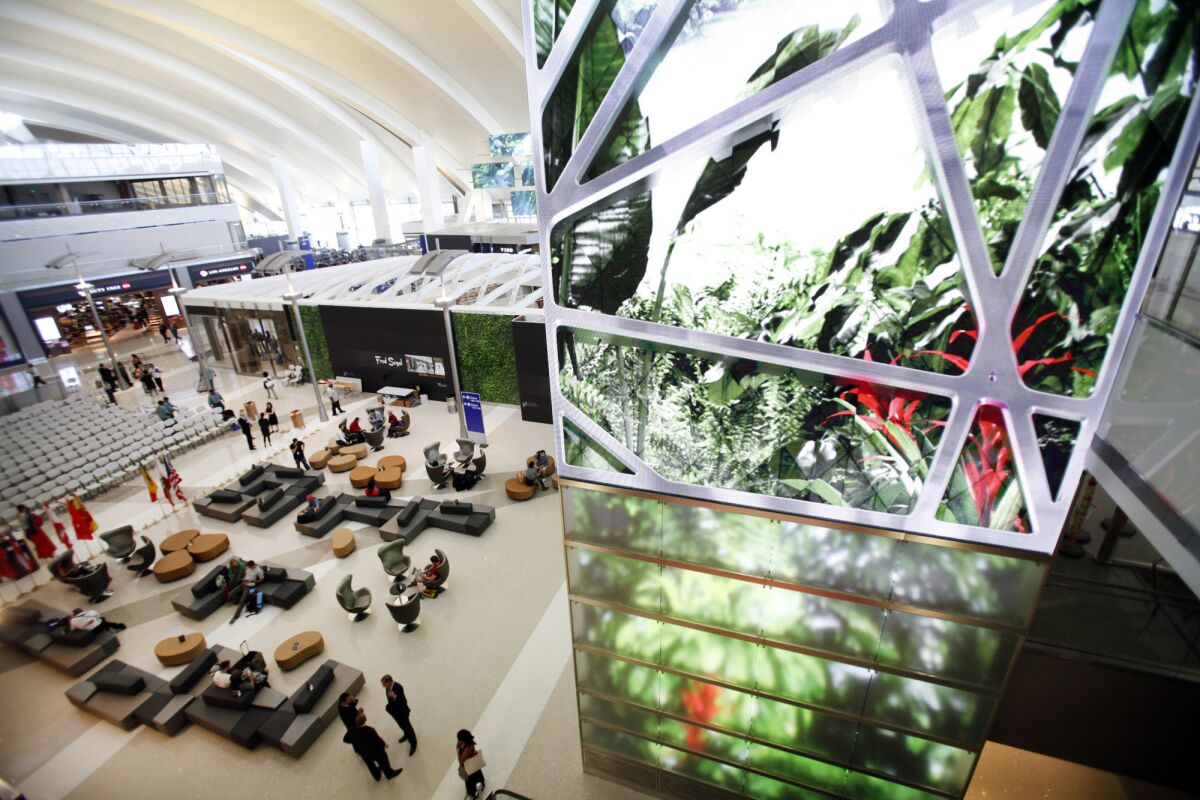 If you're one of the more than 70 million passengers expected to pass through Los Angeles International Airport this year, relax. Yes, relax.
The long lines at airport security checkpoints that lead to shoe-removing, bin-shuffling gymnastics and sometimes awkward encounters with wand-wielding Transportation Security Administration agents and X-ray machines can be stressful.
But take a deep breath.
Massages, manicures and some of the toniest stores around for last-minute shopping can be found inside terminals at the airport. Here's how to make the most of your time at LAX.
Where to kick back

If you arrive super early for your flight, head to the Tom Bradley International Terminal, which has lots of TLC and shopping opps.
Your same-day boarding pass may be used to enter any LAX terminal but know this: You may have to go through airport security to enter the Bradley terminal and then again when you return to your departure terminal.
Keep your eye on the clock, especially when the airport is busy, so you don't miss your flight.
Then indulge.
XpresSpa, which has 56 locations in airports around the world, is in the Bradley terminal between gates 154 and 156. What really impresses is the 15-minute chair massage for $35 -- pure heaven for anyone about to get on a packed flight.
For a brief span of time, you can be transported away from the grinding minutia of modern-day travel into a less stressful Shangri-La. A full body massage will run you $65 for a half hour and up to $175 for 90 minutes. For those short on time, you can get a 15-minute foot massage for $35.
Other pampering options include manicure-pedicure, waxing, blowout and a nice selection of travel-friendly personal care products, like nail polish remover pads for $5.
There's also an XpressSpa inside Terminal 5 near Gate 52a, and one coming to Terminal 6 next year.
Newcomer Be Relax, which features chair and table massages as well as other services, just opened in Terminal 1. You can make reservations online in advance.
But back to the Bradley terminal.
Bliss, known for creating fun and quirky personal care products, has a stand-alone store here and offers complimentary mini-facials for travelers passing through.
Jo Malone in the Bradley terminal's duty-free shop offers complimentary mini hand massages too.
Where to shop
The Bradley terminal has Rodeo Drive-like shopping options that include Bulgari, Burberry, Coach, Emporio Armani, Hermès, Hugo Boss, Gucci and Porsche Design.
Why so upscale? The airport wanted "a tenant mix to meet the needs of travelers and link them to the city's style, spirit and culture," says Joe Waller, senior vice president of airport operations and leasing for Westfield Corp.
Luxury travel retailer DFS, owned by Moët Hennessy Louis Vuitton, offers duty-free shopping in most LAX terminals, including the Bradley terminal. (Remember, you have to be a ticketed international traveler to cash in on the duty-free discounts.)
The shops sell beauty brands Bobbi Brown, Chanel, Clinique, Dior, Estee Lauder, Jo Malone, Kiehl's, La Mer, Lancôme and more – terrific if you're a gift-seeker or forgot to pack a go-to beauty item.
The Bradley duty-free shopping offers some products you can't get at stores in other terminals, such as Christian Dior La Collection Priveé Fragrances. And the store offers gift-with-purchase promotions too.
There's also a MAC Cosmetics in Terminal 6.
Fred Segal, the classic L.A. brand, opened a store in the Bradley terminal.
"People come to Fred Segal looking specifically for gifts that will remind them of their stay in Los Angeles, including made-in-L.A. products," airport store manager André Price says.
And when it comes to personal care options, customers aren't necessarily just looking for travel-sized options. The store sells OSEA Malibu skin care products, for example, and "frequent travelers come in to restock full-sized skin care products as well," Price says.
Where to eat
When it's time for a bite, you won't be limited to fast-food unhappy meals.
L.A.-specific restaurants abound, including Border Grill, Chaya Sushi, James Beach, LAMILL Coffee, Larder at Tavern, Petrossian Caviar & Champagne Bar and Umami Burger.
Check out the list and terminal location of pre- and post-security LAX restaurants and eateries.
How to terminal-hop

There are tunnels connecting Terminals 4 to 8; check out the laxishappening.com map of how to find them.
To get to terminals that aren't connected by tunnels, take the free A Shuttle outside that loops the airport. Look for the blue "LAX Shuttle & Airline Connections" signs and wait there.
(By the way, next year the T4 Connector that links the Bradley terminal to Terminal 4 is expected to be completed.)
Things will be changing too as LAX completes its multi-billion-dollar face lift, hence all the construction inside and out. "The LAX modernization program is considered to be the largest public works program in the history of the city of Los Angeles," airport spokeswoman Katherine Alvarado says.
Indeed, but until then, you can take advantage of LAX's beauty stops at hand. And just imagine arriving at your destination less stressed and better looking than when you departed.
ALSO
Pedestrian bridge opens on U.S.-Mexico border that links San Diego and Tijuana airport
Fliers love Portland's airport. And LAX? Not so much, new study says
Now you can spend United Airlines miles at this airport store
---
Get our L.A. Goes Out newsletter, with the week's best events, to help you explore and experience our city.
You may occasionally receive promotional content from the Los Angeles Times.