California missions: Rediscovering the birthplace of modern California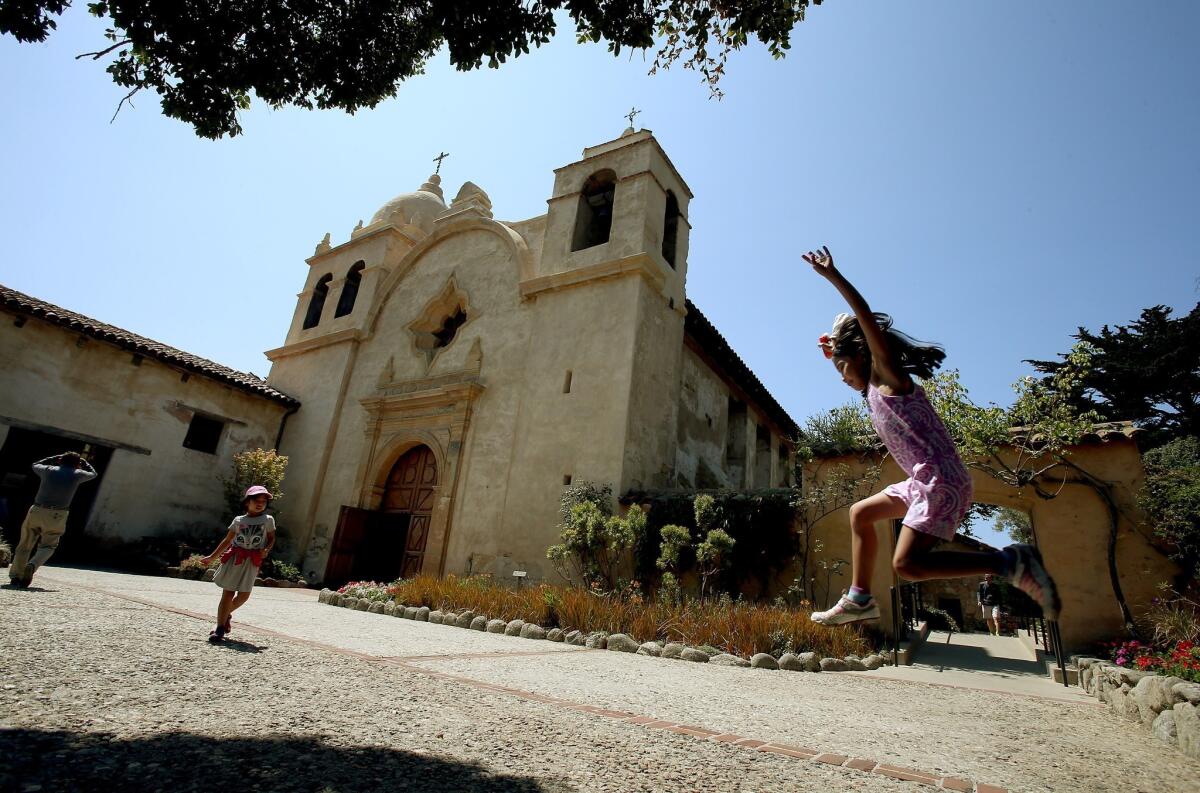 Attention, fourth-graders. If you want to make a model of a handsome, historic California building that was built for a simple purpose and produced entirely positive results, consider a lighthouse.
But if you want to explore how California came to look and behave the way it does, how civilizations collided, how farming was started here, how some of our biggest cities got their names and how we wound up with dozens of Native American reservations, the missions are a good place to start.
As many a Californian can tell you, there are 21 mission sites from San Diego to Sonoma, founded by Father Junípero Serra and succeeding Spanish friars between 1769 and 1823.
Explore all of California's 21 famed missions >>
Besides spreading Christianity, these missions helped Spain grab a chunk of North America. They were built largely through the labor of Native Californians, whom the friars recruited, baptized, educated, forced into labor and sometimes locked up at night, often with the help of Spanish soldiers.
Nowadays those restored, rebuilt, repurposed buildings serve as symbols of a European culture's arrival in the American West. They are where European ideas of God, work, social order and family life were introduced in California, and every year they are visited by thousands of families plotting school projects.
This collection of photos and stories is designed to help teachers, students, parents and, of course, travelers get to know those buildings better.
Interested in the stories shaping California? Sign up for the free Essential California newsletter >>
How people talk about the missions is changing. In recent years, many scholars, writers, teachers and tour guides have begun to pay more attention to the Native Californian perspective, especially the experience of the baptized converts and laborers that the padres called "neophytes."
In San Francisco, the descendant of two Ohlone neophytes, Andrew A. Galvan, now serves as curator at Mission Dolores, and one of his cousins, Vincent Medina, leads tours. In Sonoma, a plaque bears the names of 837 neophytes in the mission cemetery. Through Jan. 5, 2015, an exhibit at Mission San Juan Capistrano lists names of about 3,400 men, women and children who died at the mission between the 1770s and 1850.
Such changes are a belated recognition that if you were a Native Californian in 1769, the same missionaries and soldiers who brought Christianity, reading, writing, farming and ranching also may have destroyed your old community, tried to erase your beliefs and traditions, and unknowingly exposed you to deadly diseases. Along with more than 80,000 baptisms, the California missionaries counted more than 60,000 Native American deaths.
Many educators are trying to present more points of view these days, said Kristina Foss, the museum director at the Old Mission Santa Barbara, who has worked with the California Missions Foundation to host an annual gathering of mission specialists since the late 1990s. But, she said, "It's very hard to do. The public has a sort of sense of what missions are, and they aren't always open" to new perspectives.
When you're in these missions, there's a lot more to think about than thick walls, red tiles and burbling fountains.
As you explore, remember that 19 of the 21 mission sites are still run by the Catholic Church, which has preserved many remarkable artifacts but often relies on part-time staffers and volunteers to maintain historical displays and lead tours.
Within the church hierarchy, "there's no centralized program" to coordinate mission educational efforts, said Msgr. Francis J. Weber, an author and archivist at the San Fernando Mission who has written often about the missions. "It should probably be better organized."
Meanwhile, at the state historic parks that include the Lompoc and Sonoma missions (and part of the old Santa Cruz site), rangers and interpretive specialists play larger roles. At those sites, said Emily Walski, an interpretive specialist at Sonoma State Historic Park, "you see more of an acknowledgment of what went on with the Indians in terms of labor."
In these pages, we've pulled together site-by-site tips for mission explorers; a timeline of key events; new and old photos; a story of one family's long relationship with Mission Dolores; and a look at how language has changed through the decades in textbooks and in this newspaper.
Next it's your turn. Students, parents and teachers: If you have a mission story or project to share — or alternative assignment to propose — send words and pictures, with "Mission Project" in the subject line, to travel@latimes.com. (File size may not be larger than 12 megabytes.) We can't display everything, but we'll do our best to present a broad sampling online.
Get our L.A. Goes Out newsletter, with the week's best events, to help you explore and experience our city.
You may occasionally receive promotional content from the Los Angeles Times.