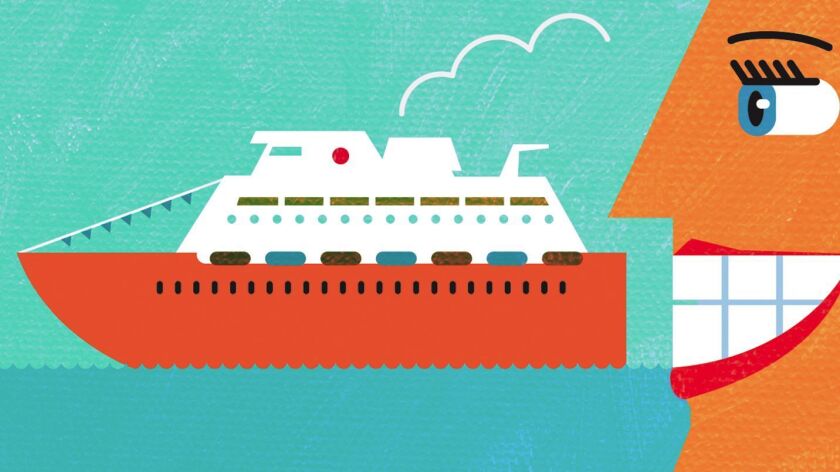 It's hard to find a vacation bargain that's as inexpensive as a cruise. Where else can you get food, lodging and transportation for as little as $50 or $100 a day?
But if you're not careful, you can spend three or four times as much on incidentals.
Here are some suggestions from Smarter Travel, which recently compiled several ways to avoid gimmicks that will sabotage your vacation budget:
-- Avoid the single supplement charge, which forces solo travelers to pay for two people (double occupancy). Look for promotions lowering the rate, or for lines that offer single rooms.
-- Avoid alcohol: Most ships won't let you bring bottles aboard when you stop in port, and prices on the ship are big-city expensive.
-- Don't pay for snacks: Many lines charge extra for sodas and food such as ice cream. Stick to the free fruit and buffet offerings if you need to nibble.
-- Don't buy useless souvenirs on board or on shore: You'll probably never look at them again when you get home.
-- Skip the casino: If you must play, keep your bets small.
-- Curb your Internet usage: You'll pay a fortune for Wi-Fi, and the service usually isn't very good. Visit an Internet cafe in port when you need to post on social media or check emails.
-- Tipping: It will add $10 to $12 a day to your bill. You probably can't avoid it, so figure it into the cost of your cruise.
-- Special dining venues: They're fun, but cost more, adding $20 to $50 per person for a meal.
ALSO
Here's what should be in your child's wallet when studying abroad
Cruising into stormy weather? Five ways to offset the risks of sailing during hurricane season
In San Francisco, you simply don't need a car on Market Street and the waterfront. In fact, you'll be happier without one
Twitter: @latimestravel
---