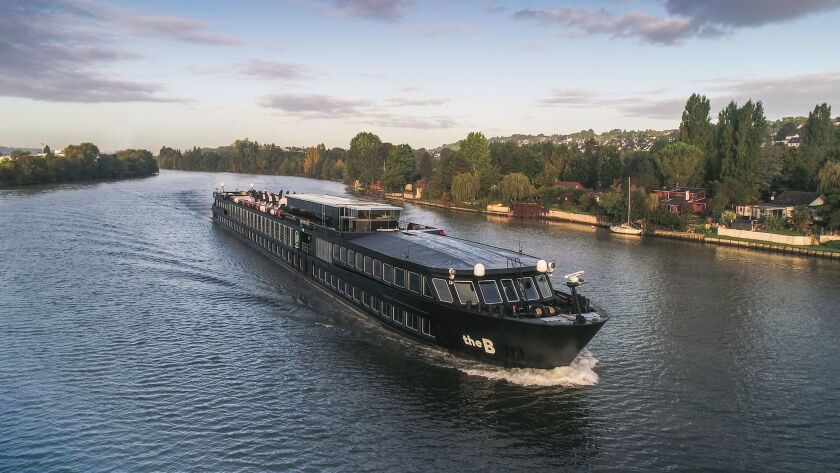 If your passport lists your age as 46 or older, forget about setting sail on U by Uniworld, a new river cruise company that's targeting millennials.
Uniworld, which has marketed its European river cruises to multi-generational customers for decades, is moving into uncharted waters with its new "21 to 45 only" cruises.
The company calls U "a new take on experiential travel, with cruises designed for those with a passion for exploring and a taste for authentic adventures."
Its first cruise, earlier in October made its maiden journey along Paris' Seine River. Two ships are scheduled to sail in Europe beginning in April 2018, and one ship will sail on the Mekong River in Southeast Asia in 2018.
The maiden journey included activities that Uniworld hopes to make standard on its trips, including yoga and camping on the top deck, and wine classes.
Offshore activities included breakfast on a Gastronome bus, treasure hunt at the Louvre, special tour of Versailles, and a Paris rooftops tour.
The ship, named B, was renovated and features an all-matte black exterior with suites, 26 balcony bedrooms, 29 studio bedrooms and two studio bedrooms with triple occupancy.
All have waterfront views and are equipped with built-in bluetooth speakers. The ship also has two rooftop venues, a spa, DJ's and communal tables for dining.
Info: U by Uniworld, (866) 784-5755 or contact a travel agent
ALSO
Lonely Planet names Chile the world's top travel destination for 2018. Detroit and San Juan land on 10 best cities list
Some cruise lines announce return dates to Caribbean islands hardest hit by hurricanes
New hotels mean Palm Springs is once again the capital of cool
Where to hop aboard the 'Polar Express' and other Christmas train rides
Twitter: @latimestravel
---