Cruise lines give refunds for some Cuba cruises after U.S. ban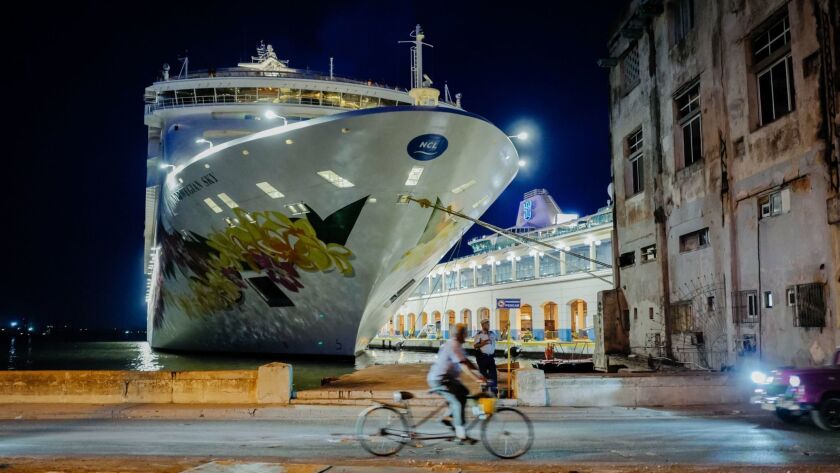 Cruise lines are offering modified itineraries and refunds to passengers who had bought tickets on Cuba cruises as a result of the U.S. government ban on cruise ships, which went into effect Wednesday.
About 800,000 reservations are expected to be affected by the policy change, according to the trade industry group Cruise Lines International Assn.
Cruise lines have the legal right to change itineraries from planned ports of call under the contract that every passenger signs (whether you remember doing so or not), said Erica Silverstein, senior editor at Cruise Critic.
If you are booked on a Cuba cruise, you should contact your cruise line or travel agent to explore your options. Before you make that call, think about what alternatives you are willing to accept.
"Knowing whether you're happy to cruise to another warm Caribbean destination, or, if removing Cuba from the itinerary is a deal breaker gives you a head start as the cruise lines announce a plan," Silverstein wrote in an email Wednesday.
Here's what some cruise lines are offering passengers who are holding tickets on Cuba cruises.
Royal Caribbean International was the first to announce that its Wednesday and Thursday itineraries would no longer stop in Cuba. Anyone who had planned to sail to Cuba this year aboard Majesty of the Seas and Empress of the Seas may:
►Keep their date and sail to alternative Caribbean ports, and receive a 50% refund; or
►Cancel for a full refund.
How the new Cuba regulations could affect your trip »
The cruise line also is working on alternate itineraries for 2020 sailings.
Carnival Corp.'s statement Wednesday said it "will no longer be permitted to sail to Cuba effective immediately." The company, which owns several lines, said the new policy affects Carnival and Holland America as well as Seabourn, which was scheduled to begin sailing to Cuba in November.
Carnival is reaching out to passengers who have already booked a Cuba cruise with these options for trips through the end of July:
►Cancel and receive a full refund;
►Stay on the scheduled cruise with a modified itinerary and receive $100 per person onboard credit; or
►Move to another cruise and receive a $50 onboard credit.
Norwegian Cruise Line also told passengers that it has ended all ports of call to Havana and will need to modify cruise itineraries because of the "unexpected, last-minute change" in U.S. policy, a statement said. (Here are more cruise line statements at Cruise Critic.)
If you were hoping your travel insurance would cover a cancellation on your cruise, you may be disappointed.
"Unfortunately, a change in cruise or tour group itinerary is not a covered reason to cancel a trip under a travel insurance policy," Jenna Hummer of Squaremouth wrote in an email Wednesday. "As long as the ship or tour is scheduled to move forward with the voyage, travel insurance will not cover a traveler to cancel their trip."
The only exception is cancel-for-any-reason insurance, which allows travelers to claim up to 75% of their trip costs if they decide not to go at least two to three days before the trip's start. To be eligible for the coverage, travelers need to have bought a policy within 21 days of their first trip payment and insure the entire cost of the trip.
The Trump administration Tuesday announced new regulations on Cuba travel that included an end to people-to-people group tours, also known as cultural and educational tours, and cruise visits.
---
Get inspired to get away.
Explore California, the West and beyond with the weekly Escapes newsletter.
You may occasionally receive promotional content from the Los Angeles Times.