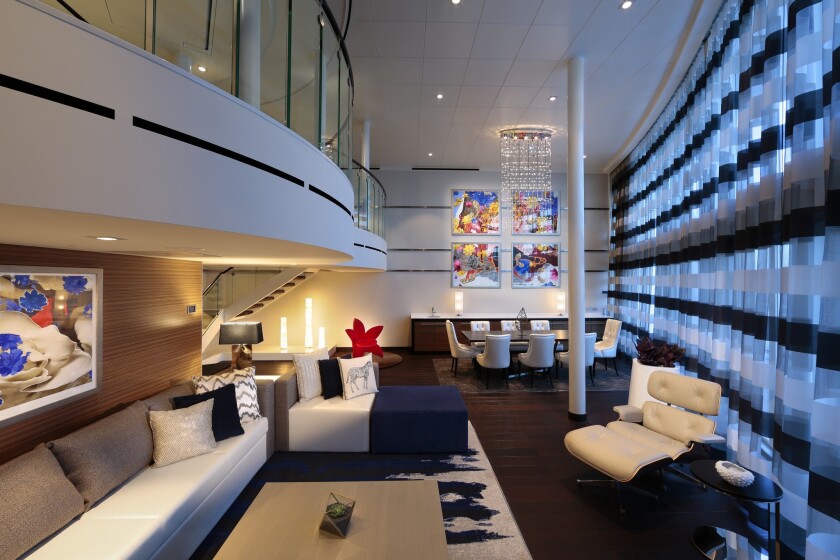 If you want to kick it up a notch on your next family cruise, CruiseCompete offers some suite suggestions.
The cruise booking website shares its favorite cabins at sea — and they come with extra goodies like 24/7 butlers and beverage packages. The good life at sea doesn't come cheap, but isn't that the point?
FULL COVERAGE: Cruise reviews, deals and news
Royal Caribbean International: The Royal Suite Star Class and Royal Loft Suite are available on Oasis and Quantum class ships. All-inclusive amenities include beverage packages, dining in specialty restaurants, free Internet and more.
A butler comes in the form of a Royal Genie, and the Royal Loft Suite comes with a baby grand piano. Sample cost: $1,991 nightly per person on a seven-night Eastern Caribbean cruise starting April 15, 2018 (excludes taxes and fees).
Norwegian Cruise Line: The three-bedroom Garden Villa covers more than 6,500-square-fee — plenty of room for families to spread out. Butler service, Champagne and liquor, free limousine service from pier to airport and other goodies are included.
Sample cost: $1,353 nightly per person on a seven-day Bahamas and Florida cruise from New York City departing Aug. 26, 2017 (excludes taxes and fees).
MSC Cruises: The Royal Suite on the Divina or Preziosa has another name, the Sophia Loren suite. It's decorated with huge photos of the glamorous Italian film star. The 560-square-foot suite comes with butler service, unlimited drinks and access to exclusive parts of the ship.
Sample cost: $2,400 nightly per person for a seven-night Caribbean and Antilles cruise leaving April 29, 2017 (excludes taxes and fees).
Viking Ocean Cruises: The Owner's Suite lives up to its name; it was designed by Viking leader Torstein Hagen. Champagne, free laundry service, spa treatments and more come with the suite. Passengers also are given priority for shore excursions.
Sample cost: $2,116 nightly per person for a 10-day Empires of the Mediterranean cruise (excludes taxes and fees).
MORE
Batter up! Five fabulous Las Vegas waffles (like Viva Las Elvis) just in time for Waffle Day
Holland America plans to boost number of Mexican Riviera cruises
Carnival will be first in 50 years to sail cruise ship from U.S. to Cuba
---