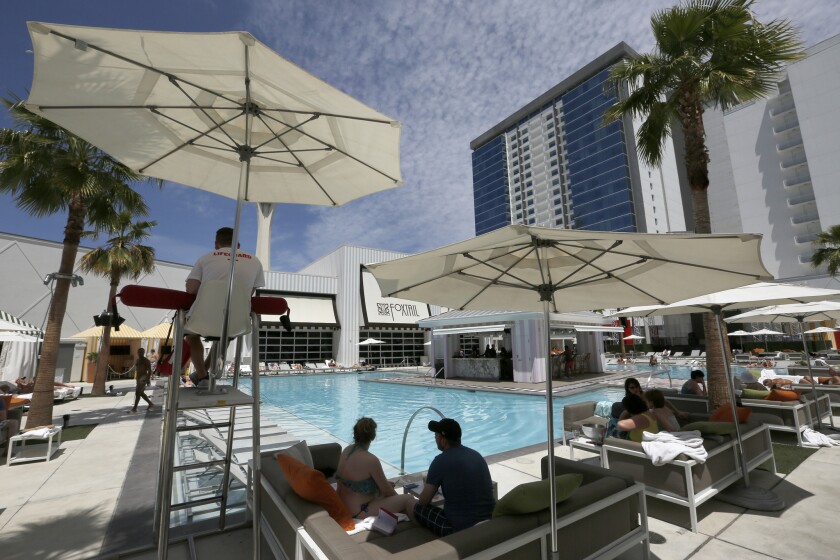 SLS Las Vegas wants to curate your stay with a deal called #MyVegasStory. Stay at least two nights in the resort's Story Tower, and you can clean out a stocked minibar for free. You'll also be treated to VIP status at the hotel's pools and nightclubs.
The deal: SLS crafted this deal so visitors would leave "with an incredible story this summer," according to a hotel statement.
It requires a two-night minimum stay in the hotel's Story Tower, and you must be 21 and older to make a reservation.
Don't bother grabbing a cocktail before going to your room. The minibar will be filled with Pop Tarts, Skittles, Cheetos to munch on as well as a bottle of vodka, a bottle of FIreball Whiskey, Bud Light, Red Bull and soft drinks.
It's all free – but only one minibar per stay.
Other cool extras include:
--VIP access to the Foxtail Pool and night club. You'll receive a buy-one, get-one-free drink deal from 9 to 11 a.m. at the pool and 10:30 to 11:30 p.m. at the nightclub.
--Free soft drinks at a handful of restaurants, including 800 Degrees and Umami Burger.
When: The offer is good for stays starting Wednesday to Sept. 5, based on availability.
Tested: It's hard to say how much you save with the #MyVegasStory deal. If you go whole hog, the contents of the minibar are valued at more than $200, the hotel statement says.
Prices vary widely with this deal depending on when you go. For example, midweek rooms (July 18 to 20) cost just $144 a night. But Fourth of July rooms (July 3 to 5) start at $250 a night. Prices don't include the $30 daily resort fee.
Info: SLS Las Vegas, (888) 627-8173
MORE
Joan Jett, Melissa Etheridge and Smash Mouth to perform at free summer concerts in Las Vegas
Summer pool season opens in Las Vegas! 11 resorts that rock it
Those Las Vegas parking fees at some hotels? Yup, they're coming
Cheapest Las Vegas sleepover party? Bunk bed rooms at the Linq
---