Summer pool season opens in Las Vegas! 11 resorts that rock it
Pool season brings the best of summer party time to Las Vegas. There's a pool experience for just about everyone, whether you're looking to splash to the latest electronic music, get some poolside beauty tips, rock to a live band or just catch some rays.
How do you get in? Some, like Trump International Hotel, are only open to registered guests. But others welcome everyone to the party — at widely varying prices.
Citrus at the Downtown Grand is free, and admission to the Stratosphere's Elation is just $10. But if you want to feel like a high roller, you can spend $4,000 a day for a cabana at Encore Beach Club.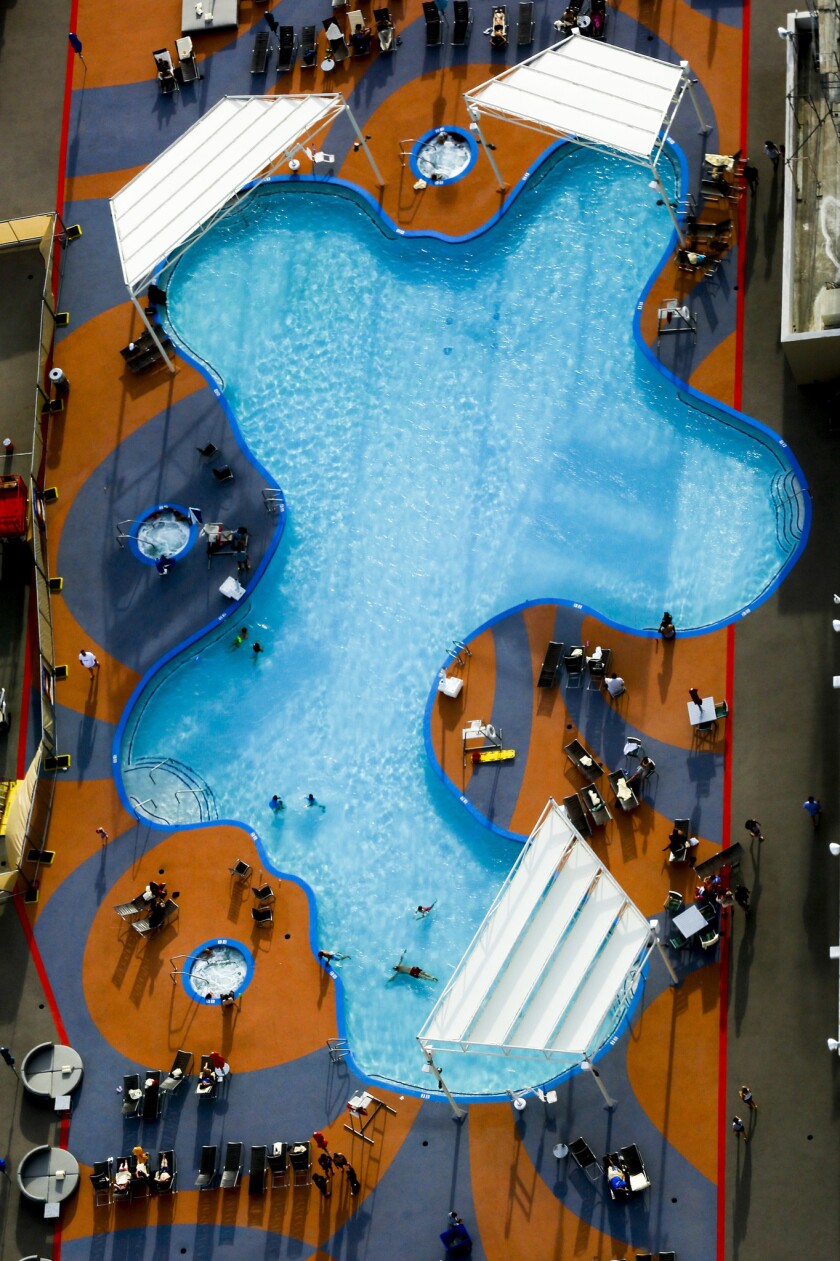 1. The Stratosphere: Like Vegas itself, the pool scene is ever-evolving. This year, that's evident at the Stratosphere, where the main pool has undergone a full face-lift and been rebranded as Elation. It costs $10 for the public; guests get in free.
Located on the eighth floor of the resort at 2000 S. Las Vegas Blvd., the pool deck offers cool drinks such as frozen coladas for the grown-ups and milkshakes for the kids, as well as snacks including lobster taquitos and tuna lettuce wraps.
An adult scene thrives on the hotel's 25th floor at Radius Rooftop Pool & Wet Lounge, where the over-21 crowd can enjoy topless sunbathing while chilling with signature cocktails such as the Cucumber Citrus Cooler. Entry costs $10 to $15 for non-guests.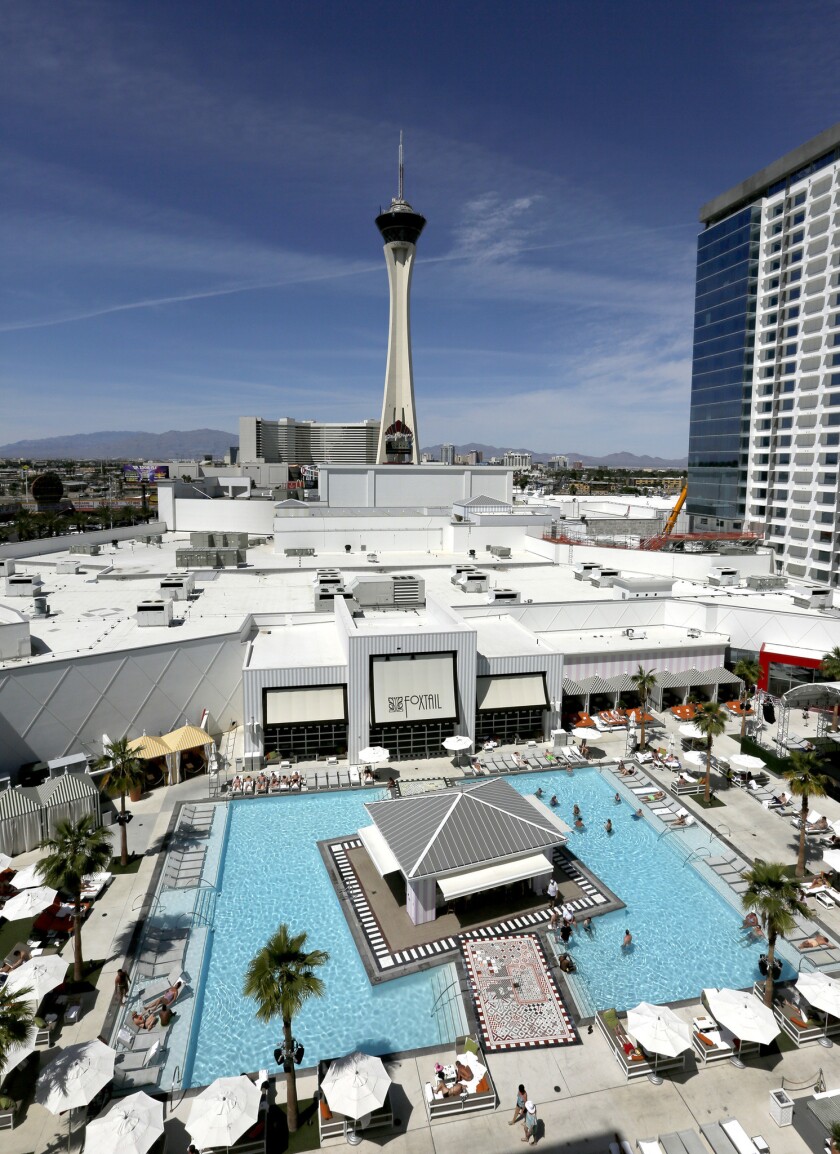 2. SLS Las Vegas: Just a couple of blocks away at 2535 S. Las Vegas Blvd., Foxtail Pool at SLS does double-duty, serving as the resort's pool Monday through Thursday and as an adults-only day club Friday through Sunday.
Each weekend through the summer, Foxtail Pool Live ($20 to $30 entry) will feature live entertainment while guests enjoy cocktails such as the Duck and Monkey, a blend of Jägermeister, Malibu Rum, pineapple juice, lemon-lime soda and fresh lemon.
3. The Venetian's Tao Beach: Check out the once-a-month Glam Club offerings at The Venetian's Tao Beach at 3355 S. Las Vegas Blvd. Partnering with cosmetics maker Sephora, the resort provides parties that feature makeup tutorials and product samples. The next one, with a safari motif, will be held June 11.
4. The Luxor: Whistle-blowing lifeguards in skimpy trunks are the draw at Temptation Sundays, Luxor's LGBT pool party.
DJs spin the tracks at the resort at 3900 S. Las Vegas Blvd. as go-go boys strut their stuff. The fun continues each Sunday afternoon through September.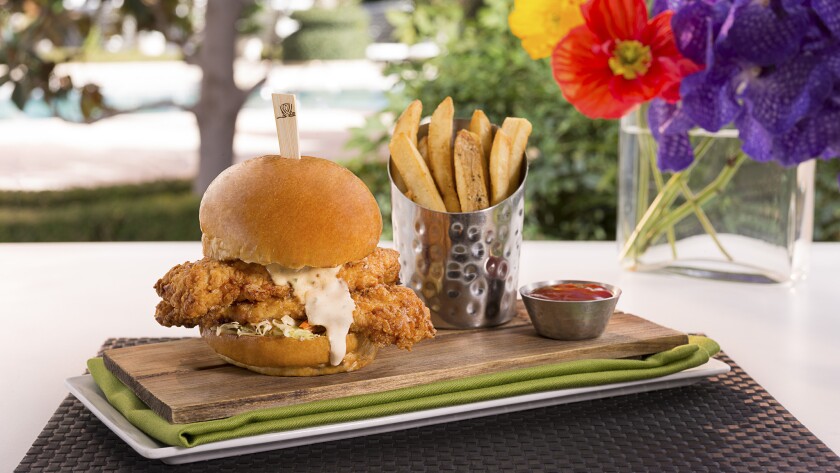 5. Encore Beach Club: The partying is more upscale but just as full of energy at Encore Beach Club at Wynn-Encore at 3131 S. Las Vegas Blvd.
It's a three-tier hot spot featuring popular DJs plus amenities such as eight bungalows, each big enough to boast an infinity dipping pool and a bathroom. The palate-pleasing food comes from Jardin, the resort's recently opened relaxed-dining restaurant.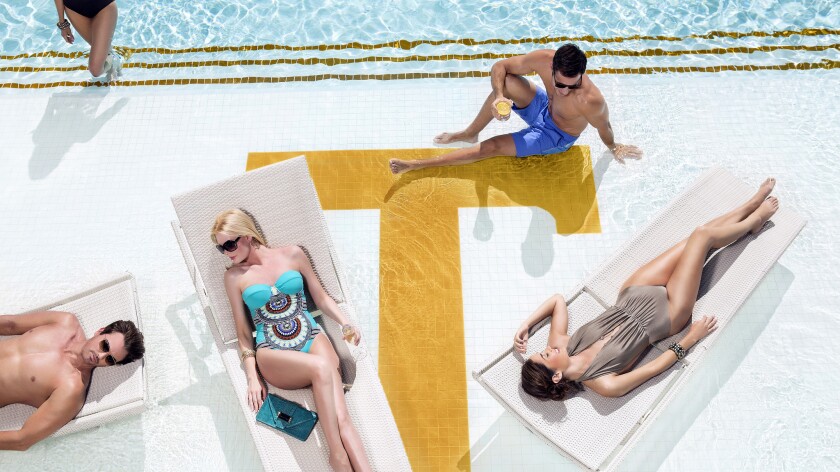 6. Trump International Hotel Las Vegas: New dining options also abound at another resort just a few blocks away at 2000 Fashion Show Drive: the Trump International Hotel Las Vegas.
Featuring American fare, the poolside cafe, H2(EAU), is open for breakfast and lunch. For children, there are fruit smoothies, while Mom and Dad can enjoy a pineapple mojito or red berry sangria.
The casino-less hotel's spa is also taking its services to sunbathers. Its Spaah-ify package includes a chair massage, a can of Oxygen Plus and an aromatherapy mister. (Think scents such as peppermint and pink grapefruit.)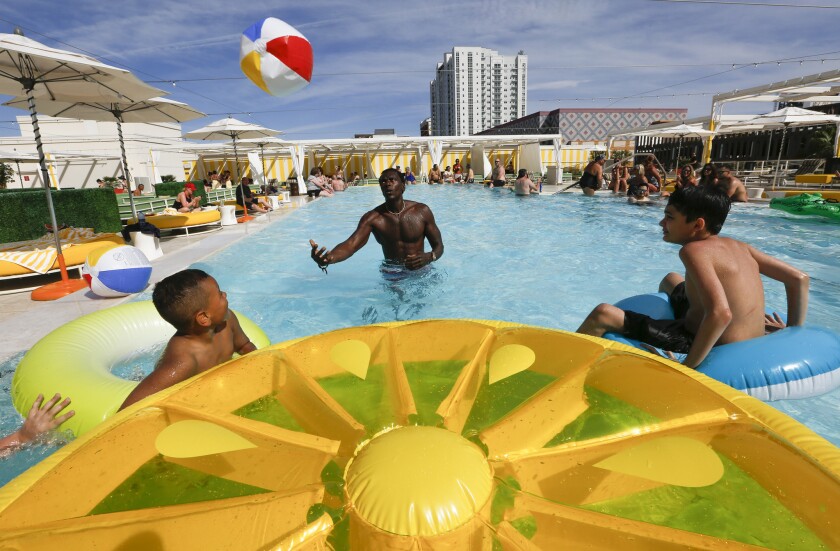 7. Downtown Grand: Visitors who prefer the downtown Vegas scene, with its often-lower prices, can enjoy Citrus, the new pool experience at the Downtown Grand at 206 N. 3rd St. And you can get in for free.
With skyline views, the deck not only has an infinity pool but also a fire pit and a grass seating area. Happy Hour runs from 4 to 7 p.m. weekdays.
8. The Golden Nugget: Downtown is also home to the three-level pool experience at the Golden Nugget at 129 Fremont Street Experience. Guests can swim with the fishes, sharks included, while floating beside a vast, acrylic aquarium. Thrill-seekers can enjoy the Shark Chute, an enclosed, eight-second slide through the fish tank.
9. The Cromwell: While Drai's Beachclub and Nightclub at the Cromwell boasts seven pools, they're often so crowded with partiers that there's no room to swim.
No one's complaining, though at the resort at 3595 S. Las Vegas Blvd. The young crowd gathers at the rooftop water party to enjoy day-and-night bashes featuring DJs or live entertainment.
This Sunday, Ludacris and 50 Cent will appear at Drai's for the 2016 Billboard Music Awards.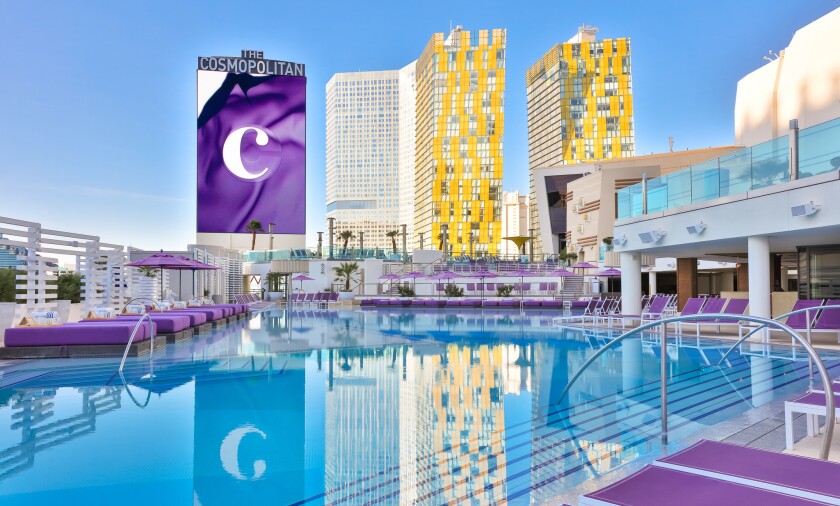 10. The Cosmopolitan of Las Vegas: The differing scenes at The Cosmopolitan's three pools also appeal to millennials.
The Boulevard Pool has some of the best views of the Strip and beyond, with private cabanas featuring sectional sofas, flat-screen TVs, iPod docks and minibars. A recreational area called the Yard has ping pong, foosball and billiards.
The Bamboo Pool has a more intimate feel, although it's still a large space with fabric-covered walkways and grassy banks. Its Baja Deck features loungers along a six-inch-deep platform of water.
The Cosmopolitan, which is located at 3708 S. Las Vegas Blvd., also hosts the Marquee Dayclub Pool. For adults only, you can enjoy the action from three-story bungalow lofts.
11. Mandalay Bay: Rock performers heat up summer nights at Mandalay Bay Beach at the resort at 3950 S. Las Vegas Blvd.
A whopping 2,700 tons of real sand and a 1.6-million-gallon wave pool set the scene for the Concerts on the Beach series.
The summer lineup includes Ziggy Marley (June 3), Rick Springfield (July 9), UB40 (July 30) and Huey Lewis & The News (August 19).
MORE
How many of these 25 top landmarks have you visited? Machu Picchu is No. 1
Need a digital detox? Places to go to really unplug (no cheating allowed)
Just in time for summer travel: 4 budget hotels and motels out to redesign 'cheap'
Get ready to zip-line down the mountain at Lake Tahoe ski resort
---
Get inspired to get away.
Explore California, the West and beyond with the weekly Escapes newsletter.
You may occasionally receive promotional content from the Los Angeles Times.