Slow down and savor a weekend escape in Redding, Calif.
Isn't there a time-worn adage about the unfamiliarity of the familiar? I've been through Redding maybe 50, 75, 100 times in my West Coast-venturing life, but for all I knew Redding might as well be Redding, Pa. This time … a change. I was hellbent to get to Bend, Ore., for a golf bacchanal, but not every drive on Interstate 5 needs to be a straight-through blitz. I made an effort to stop and learn a bit about a town I've often seen but never saw.
The tab: Rewards points for the hotel stay; $35 for dinner with brews, tax and tip; and $26 for a cavern tour.
The bed
I used Marriott points to secure a night at Fairfield Inn & Suites, but figure that the typical rate is north of $100 a night. The room was a tight squeeze for one guy, his golf gear and his bicycle but otherwise was well-equipped with a firm king bed, multiple pillows and the requisite plugs and USB ports demanded by the electronic cabal with which we travel. The continental/limited-hot, serve-yourself breakfast, which was included, got me back on the road fueled for the morning.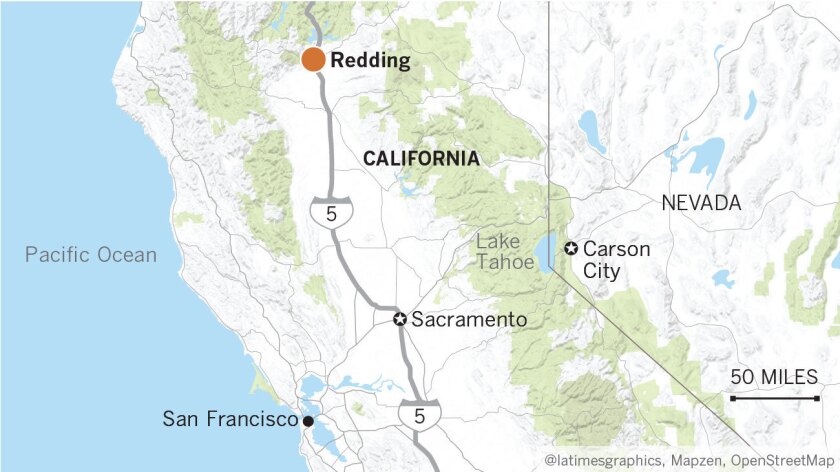 The meal
Redding lags in the microbrew-establishment-per-capita rating, but numbers don't always tell the story. Woody's Brewing Co. is the work of three brothers, each with a love for good suds and years spent in the industry. Tater tots are the bar-food rage, and at Woody's they are hand-built, with a hit of garlic and mild Cajun aioli. Woody's BLT arrived as a crunchy hoagie with fried tomatoes, avocado, righteous bacon and chipotle schmear — a winner. For fans of conversation, the open, high-ceiling space is devoid of televisions and droning sports analysts.
The find
A 10-minute catamaran trip across an arm of Shasta Lake allowed me take care of another longtime casualty of my I-5 blow-throughs: Lake Shasta Caverns National Natural Landmark, about 15 minutes north of Redding. The boat ride is part of the adventure, which is capped by a 50-minute guided tour through a geologic cathedral of flowstone and calcite curtains. It's not the tourist trap I always assumed it was. Caves are cool and bring out the kid in all of us, even if we no longer can remember the difference between a stalagmite and a stalactite. Not wheelchair-accessible; the walk includes 600-plus steps.
The lesson learned:
Every town is the sum of its parts. For Redding, a good measure of that sum is the Sacramento River. An obvious tourist draw is the Sundial Bridge, one of several attractions at Turtle Bay Exploration Park, a family-friendly do-all with an arboretum, zoo, natural history museum and arts programs. The admission fee for the park, not the bridge, peaks at $16 for adults and slides down to zero for the littlest ones. For more of a cardio experience, the riverside path extends nearly 20 miles upriver to Shasta Dam.
If you go:
Fairfield Inn & Suites, 5164 Caterpillar Road; [530] 243-3200, . Wheelchair-accessible rooms.
Woody's Brewing Co., 1257 Oregon St.; [530] 768-1034,
Lake Shasta Caverns National Natural Landmark, 20359 Shasta Caverns Road, Lakehead, Calif.; [800] 795-2283. Off Interstate 5 about 15 minutes north of Redding. Not wheelchair accessible
Turtle Bay Exploration Park, 844 Sundial Bridge Drive; [800] 887-8532,
---
Get inspired to get away.
Explore California, the West and beyond with the weekly Escapes newsletter.
You may occasionally receive promotional content from the Los Angeles Times.