Want to see sunrise from atop Maui's most famous crater? You'll need a reservation for that...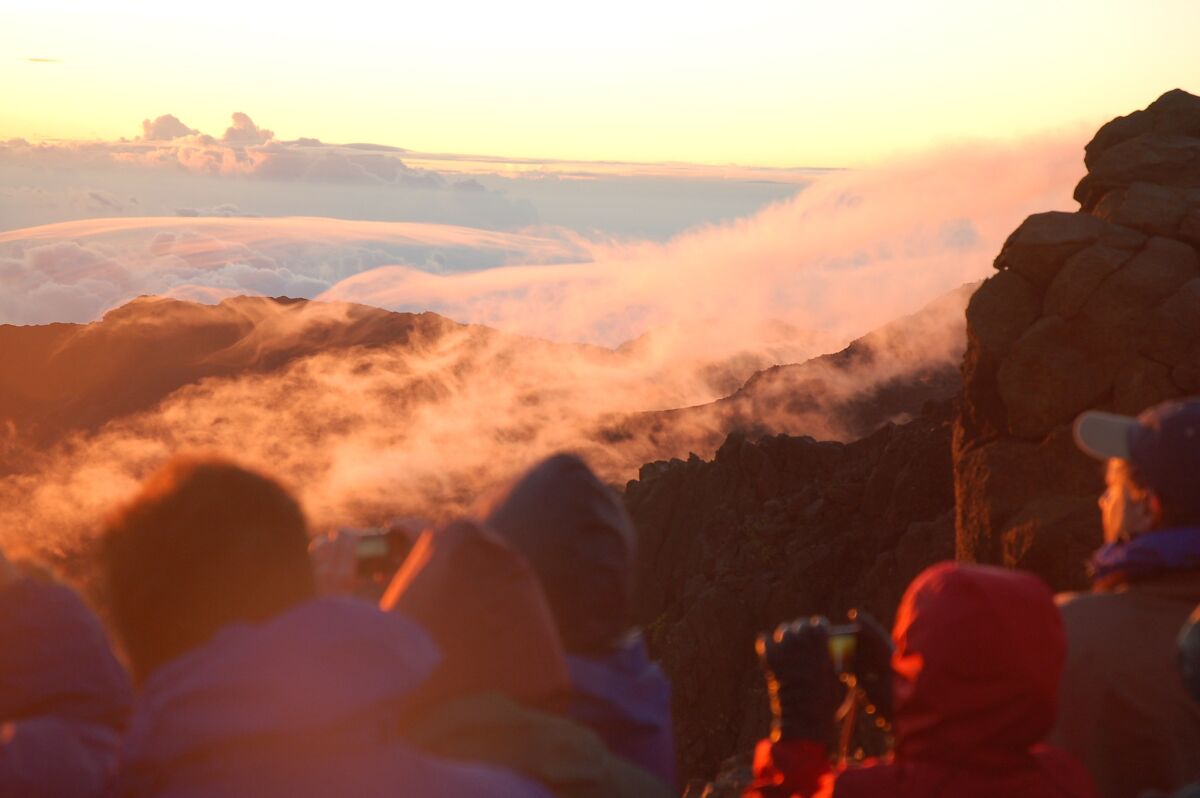 Travelers love to go to the top of the Haleakala volcano to watch the sun come up — a little too much. Because of overwhelming crowds and safety concerns at the summit of Maui's most popular sunrise spot, you'll need a reservation to go starting Feb. 1.
The winding journey up the long road to the 10,000-foot summit between 3 and 7 a.m. will require a parking reservation you can only get in advance and online, according to Haleakala National Park.
If you don't have a reservation, you can come after 7 a.m. — after the sun has made its dazzling debut above the expansive volcanic landscape. If you come before then without a reservation, you'll be turned back.
The park says four parking lots with overlook areas at the top hold just 150 vehicles, and more than double that number regularly show up. When the lots fill up, visitors park along or on the winding Crater Road, blocking emergency vehicle access and damaging nearby habitat.
Crowds can number more than 1,000 people per day, some of whom have accidents as they walk in off-trail areas or climb the sides of cliffs in the dark.
Here's how the reservation system works:
— Starting Thursday, you can go to Recreation.gov to buy a $1.50 reservation good for one car to enter. They're only available online. Note: This is in addition to the $20 per car to enter the park.
— You can make a reservation as early as 60 days before you plan to go. Permits are needed only between 3 and 7 a.m.
— When you arrive, the person who made the reservation must be present and show the reservation along with a photo ID.
— There are no refunds or exchanges on your date-specific reservation if you hit bad weather.
Until Feb. 1, visitors can drive up and try to snag a parking spot on a first-come, first-served basis.
By the way, you can expect the drive to take about one hour to reach the summit from Kahului, up to an hour and a half from Kihei and two hours from Lahaina.
Info: Sunrise Reservations at Haleakala National Park
ALSO
Fence on the world's largest volcano aims to stop Hawaii's cats from killing an endangered seabird
No one vacations in Hawaii to pick fruit. A new chef-led tour changes that
One company is reimagining top historic hotels in California and Hawaii
Four Seasons Maui changes it up with new artwork, furnishings, flexible suite design
Get our L.A. Goes Out newsletter, with the week's best events, to help you explore and experience our city.
You may occasionally receive promotional content from the Los Angeles Times.