It doesn't get more authentic than this: a taro harvest at a Waikiki hotel's poolside garden
Waikiki is returning to its roots. One Honolulu hotel garden every month harvests a small patch of taro, a vegetable once ubiquitous along the area's marshes and one critical to the islands' most famous dish, poi.
Taro is harvested at the Hyatt Centric Waikiki Beach, where a small garden flourishes beside the pool deck.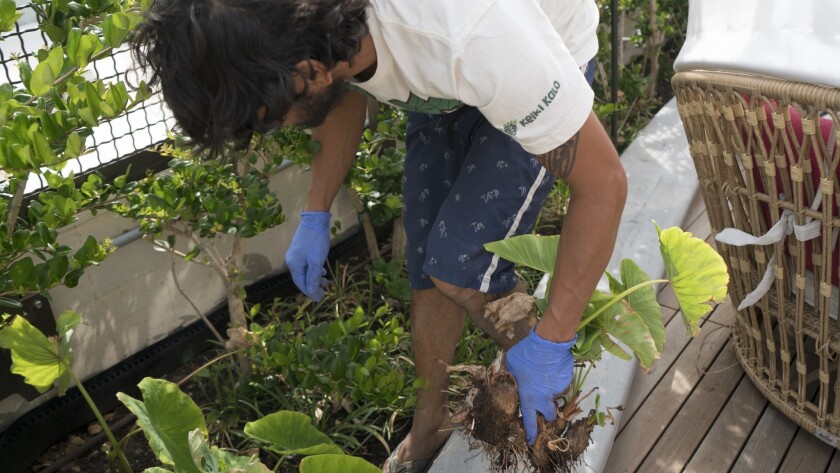 Hotel guests and other visitors are welcome to watch and learn at a cultural gardening event held from 2 to 6 p.m. on the fourth Tuesday of each month. There is no charge.
Harvests are led by Daniel Anthony of Hui Aloha Aina Momona, a nonprofit group working to expand agricultural sustainability while preserving the islands' culture.
Taro, which locals call kalo, is a vegetable used raw in salads and cooked in various traditional meat dishes. It's best known (some would say notoriously known) as the source of poi, the mashed dish that is served at most luaus. It's also common in many Hawaiian households.
More than a century ago, long before Waikiki was developed as an oceanfront tourist destination, the area's low-lying marshes were full of taro and helped feed much of Honolulu.
During the monthly events, participants learn how to harvest the plant and prepare their own laulau, a mixture of meat or fish and vegetables, taro included. Guests will bake their meals the traditional way, with the food wrapped inside large leaves.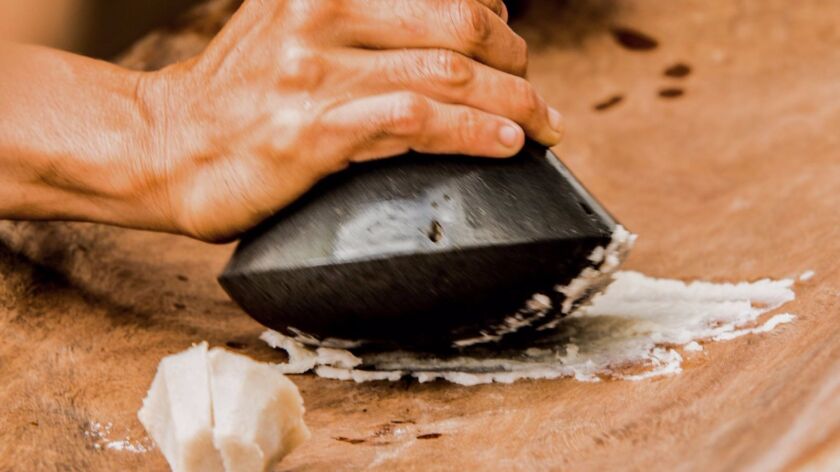 Anthony also leads demonstrations of how chopped-up taro roots are pounded to make poi, using stone pounders similar to those used by native Hawaiians centuries ago.
No need for advance reservations; simply show up a little before 2 p.m. at the hotel at 349 Seaside Ave., Honolulu.
The next two events will be held Nov. 28 and Dec. 26.
Info: Hyatt Centric Waikiki Beach, (808) 237-1234
ALSO
New robot at Mandarin Oriental in Las Vegas offers directions, and can hum a little too
Holiday time at Disney parks means Christmas trees are up, and winter has come to Sleeping Beauty's castle
These cities have more vacation homes that allow pets than any others in the U.S., HomeAway says
5 places in Las Vegas where you can find snow, ice, Merlin and holiday lights
---
Get inspired to get away.
Explore California, the West and beyond with the weekly Escapes newsletter.
You may occasionally receive promotional content from the Los Angeles Times.