Bob Hope, thanks for the memories. A name change to Hollywood Burbank Airport moves forward
Bob Hope, thanks for the memories. The entertainer's name that has graced Bob Hope Airport (BUR) for more than a decade is expected to vanish soon from its landmark tower and elsewhere around the facility.
Airport officials approved a plan last May to change the name to Hollywood Burbank Airport to make it more catchy and recognizable to the rest of the world.
"A lot of people east of the Rockies didn't know where Bob Hope Airport was," says Lucy M. Burghdorf, the airport's director of public affairs and communications. "Was it in Palm Springs? Or Vietnam?"
Signs reflecting the name change may be in place as early as June, Burghdorf says. Airport officials are expected to approve the installation of new signage and other rebranding moves in a vote on Feb. 21.
This isn't the first time the airport has changed identities. It started out as United Airport in 1930 and eventually became Hollywood-Burbank Airport from 1967 to 1978.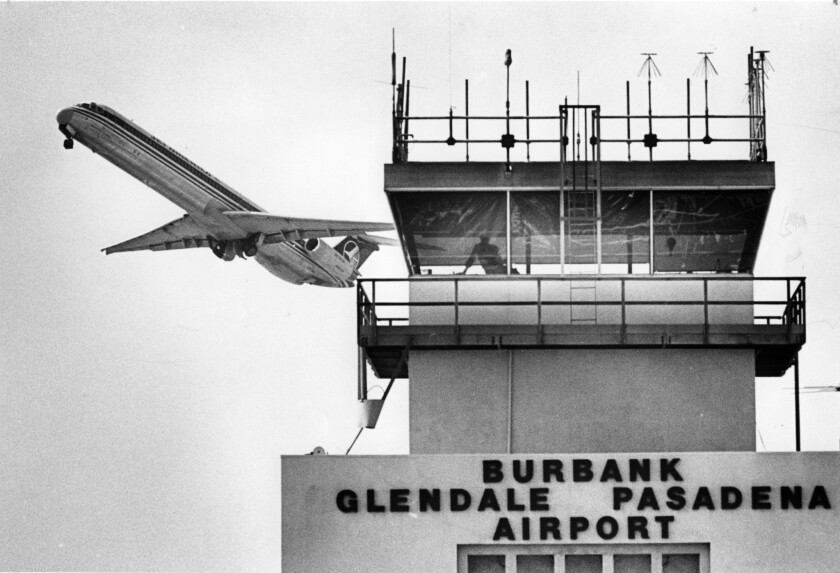 The airport then went hyper-local with the name Burbank-Glendale-Pasadena Airport, the name of the authority that runs it, until it was changed in 2003 to honor Hope.
In legal terms, the airport's name will remain Bob Hope Airport. And there will still be a prominent tribute to the legendary performer on display.
Inside the terminal is a bronze bas-relief sculpture of his famous profile by artist Don F. Wiegand that was dedicated in 2010.
You can expect more changes at Burbank's airport too. Voters on Nov. 8 approved a measure to build a modern 14-gate terminal that would replace the current one built 87 years ago.
ALSO
Round-trip airfare from LAX to Portland, Ore., on Delta is a bargain at $117 — and it lasts all year
This is what airline tray tables would look like if artists designed them
Mid-March may be the sweet spot for spectacular wildflowers in Anza-Borrego Desert State Park
Need inspiration for your next California trip? Here's a free guide with 607 reasons to go
---
Get inspired to get away.
Explore California, the West and beyond with the weekly Escapes newsletter.
You may occasionally receive promotional content from the Los Angeles Times.