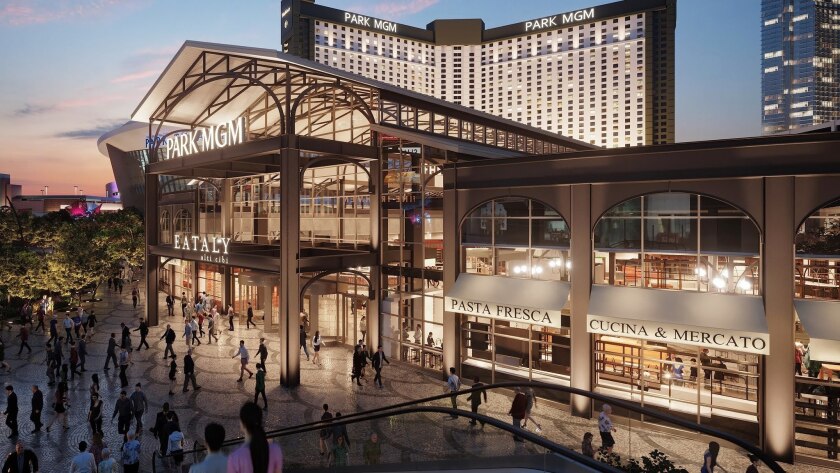 Outside the Monte Carlo hotel-casino, the signs still read Monte Carlo. Inside, most of the vestiges of the plain-vanilla Las Vegas hotel are gone as the transition to a new name, Park MGM, and a new image shift into high gear.
From the remodeled lobby through the restaurants and up into the 2,600 guest rooms, the resort will have a completely new look and feel. MGM Resorts is pumping nearly half a billion dollars into the makeover.
Between now and March, when the property is officially rebranded, is an excellent time to get a sneak peek at the new Park MGM — and save money at Monte Carlo room prices. Preview rates start as low as $95 until Dec. 19 for stays through Oct. 31, 2018, according to the website.
"It's an unbelievable bargain. Those rooms are going to be … probably three times what they cost now," said Andrew Zobler, chief executive of the Sydell Group, the hotel design and management company that has partnered with MGM Resorts to overhaul the Monte Carlo.
"They're booked into the Monte Carlo at a room rate that they felt was reasonable to pay for what they perceived to be Monte Carlo," said Jim Murren, MGM chief executive. "They go into the room and they say, 'Holy cow, I can't believe I'm staying in a room like this for what I'm paying.' We get a lot of positive feedback on that."
Remodeled rooms look nice and new, but the eclectic collection of artwork on the walls gives guests a hint of the effect Zobler wants to impart. A mishmash of subjects and sizes — arrangements vary from room to room — make the spaces feel like someone's bedroom.
"It's meant to give you a feeling of being at home," Zobler said.
"Things are not intended to feel perfect, That's not normal."
Even though it's just off the casino floor, Bavette's transports guests from the bright lights and noise to a serene dining room full of rich, dark woods and sparkling chandeliers. Tucked away in the back is an inviting lounge, ideal for a before- or after-dinner cocktail.
The restaurant is a sibling of the well-reviewed Bavette's Bar & Boeuf in Chicago. The emphasis in Vegas is also on beef including steak tartare ($21), griddled, 8-ounce burgers ($20) and Chicago-cut ribeyes ($65), but the menu includes plenty of options for those who eschew red meat.
The atmosphere is still refined, but more casual, at Primrose, just off the lobby. Although it can seat more than 300, the restaurant is designed to evoke rooms within a country manor in the south of France, complete with an art collection focusing on 1950s Provence.
An adjacent drawing room adds to the warmth. The theme continues into an outdoor area still under construction.
The restaurant is open for breakfast, lunch and dinner. Evening entrees include bouillabaisse ($35), filet mignon with frites ($38) and sea bass ($26).
MGM Resorts' Murren sings the praises of the new dining options.
"We own and operate 450 restaurants here on the Strip, and yet I've been here [at Monte Carlo] five times in the last two weeks," he said. "I'd rather eat here … than almost anywhere else in our company."
The options for foodies will explode when Eataly opens one of its expansive Italian marketplaces at Park MGM next year. The Las Vegas location will be the company's sixth in the U.S., including one along Santa Monica Boulevard in Los Angeles.
In late 2018, Sydell Group and MGM Resorts will open NoMad Las Vegas on the upper four floors of the Park MGM. The 300-room hotel-within-a-hotel will be self-contained, with its own reception, pool, lounge and upscale restaurant.
Expect NoMad's room prices to be higher than at Park MGM. But, as at other hotels along the Strip, prices will fluctuate depending on occupancy rates and what's happening on specific dates.
By design, Murren expects the two new hotels to attract visitors who otherwise might not consider visiting Vegas.
"Park MGM is designed to deliver a customer that is either being ill-served today or not served at all," he said. "We want to grow the pie in that upper-middle to luxury segment without simply cannibalizing the existing inventory."
Please consider subscribing today to support stories like this one. Get full access to our signature journalism for just 99 cents for the first four weeks. Already a subscriber? Your support makes our work possible. Thank you.
---