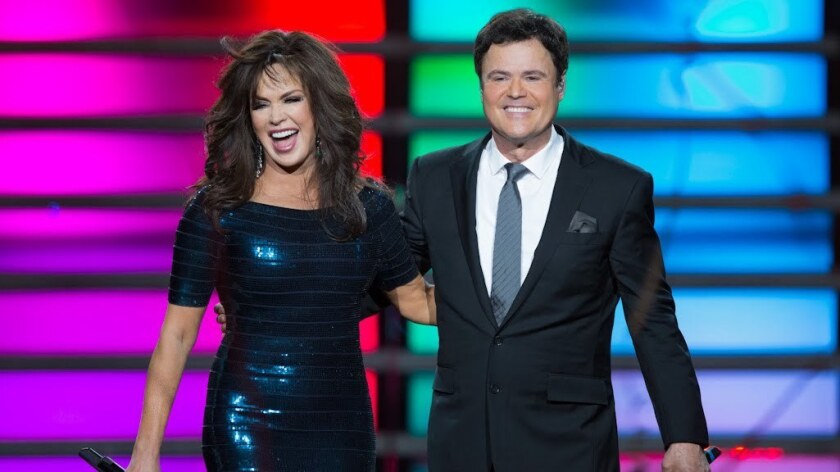 After more than 50 years in show business, Donny & Marie are still so popular that their Las Vegas contract has been extended through the end of next year.
Tickets for 2018's shows — a whopping 140 in all at the Flamingo — went on sale Monday. Donny & Marie Osmond will perform January to November, with shows on 20 of the 31 days in March and 21 of the 30 days next September.
All shows start at 7:30 p.m.
The workhorse brother-sister act (Donny will turn 60 this week, and Marie is 58) opened on the Strip in September, 2008. It was supposed to be a six-week engagement. Since then, the pair have performed more than 1,300 times on the Vegas stage.
"We're headed into our 10th year," Donny Osmond said in a news release. "Marie and I are constantly changing our show. That's probably why we're fortunate enough to enjoy such longevity."
Tickets range from $95 to $260, plus taxes and fees.
Donny & Marie, who begin singing publicly as children, entertain the crowds with new and old songs, including hits such as "I'm Leavin' It (All) Up to You," "Paper Roses" and "Puppy Love." The two have been performing together more than 40 years, starting with a variety show in the late 1970s.
Info: Donny & Marie at the Flamingo
ALSO
National Rodeo Finals, Cowboy Christmas mart, country music barrel into Las Vegas
Las Vegas cocktails inspired by Prince Harry and Meghan Markle's engagement
Las Vegas' sweet little secret is out: Freed's Bakery stars in new 'Vegas Cakes" TV series
Get ready for a 35 mph zip-line ride above Linq Promenade in Las Vegas
---